The metaphysics of crochet
Knitting, cooking, fix the House, meditate or do yoga were activities that were associated with women until just a few decades ago. Masculinity has been defined and now none of us believes that if our child wants to make crochet or designing their fashions is doing something strange. By Koncha pines-Pey for space MIMIND.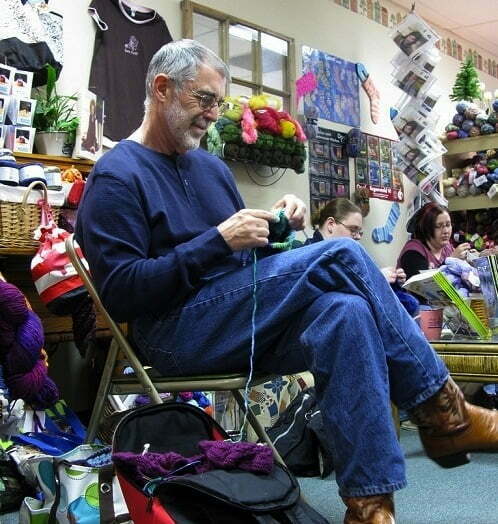 Promote the practice of contemplative actions is an interesting reflection not only in terms of neuroscience, but also for the analysis of the roles traditionally associated to women and men. The men who make crochet in our country are only 0.3%. But the idea of this reflection arose in me when my son Paul, After seeing the National Museum of Reykjavik, he said that "I wanted to learn crochet". What have to do to learn crochet with what you have just seen?, I asked. "Very easy to breast; the Vikings dominated two Arts: navigation and the loom... and the two were the same. I not can have a boat, so I'm gonna get me a needle".
His thoughts seemed to me to be great, and after that we went to a wool store, we buy a needle, wool... and I started to teach her to weave. I remembered, while she taught him low, the endless afternoons with my grandmother in the light of the curtains, meditation serious of not trying to do anything more than that, put the thread in the needle. Meanwhile, Paul weaving.
Men who make crochet are the more academic, and I am well aware of that are going to believe I'm crazy. But the crochet is pure mathematics and metaphysics. I am delighted to tell you that there has been "influential" people whose passion was crochet. From Edward VIII, Prince of Wales, up to Charles Dickens, writer, who used the cross as a literary dialing code point. Dickens was inspired by the "tricoteuses" of the French Revolution to write his novel A Tale of Two Cities. He ended up learning to weave and earned prestige by hems. It was a real talent; He was able to convert knitting in the symbol of love, against the inhuman cruelty.
A therapeutic point
I've written extensively about the benefits of meditation, but now I am suggesting to you that Paul is right: crochet makes you're more awake, relieves stress, lowers blood pressure and increases happiness.
Is it possible that the Vikings before attacking did point? After all Knitting has always been a male activity. During the Renaissance, were allowed only to them make guilds. Later Scottish, Irish and Icelandic sailors used their down time doing mesh dimensions, boat nets and point shirts. In the second world war wounded soldiers were encouraged them to knitting as therapy, and to American schoolboys were taught to knit squares of crochet to make blankets for troops.
I didn't know much of men that they wove, but was excited to see that the practice of knitting is something that men do from Afghans to New Yorkers. To investigate the therapeutic value of weaving, I found that since 1918 is documented that soldiers wove. Impressed by the boys weaving; I already knew how to knit, but if you want to discover it teach a man to knit fine dots. Thank you, Paul.

Did you like this article?
Subscribe to our RSS so you don't miss anything