Dare to wear this antidote to the crisis
Hay cosas sencillas que mejoran la salud y no cuestan dinero. Buceando por "San Google" (con menos milagros algunos han sido canonizados), a la búsqueda de mándalas (palabra de pronunciación esdrújula, aunque la RAE admite las dos, me gusta ser lo más fiel posible a su origen) he encontrado esta tesis doctoral. Escribe Pilar Luna.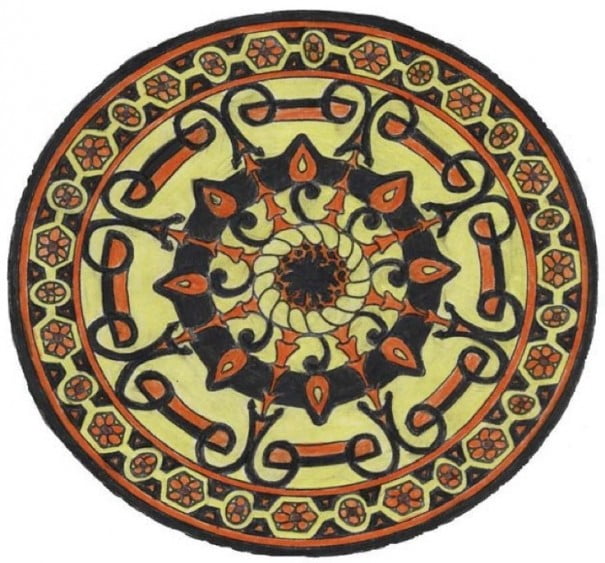 La tesis se titula "El uso de mandalas como Terapia Artística para niños y niñas pacientes del Hospital Universitario de Los Andes", y la escribió en 2008 Cerrada Andrade Albis Ayarit, dirigida por Leonor Alonso de González. (Leerla completa here )
Este trabajo puede respaldar a los "atrevidos" que quieran introducirlo como práctica en tantos y tantos sitios: hospitales, residencias, jóvenes, ancianos… sanos, enfermos… ¿Quién no está necesitado de sus beneficios?
Dice la autora en sus conclusiones: "La estabilidad en el ser humano se consigue a través de un estado de salud que se basa en el equilibrio entre aspectos físicos, psíquicos y emocionales… La presente investigación, de tipo exploratorio y descriptivo, haciendo uso de los mandalas ofreció una alternativa que permitió favorecer el surgimiento de nuevas cualidades de la personalidad que ayudan al bienestar del participante. Estas cualidades son los procesos de centración, de creación y de relajación… En efecto, los mandalas contribuyen al bienestar general de los/as niños/as hospitalizados/as, por ayudarlos a vivenciar procesos de socialización".
Dice David, de 15 años, como reflexión del trabajo: "…Me parece que este mandala es el instrumento para acceder a aquel lugar que los humanos a simple vista no podemos ver pero sabemos que está allí, y que depende de la manera que la accionemos permitirá encontrar el camino hacia el conocimiento".
No os perdáis los preciosos dibujos que realizaron los niños ingresados en el Hospital Universitario de los Andes… y sobre todo ¡¡¡Atreveos!!!!!!!!! Vale la pena.
Mi agradecimiento a las autoras, que ya se han atrevido y nos facilitan la apertura.
Dra. Pilar Luna Calatayud
Médica y Profesora de Yoga
Secretaria del CP de AEPY.