Interview with Lauren Imparato: "It is a dream to share yoga in an urban space"
He travels constantly teaching macroclases in the name of his Studio New York I.AM. YOU. Last Saturday in Madrid led a master class before 1,500 people organized by FreeYoga by Oyshio. We chatted with this known Yogini.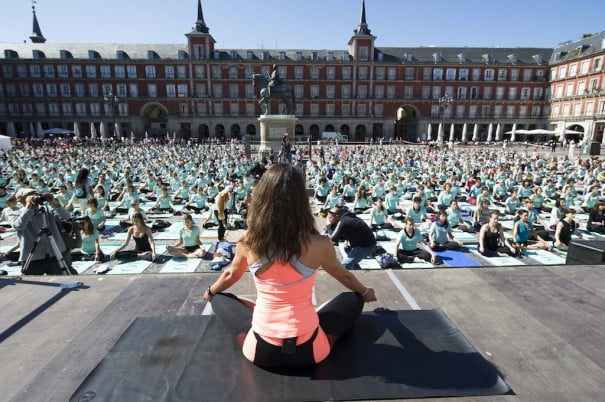 What is your main motivation to give these macroclases in big cities?
My passion is the yoga, join and share with people. With FreeYoga and similar classes in big cities it is possible share, sweating, and being together in a way that modern, urban life does not already so easy. In I.AM. YOU. We define yoga as a union. FreeYoga is the union of the people of a city, side by side, and the people with their city and its culture, and, of course, we ourselves, body and mind. To share this yoga in an urban space and create union, peace, and happiness in a city is a dream.
How do you feel to give a master class to thousands of people? How you you prepare yourself?
You feel incredible! Seriously, be able to teach these classes is a dream! The preparation of the event comes from the hand of FreeYoga and Oysho, and my preparation is the practice of yoga every day over the years. A daily practice helps you be the best teacher, and help you to feel and share power in a class of thousands of people.
Of all the contributions that makes yoga to the people, what you Excel?
Yoga gives you energy, help your digestion, but the most important thing for my: it helps you to create your ideal self in your ideal world, giving you the resources, energy and perspective to face any challenge and move forward, better than before. In a word: live.
What are your next projects?
The life! Recently I took 14 I.AM. videos YOU. Yoga can be downloaded at http://vimeo.com/ondemand/iamyoustudiospanish and do at home (7 in English and 7 in Spanish) and I'm writing a book. I have a class at the Governors Ball, to open the weekend of concerts in NYC on June 7, and other outdoor activities by New York this summer. And, of course, teach in the study of I.AM. YOU. in NYC!

Did you like this article?
Subscribe to our RSS so you don't miss anything