In memory of a great karma-yogui: Vicente Ferrer
I always have senses and loving thoughts to Vicente Ferrer. In this era of insensitivities and excessive greed, always remember those words in which I confessed: "the only thing that I pray is a heart of flesh and blood". As Buddha would say, a tender heart and a clear mind, that is better to what a human being can suck it. Calle Ramiro writes.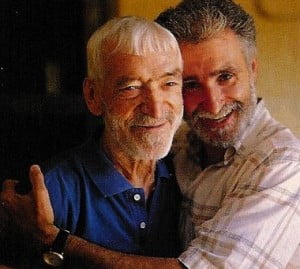 Amply showed clearly this singular man, this extraordinary social worker (he told me that he liked to be taken as such) that had a big heart of flesh and blood, and not steel as there are so many others.
But in addition to a social worker Vicente Ferrer was a Yogi. A Yogi not only because you practice yoga, which practiced it, but because of his attitude. A karma-yoqui that was taking conscious action and altruistic, and that was at all times maintain equanimity. One of the times that I visited in my house I commented, very concerned, who doubted that it renew the visa to stay in the India, and who was going through a very delicate moment. But at any moment he lost the half smile Yogi or calm that was reflected in their ascetic movements and his clear gaze. Then I did an interview for the tertulia humanist who year after year we had gone out on the radio my brother Miguel Angel And I. Even-handed was always measured, admirably and sometimes seemed to see in him an ascetic monk Sinhala or Burmese.
I had heard many times of Vicente Ferrer by our mutual friend Alberto Oliveras. And behold, one day I'm giving hatha-yoga class in Shadak, the yoga Center that I am 45 years ago, and the secretariat tells me of that are waiting for me outside. I go out momentarily and there, with his usual humility in dress and your loving smile, is Vicente Ferrer. We hugged. It tells me that you continue to give yoga class, that is the important thing, and that we'll have more time. Advance me that the positions of investment, such as sailing and the envelope you like especially the head, which help to refresh the mind and relax. It has the wiry body of a Yogi of the India. I promise you go to visit his colony in Anantapur, India.
We carteamos us. I am looking for the way to travel to India, I want to shake my arms to this great karma-yogui of the 20th century, and ask many questions, whose answers, part of them, are displayed in my work Conversations with Yogis. I finally find time to go visit him, as he had promised. I spend three days in their colony and every day you interviewed. Again emphasizing how much they help to concentrate and win at vitality investment positions, bringing blood to the head. It has a great skill to make some of them. We had dinner and talked, while delight the exquisite food prepared Ana, your spouse. When I ask him how would define himself, says:
-Wow, that's hard! By my profession, I am a social trajador. In addition, do not say that he is a philosopher, but a man interested in the philosophical, religious, theological dimension of life. And, above all, I feel someone inclined to do good.
He complains that the human mind has not had the wisdom to eliminate poverty in this afflicted planet. It declares:
-It is hard I put my faith in society. I believe in people, but these are in a partnership with systems that prevent you to be good. Social systems influence a lot desarmonizar to the human being, because society is most inharmonious man.
As a true karma-yogui that is, says:
-No esperar recompensa nos hace libres. La acción bondadosa es superior a todo. De nubes para abajo es de lo único que no podemos duar, porque incluso los malvados tienen momentos de bondad. Después de haber leído tanto, la acción bondadosa es, para mí, lo único esencial. Pero no es la acción sin cabeza. Es la acción lúcida. No esperar recompensa, sí, nos hace muy libres.
Hago referencia a esa "religiosidad cósmica" que descubrió Mircea Eliade en la India, y me dice:
-In the India I have discovered so many things of its philosophy, of religion, of the simplicity of people, of extreme poverty also accompanied by taking things as a quiet "we'll see what happens, but we will forward...".
We talked for hours. It says something that also permeates the essence of yoga:
-Yo creo que la mejor terapia consiste en fijarse en lo mejor, en poner el acento en las cosas buenas. Por ejemplo, disfrutar de cada amanecer, paladear el sentirse contento, disfrutar de la buena salud, deleitarse con la música, sentir la emoción de la belleza que se desprende de la ecuación de Einstein, pensar en el amor de la madre, en lo que te divertías jugando al fútbol, bailando, comiendo…
Y tras una pasusa insiste:
-Hay que llevar a cabo la acción buena y diestra.
Tomando mi mano cariñosamente entre las suyas, enfatiza:
– Yo creo que la bondad es el motor de la vida.
Practica yoga desde hace muchos años. Cambiamos impresiones sobre las excelencias de este método milenario, originario de la India, el país que él tanto ama. Y afirma:
-Yoga y meditación son sistemas terapéuticos. Es real el viejo aforismo: "Mente sana en cuerpo sano". El ser humano es una unidad y el cuerpo es importantísimo para esta vida. Por eso debe ser ligero, dúctil. Yo creo mucho en el karma-yoga o yoga de la acción desinteresada. Las psicologías orientales tienen métodos para meditar que son muy necesarios y a los que habría que acostumbrarse en Occidente.
De repente me dice:
-No te puedes ir de aquí sin dar alguna clase de yoga a los que aquí se alojan, ¿de acuerdo?
-That is done – I say pleased - we give you a good class.
On the evening of the following day, good number of Westerners and Indians met in one of the rooms and throughout nearly two hours I teach them a kind of classical hatha yoga. Later, already at night, in that poignant silence, again I can enjoy dishes that Ana prepares for dinner. Meanwhile, we return to talk of compassionate action. One of the basic principles of the karma is 'Do the best you can at any time and circumstance'. Thus came Vicente always.
Tres días después de mi llegada nos despedimos, aunque volveremos a vernos varias veces más en Madrid y bromearemos con aquello de que cuando estamos boca abajo, en una postura de yoga, es solo cuando vemos el mundo al derecho, porque la verdad es que está al revés.
Necesitamos karma-yoguis en una sociedad oscurecida por la corrupción y la desorbitada codicia. Necesitamos, como diría Vivekananda, "trabajar por el amor al trabajo. Hay en cada país unos pocos seres humanos que son realmente la sal de la tierra. Trabajan simplemente porque de ello resulta el bien".
Calle Ramiro

More than 50 years has been Calle Ramiro teaching yoga. He began teaching at home and created an Academy of yoga correspondence for all Spain and Latin America. In January of l971 opened its Yoga Center Shadak, that have already passed more than half a million people. His 250 published works include more than fifty devoted to yoga and related disciplines. He has made Yoga the purpose and sense of his life, having traveled a hundred times to India, the homeland of yoga.