Asana / Janu Sirsasana or position of Extension on the leg
To explain Janu Sirsasana (head posture-sirsa-above the knee-Janu-) we follow the text of the book Yoga. The method Ramiro Calle, Ramiro Street (Editorial Martínez Roca). Running: Maria Ovando, Professor of the school international of Yoga. Photos: Thor Castro.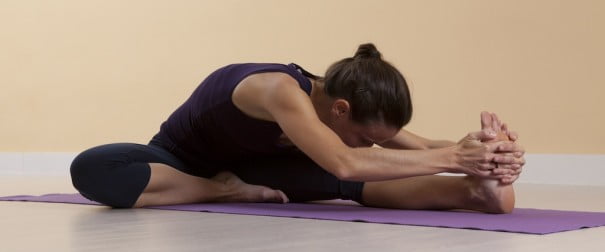 Technique
Sit on the floor with your legs together and stretched.
Flexing his left leg and attached the plant of the foot with the inside of the right foot, with the left heel with the right groin.
The trunk slowly forward bends to bring as much as you can with the trunk to the extended leg. Place your hands on the floor of the right foot or ankle.
It approximates the face as much as you can to the knee, as well as chest and forearms on the floor.
Keep the position time suitable, undo it slowly and do it on the other leg.
Concentration
Along the spine.
Time
From one minute to two minutes on each leg. You can run the position once or twice per side.
Effects
It eliminates tensions and stiffness in his back.
It relaxes the spine.
It improves the blood flow throughout the body.
It gives elasticity to the hip joint.
It relaxes all the posterior muscles of the legs and the tendon of the knee.
He is a massage on the intercostal muscles and intestines.
Unlock and induces deep relaxation.
It helps to introvertirse and pacify the emotions.