The battle that we do not choose
This photo essay is titled: "The struggle of a woman against breast cancer". There is a human story behind and that enrich learning. You can see all the photographic series on the link below.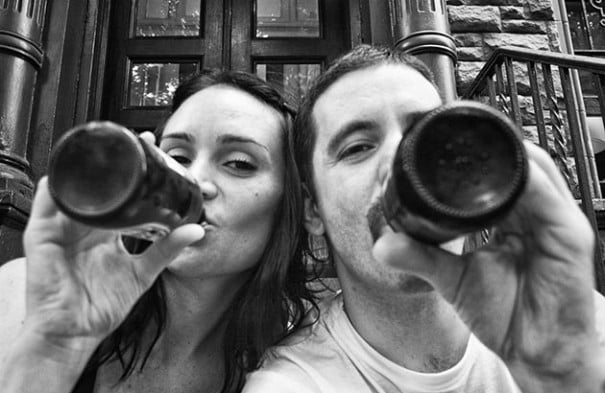 When Angelo Merendino He saw what would be your spouse, Jenniferhad the feeling that would share his life with her. When it gathered forces, he told him how much he loved her. For his luck, she also loved him. So begins this beautiful love story, which followed with a quick marriage. Five months after the wedding, Jen breast cancer was diagnosed. The memory of that time, the smells, the tastes and that sour feeling was something that always wrapped the gaze of Angelo. Then she said: "We are together, and we are going to be OK".
Every test, every pain, was a challenge that had to learn a language that was based on the looks. Jen you taught to look, to love, to listen, to give and to believe in miracles. For him, the five years that lasted the fight against the cancer of his wife was the happiest time of his life.
The battle that ever lived had chosen, but were conscious thanks to groups in support of the daily difficulties of living with cancer. Breast cancer is the most widespread and deadly among women. Jen 39 years already going Walker, she was exhausted and full of bruises from chemotherapy. The sadness and despair were common. Battles with insurance companies to cover drugs, fear, anxiety, new expectations, the disappointment.
A necessary story
Unfortunately people don't want to read stories of these realities, and I understand to a certain extent. We believe that life has nothing to do with the death, but this article is a tribute to the survivors of cancer that have shared and share these struggles. People who assumes the risk of making pioneering treatments and continue leading a "normal" life. But there is nothing normal in cancer. Cancer patients have to define a new sense of their lives, and every day are asking: How could expect another I have to live every day?
Jen asked Angelo all their process, which fotografiase to show the daily life of the cancer, humanize the process... put face to the beast. These portraits that you will see here are the challenge, difficulty, fear, sadness and loneliness facing those who fight against this terrible disease. And most importantly of all, can we show our love. These photographs do not define the cancer, but our ability to be "ourselves" in any circumstance, to be present.

The cancer is in the news every day, and perhaps through these portraits the next time a stranger you ask what you can do, simply listen you. The answer matters little, just a little bit of empathy and understanding It will be enough.
Puedes ver toda la serie fotográfica en http://mywifesfightwithbreastcancer.com/
By Koncha pines-Pey