Interview with Pauline Monk: "help to them more to cope with the wear of the life"
Pauline monk is an outstanding teacher, a real Karma-yogui who love for the elderly has led him to give them altruistically Yoga classes for 12 years. It is an interview of Ramiro Calle. Photo: Thor Castro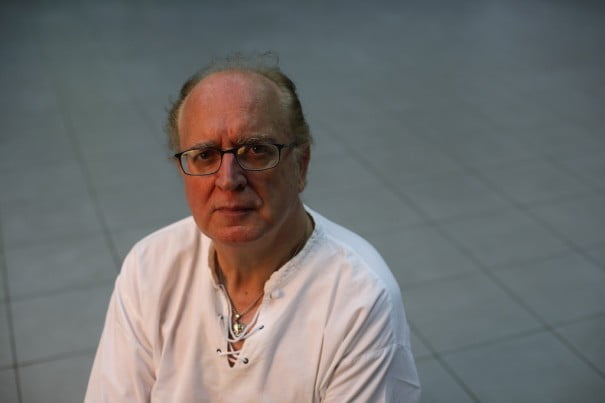 About 3,000 people have benefited from classes of meditation monk Paulinus in the Moratalaz Senior Center and other similar centres. You experience more than a hundred people in their crowded classes per session, and students benefit from the ancient techniques of Yoga, they both can do for the human mind aligning it and turning it into a source of joy and well-being.
At what point are you did the bright idea of bringing meditation and Yoga to more people? How did the opportunity?
I was lucky to gain access to a retirement in the multinational company where he worked as an Executive, and this gave me the opportunity to devote my time to a personal project you had in mind for a long time and that was to help the elderly senior citizens on a volunteer basis.
And what better way to let them know about Yoga and meditation that since a few years practicing with my teacher and friend Calle Ramiro Shadak Center, so they could live and also experience its great benefits.
And the opportunity was provided by the friendship that had with humanist and an extraordinary person as Pepita Alba, President of the Moratalaz Senior Center, is the oldest in members of the community of Madrid, who seemed my proposal very interesting and novel so it opened the doors to teach mental Yoga and meditation classes. And so I started.
What is what motivated you to selflessly teach?
If you exert a volunteer, means that you do unselfishly to others without any material consideration. In addition, my personal conduct code and received education I felt happy and blessed by helping the elderly, so reviled in Western society, with both individualism, consumerism and hedonism, when they both need that it is heard, is encourage them and to help them cope with wear and tear of life itself.
Wear by loss of memory, the weariness of his years, the slowness of their movements. What did that recognize them for what they have done for the benefit of other generations. (E) be interested equally in their physical and mental health the generational problems that overwhelm them, their thoughts, their loneliness, their fears. In short, my personal mantra to them is: "Want a major is an act of love".
Many students have passed by your classes and centers teach them?. How many years have you been teaching them?
With a significant influx in each course, I calculate that they have in person attended classes close to 3,000 people, and there is enough to come yet as great meditators are, belonging to centers of greater Moratalaz and Barroso Nicanor, and I've been teaching the 12 years.
What provide classes to the elderly? What are, according to your experience, the more prominent benefits?
Mental Yoga classes gives the elderly a vital indescribable mood and making them flow with life, because they experience and feel with intensity inside the achievement and the bliss of feeling much better mental and psychological. In addition, they acquire an important learning in their attitudes to handle avatars or vicissitudes of life that so much has changed for them and that sometimes goes beyond them.
The benefits are really amazing and soothing because it provides them with calm and tranquillity accompanied by a serenity deep; greatly enhance attention and concentration to improve memory; feel more lucid and clear; They regulate physiological functions; significantly improve the psychosomatic unit eliminating those false pains or discomfort so typical of those ages and that do not obey anything pathological; they reconcile the good night's sleep by suppressing drugs to get it; free of depression and anxiety and distress leaving take antidepressants and anxiolytics; they assume with greater fortitude and serene acceptance loneliness may have; are more communicative in their relationship with each other avoiding the insulation; they overcome the obsessions and fears as given in those ages; they learn to assume without fret the loss of the life companion and that it is a very critical time in their lives; and finally, become aware of live fully the "" here and now "without major pretensions, as an essential of life attitude."
What most motivates you to teach classes year after year? What contribute it your seniors and what you provide them? What they most need and what gives them the Yoga?
It motivates me mainly for my affection and respect for the elderly, in addition to the great satisfaction that produces that year after year can help more people to make them see that there are still possibilities of improving their quality of life, eliminating the tribulations that may have and that leads them to feel distressed and hopeless.
My contribution towards them is to deliver me squarely in the classes that I teach, so they can obtain the greatest benefits to their emotional and psychological health and they bring me their gratitude that moves me and his loyal and unwavering friendship.
Adults need much affection and understanding and with the practice of the mental Yoga know that it gives them a set of techniques and methods as the best natural medicine considered primordial and that makes them to celebrate life every day.