Mulabandha and osteopath stretcher
Un espejo donde uno es lo que es y no hay escapatoria posible: la camilla de un buen terapeuta manual. El mío se llama Víctor, oficia en Valladolid y aúna la temible destreza física de un campeón de judo con la sensibilidad de una madre. Escribe Roberto Rodríguez Nogueira.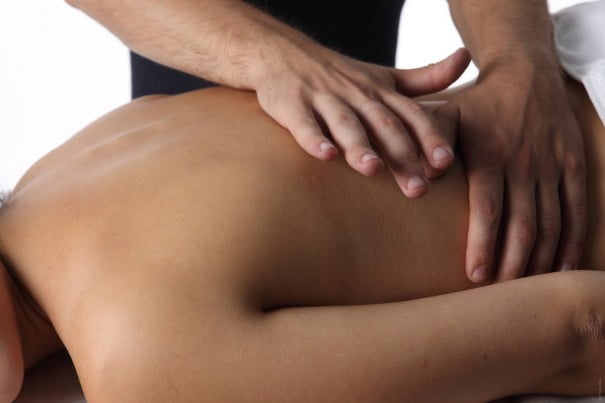 Como todo buen profesor de Pilates, Víctor es un fanático de los bandhas o, como lo llaman los adeptos de este yoga genial, la mansión de poder o el núcleo del cuerpo. La acción muscular que faja el espacio entre el suelo pélvico y el diafragma estabilizando caderas, sacro, vértebras y costillas inferiores, dirigiendo la presión respiratoria hacia el lugar del cuerpo que se desee a través de la colocación inteligente de huesos y músculos. ¡Los bandas yóguicos de toda la vida! Tirar del perineo parriba en plan lavativa mira tú por dónde… o por donde no, según.
-Víctor (con 92 kilos de presión sobre mi espalda y una inocente fe en mis capacidades): Ajustabandhasrelajaglúteossueltacaderasaflojaelcuellorespira. ¡Relaja!
-Yo (con estrangulado hilillo de voz): ¡Estoy ajustando los bandhas!
-Víctor (tajante, desmitificador, sin soltar): No. Tira más fuerte.
-Yo: ¡Pero es que en yoga no…!
-Víctor: Respira y tira más.
Obedezco como si me fuera (que me va) la vida en ello, Víctor suelta la presión y hace un ligero movimiento.
-Mi sacro (sutil): Snap.
-Víctor: Hecho. Tienes que trabajar más los abdominales y los bandhas. Te voy a enseñar unos ejercicios. (¡¡A MÍ!!! Y lo hace sin despeinarse)
Articulación sacroilíaca en su sitio, vanitas vanitatis destrozada. Huevos en la garganta. Esto debería ser una epifanía yóguica, un chute de luminosa kundalini. No lo es.
¿Dónde se han ido mis bandhas (cataplines) estos últimos meses? ¿Qué le ha pasado a mi postura? ¿Cómo he estado respirando? La respuesta es evidente: más atención a lo externo que a lo interno, a las noticias del día que al pensamiento positivo, a la crítica que a la satisfacción, a la angustia que a la práctica del yoga. Bueno. No es la primera vez. Ni la segunda. Ni la tercera. Soy un fistro de pecador casi acostumbrado a caer. Sólo "casi". Siempre me levanto. ¡Arriba esos… corazones!
Dos consejos nena, me digo: primero, fájate los machos. ¡Son tuyos! ¡Desacojónate! Segundo: haz yoga con un aislante pesado. Has perdido dos ligeros en lo que va de semana ¡A tirar parriba de bandas ya no me gana ni Speedy González!
¡Ándale, ándale. Arriba, arriba. Iiiiiiiyyyyyyjaaaaaaaaaa!
¡Que tengas un gran día!
Who is

Roberto Rodríguez Nogueira teaches yoga, blogger and writer.