Festival of Yoga for all tastes and levels
On 1 and 2 December, in the Centro Sivananda de Madrid, two days of celebration with practical advice, conferences, workshops, and excellent music.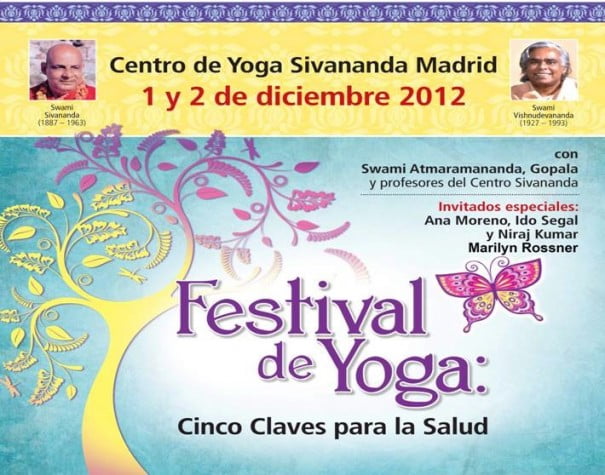 The programme of these two days will be in charge of Swami Atmaramananda, Gopala and instructors of the Center. And as special guests, Marilyn Rossner (medium and therapist), Ana Moreno (naturopath, reflexoterapeuta and writer), Ido Segal (musician: nansa Viña, violin and Eastern percussion), Niraj Kumar (musician: pakhavaj, kanjeera, naal, dholak, Indian table).
Saturday:
11:00 presentation of "My positive thinking", Gopala
12:00 "Stretching and relaxation" Asanas, Swami Atmaramananda
14:00 vegetarian food
15: 30 Conference "The classical Hatha Yoga, Asana demonstration", Swami Atmaramananda
17:00 Asanas "Improves your balance"
17:00 workshop "Greeting to the Sun and pranayama"
17:00 workshop for teachers Sivananda, Gopala
19:30 meditation for peace, Swami Atmaramanda.
Concert of classical music India, Ido Segal and Niraj Kumar.
Sunday:
11:00 advice customized to my "positive thinking", Swami Atmaramananda and Gopala
12:00 Asanas "Your back in shape"
12:00 workshop for teachers "Inverted postures", Swami Atmaramananda
12:00 workshop "Concentration and meditation"
14:00 vegetarian food
15:30 Conference and workshop "The alternative vegetarian", Ana Moreno
17:30 "In the asana meditative experience" Asanas, Gopala
19:00 meditation, Swami Atmaramananda.
Marilyn Rossner will be their experiences with Swami Vishnudevananda and will speak of the
astral world.
Entry with suggested donation: €25 / day. Including food