Yoga plans for the weekend
Tras la pausa con motivo de las fiestas, retomamos la agenda, y para este fin de semana de comienzo de año te proponemos: curso de introducción al sánscrito, retiro de yoga, baño de gong, yoga integral, taller de cocina vegetariana… Todo esto y mucho más… No dejes pasar la oportunidad y corre a apuntarte.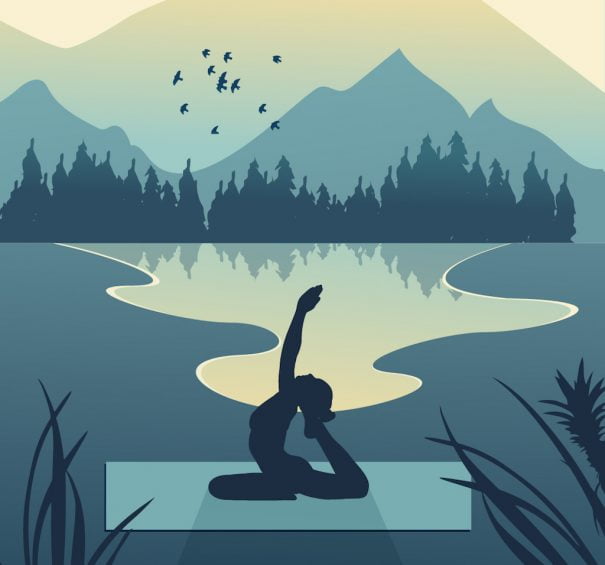 Viernes 10 de enero
Yoga and Meditation Retreat in the Navarrese Pyrenees
10 al 12 de enero. Este retiro se desarrolla en el Pirineo navarro, en el encantador pueblo montañés de Arrieta, en el Valle de Arce, donde el tiempo parece que se detenga.
La tranquilidad del entorno lo convierte en un lugar ideal para el yoga, la meditación y el relax. Pasearemos y meditaremos frente al lago de la Selva de Irati, el segundo bosque de hayas más extenso de Europa. Un lugar mágico espectacular en verano. Y visitaremos la histórica Colegiata de Roncesvalles, antiguo enclave medieval cargado de misticismo y energía.
Where: Pirineo navarro
More information: https://www.retirosyogapirineo.com/
Baño de Gong: Celebrando la Luna llena
Cada baño de Gong es algo único y mágico, una experiencia directa de transformación que te conecta con tu corazón.
Trabajaremos con la energía de la luna llena en Cáncer para:
– Iluminar tus zonas oscuras.
– Liberarte de tu toxicidad
– Equilibrar tus relaciones.
– Enfocar tu energía y permitir el cambio.
Where: Espacio Theman. Calle Eugenio Salazar 14 – 28002 Madrid
Contact: T 609 142 989 | victornicolaumakow@gmail.com
Sábado 11 de enero
Curso Intensivo de Introducción al Sánscrito, con Lakshmi
11 y 12 de enero. Centro de Yoga Sivananda Madrid. Especial para profesores y estudiantes de yoga. Recomendado para todos los que quieren conocer el idioma literario de las escrituras clásicas de la India. El programa de fin de semana incluye 4 clases de sánscrito de hora y media, 4 clases de yoga, 2 satsang (meditación en grupo) y la comida.
Opening hours: de 10:00h a 21:00h
Where: Eraso, 4 28028 Madrid
Contact: T 91 361 51 50 | madrid@sivananda.net
More information: https://www.sivananda.es/eventos/curso-intensivo-de-sanscrito-2020/
Comprehensive Swing Yoga Course
11 y 12 de enero. Nivel Básico y Avanzado.
It teaches: Kali, formadora de la Escuela Mahashakti
Where: Centro Prana Yoga.Calle de Francisco Bances Candamo 10. Oviedo
Price: 180 €/día. Se hace el 15% de descuento a quienes asisten los dos días.
Registration: T 626 45 65 29/ kali@escuelamahashakti.com
More information: https://www.escuelamahashakti.com/cursos-especializados/yoga-integral-columpio/
Vegetarian Ayurvedic cooking workshop
El objetivo de este taller es hacer accesibles los conocimientos ayurvédicos milenarios, adaptándolos a la cocina moderna con recetas sencillas para compartir con toda la familia, a base de productos frescos y de temporada. Aprenderemos a usar y a conocer las especias y también a manejar las infusiones.
Está dirigido a todos aquellos interesados en seguir una alimentación más sana, incorporando alimentos y suplementos que alargan la vida y nos aportan salud y energía.
It facilitates: Arnaud Hos. Naturópata y Nutricionista ayurveda
Where: C/ Nicasio Gallego 22 bajo derecha. Madrid.
More information: http://centrochambery.com/events/cocina-ayurvedica-sin-gluten-2-3-2-2/
Domingo 12 de enero
Shamanic Yoga Training
Un Curso de iniciación en el Yoga Chamánico especialmente dirigido a jóvenes inconformistas, artistas y personas que quieren explorar su potencial creador. No se necesita formación previa. Si buscas iniciar un camino de transformación interior a través de la práctica espiritual, este taller es para ti.
El Yoga y el Chamanismo estuvieron ligados en el origen de los tiempos. Te invitamos a abandonar la confusión sobre la práctica del yoga y volver a la filosofía de raíz, a la sabiduría ancestral y a la conexión con la naturaleza. En la intimidad de nuestra singular escuela, compartiremos enseñanzas del Yoga Chamánico que llevamos aprendiendo y practicando más de 20 años.
Where: Menendez Pidal 27. Bajo Interior. Madrid. Metro Duque de Pastrana
Reservations: WhatsApp: 648 515 648 | juanhplaza@gmail.com
Contribution: 60 € reserva por transferencia bancaria 80 € el día del evento
More information: http://www.yogaelohim.es/