The illusory veil
Una de las definiciones más hermosas de lo que es el yoga, y posiblemente la que tiene más contenido, señala que
yoga is the
conjunto de técnicas que remueven el velo ilusorio que separa el cuerpo y la mente de nuestra verdadera realidad: el Ser.
Write slam Pedro López Pereda.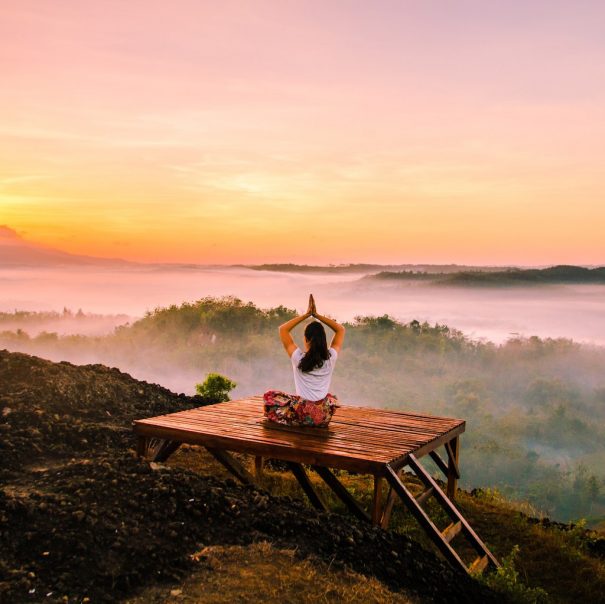 This set of techniques that shape our yoga practice is directly related to el desarrollo de nuestro potencial y con la expansión de nuestra conciencia. Se compone de diferentes herramientas como son los ásanas, la meditación, el pranayama…
The path of yoga is always directed desde lo más denso hacia lo más sutil. Es una senda gradual, que comienza en lo exterior para llegar al interior. De esta forma, el trabajo se inicia tomando conciencia del cuerpo físico a través de los ásanas, pasando por el proceso de restringir las fluctuaciones de la mente y reduciendo las capas de ignorancia que forman el velo ilusorio, to culminate in the harmonization of our vital centres denominados Lotos o Chakras.
The practice of Asanas desarrolla nuestra energía y nuestra atención, que son los cimientos de nuestro posterior trabajo.
The meditation es básica para retirar los obstáculos que nos impiden apreciar la luz del Ser en todo su esplendor.
The pranayama nos ayuda a trabajar en la apertura de los chakras, en la limpieza de los bloqueos que impiden su correcto funcionamiento y en su armonización.
No hay rutas predefinidas en el camino del yoga. Cada yogui y cada yoguini tienen un trabajo que hacer y unas experiencias que vivir. La mayor o menor dificultad que cada uno encuentra en su camino se relaciona con las mayores o menores capas de opacidad que tiene su velo ilusorio.
The teachers say that in each of the planes that separates the illusory veil one lives reality with dos conciencias: la del Momento y la del Ser.
The Consciousness of the Moment nos la transmite el plano más denso, el plano del espacio y el tiempo.
El camino siempre contiene obstáculos y la tarea del caminante es atravesarlos mediante la conciencia del Momento.
When we overcome these obstacles, there is gradually a iluminación de las capas de ignorancia y su transformación en luz de conciencia. Esta experiencia se asemeja al proceso de armar un puzle. Cuando se remueve el velo ilusorio nos van llegando piezas sueltas de conocimiento que, con el tiempo, van encajando y adquiriendo todo su significado.
The Conciencia del Ser, en cambio, examina la realidad con la mirada interna y desde la comprensión del Todo.
De esta forma, con la práctica continuada del yoga, conseguimos remover el velo ilusorio, dejando que la luz del Ser salga al exterior. Esa luz se proyectará en muchas de las acciones que realizamos en este plano físico.
Aun así, aquí no acaba el trabajo. Yoguis y yoguinis deben dejar que todos sus componentes se vayan adaptando a ese nuevo estado que en ellos se está produciendo.
Este camino no lo podemos hacer solos, se necesita un guía experto que nos conduzca por el sendero correcto y nos evite riesgos innecesarios.
Estos maestros nos aportarán su conocimiento, pero su elección es totalmente libre y de nuestra responsabilidad. No se impone ninguna enseñanza que no quiera ser recibida.
Una buena guía para discernir si un mensaje y su emisor son auténticos es comprobar si nos llegan con conciencia y amor.
El amor remueve el velo ilusorio y abre a los seres hacia otras dimensiones del conocimiento.
Cuando un ser está abierto al amor, su conciencia toca lo universal.
Pedro López Pereda He is a practitioner of yoga and transcendental meditation for more than 30 years, was director and Professor of the center of yoga and self-realization Namaskar. Member of the Professional Association of Yoga teachers in Madrid. Reiki Master.

In 2008 created with Isabel Hernandez and Teresa Luquero Foundation Yoga. She is President, yoga teacher, he has published several books and has participated as a speaker in various congresses of yoga.

Ha escrito los siguientes libros: Diseñando un Ser Consciente. (2001), Manual de Instrucciones del Ser Humano. (2006), El Nacimiento del Yoga. (2008), El Origen de los Ásanas. (2009), Viyoga, la técnica que forjó a los seres libres. (2010), Viaje hacia el Ser. (2013), Cómo poner la Mente en Blanco. (2014), Los Planos del Crecimiento Espiritual. (2015), ¿Y yo? ¿Estoy muerto? (2016), El Mandala Oculto. (2017), El Cuenco Vacío (2018).