Yoga and Kinesiology
Ancient cultures are sources of wisdom from which they drink the disciplines that are born today. Yoga is one of them, from which many techniques, disciplines and therapies are nurtured, creating new ways of working with new names, although they have their basis in yoga. Write rubén Alvarez.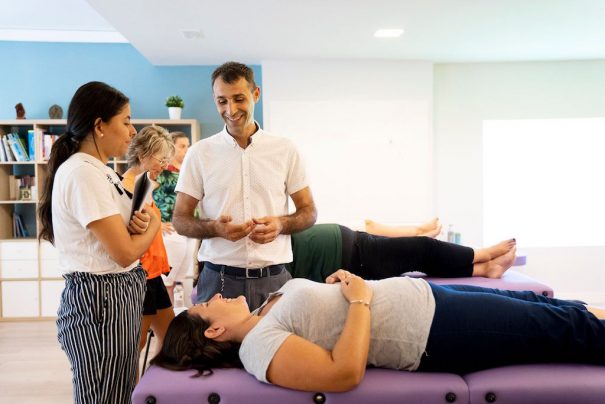 The ultimate purpose of yoga is the communion between Body and Being, the control of the body, the deep connection with Pure Consciousness and Enlightenment.
It is the means by means of we walk towards our personal fulfillment a todos los niveles. Para ello se crearon los múltiples ejercicios, posturas, asanas, shadanas, etc, que, al practicarlos diariamente, se van liberando los bloqueos físicos, orgánicos, emocionales, mentales y energéticos para llevarnos a un nivel de vibración alta desde donde To be in life.
Kinesiology shares the same goals, mission and vision as yoga, It even takes exercises and techniques to help the body reorganize its energy and restore muscle tones, posture and balance of mind and soul.
Kinesiology and Yoga, although they are two very different things in practice, complement each other perfectly. Now I'm going to explain why and how Kinesiology can help you improve your Yoga work or vice versa.
The Keys to Kinesiology
Kinesiology is the discipline that aims to balance the body's muscle tones to restore free movement to the body, mind and energy.
To do this incorporates techniques from multiple disciplines, such as chiropraxia, sacralcranial osteopathy, nutrition, behavioral psychoenergy, neurological reflex points, acupuncture, vibrational sound techniques, light, essences, manual energy techniques, shamanics, stretching exercises, movements, postures, pranayamas, and many more that continue to be included in our day.
The mink in Kinesiology of human functioning was in its infancy according to Traditional Chinese Medicine, since in the 1960s in the US it was the closest holistic current to which its creator had access, the Dr. George Goodheart.
Later were included other visions such as Ayurvedic, the New Germanic Medicine...
From the multiple visions and conceptions that define the integral proper functioning of the human being, Kinesiology has created working protocols to be able to identify which parts of the six different systems/bodies that make up it may be bouncing; what causes or factors may be affecting you and what techniques are going to restore the new balance y estabilidad que necesita para mantenerse sano y mantener una buena relación con los diferentes ámbitos de la vida, y así pueda cada personas avanzar hacia sus mejorares y objetivos vitales y espirituales.
Ayuda para practicantes de yoga
En la kinesiología se trabaja bajo las relaciones que encontró G. Goodheart entre los músculos, órganos y meridianos, identificando los músculos débiles o congelados que desajustan el sistema postural. Mediante la corrección y vuelta a la normalidad de los tonos musculares se permite un buen trabajo neuromuscular y funcionamiento del cuerpomente, lo que ayuda en gran medida a los practicantes del yoga a mejorar su desarrollo y evolución en su práctica al partir de una situación mucho más fuerte y equilibrada.
Mis alumnos practicantes y profesores de yoga han visto mejorado con creces su trabajo diario en yoga, así como han podido ayudar a sus alumnos a mejorar las posturas, ejercicios y equilibrios gracias a los trabajos de kinesiología, lo que hace el trabajo de yoga mucho más agradable y permite un avance más rápido y motivador para ellos.
Para mí, la kinesiología, en este sentido sería como la restauración y armonización del sistema, y el yoga la potenciación del mismo.
Una gran diferencia entre la kinesiología y el yoga es que la primera trabaja de forma muy específica ante objetivos o problemas concretos de la persona, lo que se puede afinar mucho para resolver o avanzar en los bloqueos concretos. En cambio el yoga trabaja a nivel más global, lo que ayuda a seguir mejorando e integrando todos los cambios creados mediante la kinesiología.
Así funciona en la realidad
Te voy a poner varios ejemplos de cómo te puede ayudar la kinesiología para tu práctica del yoga.
–Una de mis alumnas, profesora de yoga, tras ser operada de un riñón, perdió mucho su estabilidad y equilibrio. Gracias al trabajo de kinesiología ha podido recuperar su centro y ahora puede hacer el trabajo mucho mejor cuando trabaja en posturas de equilibrio.
–Otra profesora de yoga pudo ayudar a una de sus alumnas a trabajar un dolor en el abdomen por una cicatriz de operación que le impedía hacer sus prácticas de yoga. Ahora ya no le tira ni duele y puede hacer las asanas con total normalidad.
–Otra pudo recuperarse de su lesión lumbar que le impedía hacer sus clases normales de yoga y ahora ha ganado mucha flexibilidad en sus músculos posteriores de las piernas y fuerza en su abdomen.
–A otra le ha ayudado mucho a mantener la mente aquietada durante el yoga al poder trabajar sus conflictos emocionales, lo que los beneficios durante su práctica de yoga a nivel mental tuvieron un avance espectacular y ahora puede meditar más profundamente y mantener las posturas mejor y más tiempo.
–A otra la kinesiología le permite testar en cada clase, en función de cómo vienen sus alumnos y cómo está la energía del día, quée ejercicios va a trabajar, provocando un beneficio mucho mayor en sus alumnos.
Estos son algunos ejemplos de cómo puede ayudar la Kinesiología al Yoga, tanto a nivel personal como a nivel de los alumnos, en los que puedes observar la punta de la cantidad de beneficios que puede aportar tanto en tu práctica como en tus clases.
Si deseas continuar adentrándote en la profundidad de tu Ser y poder ayudar más y mejor a los demás, la Kinesiología Unificada te va a llevar de la mano y acompañará en tus trabajos del yoga.
In IEKU, Instituto Europeo de Kinesiología Unificada, estamos a tu disposición donde te ofrecemos diferentes formaciones y cursos relacionados con la kinesiología y el desarrollo personal donde podrás aprender de forma seria y profesional esta maravillosa herramienta de cambio y evolución.
Rubén Álvarez, Fundador y director de IEKU.
Contacto: 607636929 / info@ieku.es

More info on www.ieku.es