Interview with Ezequiel Anguizola: "The Yoga of Sound channels love and understanding of the Real"
"When you join a path that only vibrates in unity, what opens up is huge. You're channeling more and more light; stronger comes up the Real and you understand that you're just a channel." Ezequiel Anguizola comes to Spain to teach us the way of Nada Yoga or Yoga of Sound. It is an interview by Conchi Sánchez and Ainhoa Rangel for YogaenRed.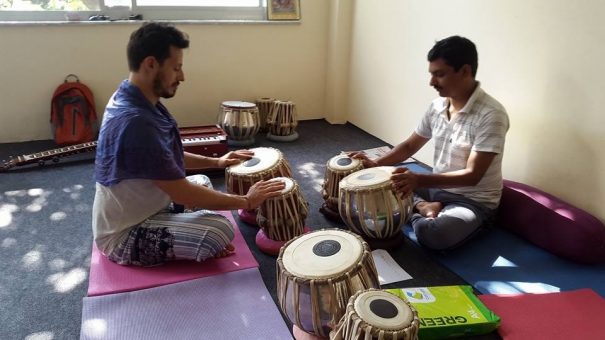 Ezequiel Anguizola He is a teacher trainer with more than 23 years of experience on this path. Arrive in Spain to teach two Training Courses in Nada Yoga or Yoga of the Sound (see below dates and places).
Q. How did you get into the Yoga of Sound?
A. The universe put him in my path in a yoga activity that I attended in my youth in Argentina. In that activity at the end there was a gentleman playing an instrument he had never seen and vocalizing or, rather, channeling from the sound. This practice of Nada Yoga or Yoga of sound i remember that led me to one of the deepest meditations that I lived in those times. I felt that road opened up and it was. And I said to myself: this is the next step on the road to unity.
Then at the end of the activity I approached that gentleman who channeled from love and asked him if he was teaching. And after a few weeks I was studying and practicing with him. His name was Jorge Sinatra; He was my first teacher in Yoga of The Sound or Nada Yoga, with which I have shared many years of beautiful moments and a huge friendship. Today it is almost 80 years old, and although we are separated by geographical distance, it is always in energy present when opening the expansion in the sound of unity.
How did you continue with your training?
Yoga has given me in all these years to travel in many countries giving courses, which has also generated that I can study and practice with different teachers of different lines. In India, especially in Rishikesh, I met, studied and continued to study every year the Nothing Ancient Yoga like the Dhrupad, and other ancient ways of channeling from the hand of sound. In India the Universe united me with a beautiful being, Pandit Narayan Bhatt, my family in India, and other great teachers, who take care from tradition of these beautiful knowledges that inhabit within all beings alike.
What is Nada Yoga (Sound Yoga) really and what are the benefits of your practice?
The first thing we should say is that we are vibration, we are tuning in to our essence of unity. And it's all vibration and everything has a tune that expands into the unit. So andl Nada Yoga ancient is to practice awakening trust, empowering that vibration to be able to channel from love. The instrument for Nada Yoga is the physical body and our voice is one of the main tools in that vibration.
In ancient times Nada Yoga was practiced to unite with elementary beings, to be able to feel and act from love through these elemental beings that are air, water, earth, fire, ether. In other words: unity with Nature.
Esta práctica nos otorga confianza, abrir y expandir nuestra energía a lo sutil, y sobre todo mucho amor para sanar solo desde ese lugar, amor y entendimiento de lo real.
You will teach in Spain for the first time two courses of Sound Yoga. On what dates and where?
Yes, one on 5 and 6 October in Yoga Mudra Moralzarzal (Madrid) and on 19 and 20 October in YogaBilbao Bilbao.
Very happy to return to Spain and to be able to share a way more than one of the branches of practice unity, very grateful with this invitation with these beautiful beings who own these centers (spiritual family in Spain) and that generate beautiful activities for their Communities.
Is it necessary to have prior knowledge?
It's for everyone who wants to share from unity. You don't have to practice, we all have the knowledge within us; you just have to remember, and that comes from practicing.
During these years of training and personal practice, could you tell us what your experience is with Nada Yoga?
The experience has been and continues to be huge! When you join a path that only vibrates in unity, what opens up is huge and getting more and more subtle. It attracts more and more light and channels more and more light; the real thing comes up stronger and you understand that you're just a channel.
Over the years one goes loose to the laws of the Universe, give without waiting, practice without waiting for anything, simply be as it is the tree, the leaf or the hummingbird.
What would you say to the people who are reading this interview to encourage them to do this training in Nada Yoga? What can you bring them?
First I send you a huge embrace and love for every present in this life and in the following. Only to tell them that there are as many ways as beings dwell in the universe, and that all paths are true as long as they vibrate in unity and love. For some a spiritual path can be walking in the forest, looking at the sea, painting, reading, making music; for other taichi, yoga, sound, Nada Yoga, whatever you choose from love and in the present.
Just sit down, breathe consciously and sit down. And if you feel coming, we'll be there.
Thank you very much for this sharing. Harih Am, Loka Samasta Sukino Bavantuh, that all beings who inhabit all worlds may be eternally happy.
Ezequiel Anguizola he is an International Trainer Professor. Director OIYAY Central America and The Caribbean (see HERE).

Training in Nada Yoga

–28 y 29 de marzo de 2020 en Yoga Mudra en Moralzarzal (Madrid). Contacto: Conchi 669 12 40 17. Ver info HERE.

Ezequiel will also be in other cities in Spain teaching Nyasa Yoga Nidra courses.