Summer retreats and holidays: September 2019
Septiembre es un mes perfecto para concederte unos días de retiro de yoga y otras actividades para cultivar plenamente tu cuerpo, tu mente y tu espíritu en plena naturaleza y en compañía de personas afines. Aquí tienes las mejores propuestas ordenadas por orden cronológico.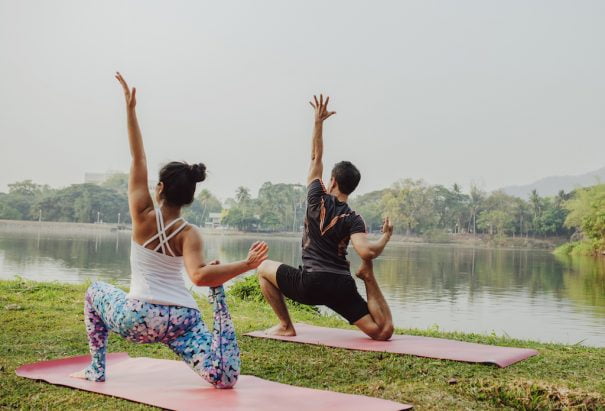 Yoga and surf
September 1-8
Where: Paradiso Hostel, Hinojedo, Cantabria Surf School Los Locos, Suances (Cantabria)
Surfers like yoga and yoga accompanies surfers. Why not try this new activity from the daily practice of yoga, enjoying the sea, the waves, friends, walks and sharing? Two daily yoga classes, daily surf class, meditations, lush nature near the sea. Sea and light baths.
Contact: alcaidegloria@gmail.com / T 605096735
More information: https://yogaenvacaciones.com/
Removal of Yoga and surfing in Morocco
From 1 to 7 September
Where: Morocco
A few days to celebrate life through yoga practice and learning to surf in a spectacular place in nature. This holiday is specially designed to enjoy a delicious time cultivating the body and spirit and the relationship with the sea and nature. Susana will guide you deeply in the practice of yoga, in its various aspects. Youssef and the Travel Surf Morocco team will make sure your surfing experience is the best possible. Together they will share with you their deep love for the ocean.
Every day we will practice together, eat delicious food and learn to surf under the instruction of dedicated surf teachers, whether you are an experienced surfer or if you are going to catch your first waves. We welcome you to the peace and majesty of this special place as we immerse ourselves in 7 days of yoga and surfing together.
More information: https://www.rasalilayoga.com
Retirement with Sandra Carson. Align with Freedom Yoga Retreat
September 1-8
Where: Barbecue area s/n Athens of St. Peter, Gredos
A few days to come into contact with yourself and nature, and move towards greater freedom and fullness in life.
There will be daily yoga classes, stress release practices, meditation, yoga philosophy, coaching and couples exercises along with walks and excursions to natural pools hidden in this amazing part of Spain.
Sandra's yoga style, with more than 18 years of international experience, (E-RYT500), certified in Anusara®, Vinyasa Flow and therapeutic yoga, is a magical combination between fluid and intuitive movement and alignment.
At the end of this week, you'll feel your body move steadily and freely and have tools to also decide that suits your life.
Accommodation in double rooms, with private bathroom (7 nights). Possibility of single room with supplement. Vegetarian healthy food. We use fresh and local ingredients prepared by an expert chef.
Price: from $1060
Contact: info@shamaretreats.com / T 627419996
Mindfulness and hiking in Gran Canaria holidays
September 6-9
Where: Las Palmas
Small group in manor house in the heart of the island of Gran Canaria, 40 minutes from Las Palmas.. Would you like to stop for a few days and feel really good about yourself? Are you always doing things and you feel like you're missing something? Do you think you deserve quality time for yourself? If your answer is yes, this holiday can certainly help you. During these days you have the opportunity to discover the joy and inner peace that dwell within you. And I assure you, this discovery is the best gift you can give yourself.
Mindfulness: We will start in the morning with a session of Mindfulness, we will awaken the body gradually with care and softness, we will learn to treat ourselves with kindness, I will guide you in the practice of meditation and mindfulness before taking our delicious Hiking Breakfast: We stayed in a beautiful place, we will hike enjoy the contact with nature and the joy that Yoga Amable brings us: Before dinner, we will enjoy a session of Friendly Yoga in which we will take care with exquisite attention the flexibility and body strength, being a small group facilitates personalized attention.
Price: 450o double room
It teaches: Cristina Erice
Contact: T 629 507 265
More information: http://www.cristinaerice.com/MindfunesMadrid/es/index.html
Yoga and meditation retreat
September 6-8
Where: Pirineo Navarro
This retreat takes place in the Navarro Pyrenees, in the beautiful small mountain village of Arrieta where time seems to stop. The tranquility of the environment makes it an ideal place for meditation, relaxation and reconnection with our essence many times lost by the stress of the city. These days we will practice Yoga and Meditation so that you can discover these practices or delve into them, but above all we will have a good time.
More information: https://www.retirosyogapirineo.com/
Yoga and nature holidays
September 7-13
Where: Casa Toraixa, Es Castell, Menorca
This summer we return to our beloved island of Menorca, an authentic natural treasure reserve of the Biosphere, wonderful to recharge the batteries, enjoy its wonderful beaches and unspoiled landscapes and connect with you. September is a perfect month to visit Menorca, less touristy and less hot. All the beaches, Talayotic villages and trails of the Camí de Cavalls for you! We will stay in a beautiful and quiet estate 3 minutes from the village of Es Castell, first municipality in Spain to see the sun rise, in a rural area, close to several prehistoric buildings and beautiful beaches. We invite you to spend a week of vacation doing what you like, fine-tuning your body and mind, in a healthy, conscious and fun environment, visiting the island at your own air or in shared cars, meeting new friends and nourishing you with healthy and delicious food.
They offer: Laura Ruiz and Diego Tello
Contact: laura@inspira-yoga.com | 656 68 29 25 T
More information: http://www.inspira-yoga.com/retiro-de-yoga-en-menorca-septiembre-2019/
India and the Himalayan retreat
September 8-21
Embark on a unique journey that will enrich your soul through self-knowledge and balance of body and mind. You will live personal experiences that will make you more aware of who you are and what surrounds you. You will share unforgettable moments with local communities; among its people you will learn to discover the world from a different perspective. On this fascinating journey we will discover the state of Rajasthan, known for its spectacular forts and palaces. Through the Himalayan roads, we will reach our magical destination, Jageshwar. On the way, we stopped to visit the Ashram Kainchi Dham, where Steve Jobs stayed for many years for his meditation and introspection practices. Minimum group of 4 and maximum of 10 women. If the group is completed with the 10 participants, a discount of 250 euros will be applied and the final price.
Deadline to sign up for the trip on August 9.
Contact: Traveler heels. T +34 681 675 733 / info@taconesviajeros.com
More information: https://www.taconesviajeros.com
Removal of Yoga and sea
September 10-15
Where: Cabo de Gata (Almería)
Complete program of yoga, workshops and routes next to Cabo de Gata. We will practice yoga in a beautiful room by the sea, in a campsite at the foot of the beach. Game workshops, dances, massages with essential oils, stress management, meditation and relaxation along with excursions to Cabo de Gata and paddletennis. A few days of sea and yoga, where you can collect all the energy from the sun to start autumn with energy. Alternative holidays and yoga since 2005.
Price: from €390
Contact: casadereposo@laperezosa.com
More information: https://laperezosa.com/
Your time for you with Coaching, Mindfulness
September 13-15
Where: Etxalar – Navarra
A premium weekend experience, in an unrivalled Guipuzcoan rural setting, where you will stop, observe and discover a new way to live without so much stress. A holiday in which you will experience calm with energy and thus put it into practice in your day to day to achieve your happiness. With our own methodology based on coaching and mindfulness. You are about to live the beginning of the change that you have been looking for so long in the middle of nature, in an idyllic place of calm and peace, in a hamlet near the town of Etxalar (Navarra). We will hear the cowbell of cows, the treading of the sheep and the sound and freshness of the grass. You'll have time to take advantage of it based on your needs. With space for group and individual work through coaching and mindfulness. It's time to take a step forward if you feel you can't take this stress anymore, if you spend your days flying, if you don't enjoy, if you're in a loop you want to leave
Registration: hola@sukhena.es | T 605467741
Price: €250
More information: https://www.sukhena.es/tu-momento-para-ti-coaching-mindfulness/
7 days of Surfing and Yoga retreat in magical Galicia
September 12-19
Where: Galicia
Enjoy an unforgettable holiday, full of nature, yoga and surfing with certified teachers with Trip Surf Galice, Yogalicia and Sea Monkeys. Stay with us in a typical Galician country house, renovated and traditionally decorated, ten minutes walk from the Atlantic Ocean, on the paradisiacal beach of San Jorge. Savor our healthy and natural food. Come recharge your energy by soaking up beach, sea and relaxation in an incomparable environment.
Contact: Flavia, flavia@yogalicia.nl / T 627109734 y 653687920
More information: http://www.yogalicia.nl/
Menorca, 8 Days of True Yoga Retreat in Nature
September 15-22, 2019
Where: Is Barranc d´Algendar, Ferreries, Menorca
If you are looking to truly disconnect for a few days in Nature we give you a time of full connection in one of the most beautiful and fascinating places of the island of Menorca, Es Barranc d'Algendar, an exceptional paradise.
8 Days of Hatha Yoga Flow, daily sessions with sounds of Tibetan bowls, 1 horseback ride at sunset, mouna (1 day of silence), nature walks, 2 sea outings to the warehouse, daily freshwater baths on the farm and mud baths , organic vegetarian food from the farm's orchard, all in an atmosphere of respect and simple people, individual or shared accommodation.
Maximum 8/9 participants. From 850o.
Contact and reservations: Marta Lázaro + 34 655 26 31 21
More information: www.yogaretiros.es
Retreat with Cris Aramburo. Yoga, Fluidity and Creation
September 18-22
Where: Place of Betis s/n Tarifa, Cadiz
September is a key month. It is a transition period between rest and the new course. September invites us to take the time to face the new projects with renewed energies. That is why, in September we gather ed by the sea; to be able to see the horizon and visualize with perspective our new start with Cris Aramburo in Bologna, Tarifa.
5 Days of activities, yoga and meditation practices, walks, relaxation exercises and connection, all with the common intention of getting us to a place in ourselves where everything dissolves, giving way to freedom and calm.
Teacher: Cris Aramburo. Cris trained as a teacher of Vinyasa Yoga, a dynamic and vigorous style in which she had started her practice at the American school years earlier. Having studied and practiced under different lineages and styles, some more traditional, others more focused on Western anatomy and lifestyle, in their practices he teaches a mixture that allows his students to realize their own mobility and their resistors themselves. In this way, the practice can be useful for much more than what happens on the mat.
Price: from: 430 euros. Discount for the first 10 registrations until August 20. (Only 4 seats are available at a discount)
It organizes: Shama Retreats. Nature yoga workshops and retreats.
Contact: info@shamaretreats.com / T 627419996
More information: https://www.shamaretreats.com/es/retiro-yoga-cadiz-cris-aramburo/
Weekend Yoga & dance by the sea
September 20-22
Where: Ortegal, Galicia
A program for you, to rest, to listen to the silence, to return to the essentials... and immerse yourself in a very special Yoga and dance experience. Time to create space to embrace what you really need. In a unique accommodation, with deliciously prepared meals, relaxed walks along pristine white sand beaches, Yoga and dance sessions, relaxation and meditation in a spectacular coastal setting. Our hidden region, away from the tourist routes, will not leave you indifferent. Our yoga teachers Nati and Idoia have academic training and a lot of dedication and love for their work, making Yoga a tool for your day to day. Your sessions can be adapted to all levels and physical conditions.
Vegetarian buffet made with seasonal products, prioritizing the proximity of its origin and organic production. We use recyclable containers or artisan utensils taking care of the presentation with care so that you connect with the real protagonist: Nature. http://deliciosamenterural.es
Accommodation located in the heart of the Ortigueira estuary, in Cariño, a place to rest and enjoy the natural environment. In A Miranda we propose you to live a markedly original experience, full of details and personal touches in a unique and surprising atmosphere. https://hotelamiranda.com
Price: from €270
Contact: Idoia T 696078705 | idoiamendezya@hotmail.com
Autumn Solstice Yoga Retreat
From 21 to 23 September
Where: Casa Rosetta. It's arratzua. Bizkaia
Root and let go through Yoga techniques.
We invite you to this retreat in which we will immerse ourselves in autumn in a very pleasant way thanks to different techniques of Yoga and vegetarian and conscious food, specific for this season.
Contact: info@uniyogagernika.com
More information: https://uniyogagernika.com/
Sama Yoga Retreat "Taking Care of what is given" with Sky Akasha
October 21-27
Where: Place of Betis s/n Tarifa, Bologna (Cadiz)
A rejuvenating retreat on the southern coast of Spain with Sky Akasha. An opportunity to nourish yourself with the autumn sun and the practice of Sama Yoga. We often forget to appreciate what we have in our lives and take care of it with reverence and love. These days, we will be kind, patient and delicate with ourselves, providing us with a complete yoga treatment, with asanas, yoga philosophy, yoga nidra and meditation with Sky Akasha, senior yoga teacher, with more than 20 years of experience and founder of the School Sama Yoga in Sweden and Bali.We will also enjoy some of the most beautiful and unspoilt beaches in Spain ... miles of fine white sand and crystal clear waters overlooking Africa.
Accommodation in double rooms, with private bathroom (6 nights) and terrace. Possibility of single room with supplement.
Vegetarian healthy food. We use fresh and local ingredients prepared by an expert chef. Language: English
Price: from $790
It organizes: Shama Retreats. Retreats and yoga workshops in the wild
Contact: info@shamaretreats.com / T 627419996
More information: https://www.shamaretreats.com/yoga-retreats-spain/sama-yoga-retreat-with-sky-akasha/
Yoga Retreat in Carnota – contemplating, living the present
September 28 and 29, 2019
Where: Place of Canedo 61, C.P. 15293 Carnota, A Coruña
Description of its objectives: To create an environment of calm, in which we can develop awareness about oneself and the environment around us: we will take this opportunity to live from a more contemplative (observer) perspective, less compulsive and less demanding. It will be an opportunity to practice mindfulness.
Activities: Pranayama, Meditation, Asanas, Conscious Hiking, Nidra Yoga.
Organizers: Flower of Tila Yoga and O Fogar do Carpinteiro village house.
Contact: info@flordetila.com/ tlf: 660528450 /ofogardocarpinteiro@gmail.com/ tlf: 698120202.
Price: €150
More information: www.flordetila.com | www.ofogardocarpinteiro.blogspot.com
Yoga and Meditation Retreat with Joan Hyman
September 28 to October 5
Where: Camino de las Huertitas s/n Tinajo. Lanzarote
Practice Yoga with Joan Hyman in this exclusive retreat and enjoy an oasis of tranquility in Lanzarote, one of the best preserved islands of the Canary Islands, declared a biosphere reserve by UNESCO.
We will start the day practicing yoga by Joan's hand and at sunset. We will learn how to better understand our practice and adjust it to our physical and mental needs. Next to sunset, we will immerse ourselves in silent meditations, relaxation sessions and practices of energy therapies with Paloma Dorado.
We will also visit the most special places of the island, including a boat trip to the island of La Graciosa, trekking to volcanoes, cliff walks and visits to unique beaches.
Joan Hyman with more than 20 years of experience running retreats, workshops... It combines Ayurveda, meditation, Asthanga and Iyengar yoga in its classes created with devotion, love and intention.
Accommodation, vegetarian food, coffee, tea and water available all day, swimming pool and charming accommodation and terrace, daily yoga and meditation classes, excursions with transportation included and airport pick-up.
Price: from 1100 euros. Last discounted places!
It organizes: Shama Retreats. Nature yoga workshops and retreats.
Contact: info@shamaretreats.com / T 627419996
More information: https://www.shamaretreats.com/canary-islands-yoga-retreat-with-joan-hyman/