Sexual Abuse in Yoga: Karen Rain/ 1's Testimony
"Pattabhi Jois, a yoga guru, sexually violent me for years." This is the title of the first of the two articles that Karen Rain has submitted to us for publication. YogaenRed's position on sexual abuse in yoga is not to look the other way, but to listen to the victims, as we explained in a introductory article recently published. English translation: Athena Acevedo.

[Warning: This post includes photographs showing sexual violence, posted with the victim's permission
It took me twenty years to feel fully owner of my life again and reverse the shame.
When the allegations of sexual abuse against U.S. Supreme Court justice Brett Kavanaugh were made public, the media published countless photographs of him. I wondered how these images would affect the women who denounced it. Would seeing those photographs, not to mention the real-time televised appearance, cause them anxiety and remind them of the torments they had described? Or, on the contrary, would you be comforted to see your image accompanying articles written by those who do believe and support them, and read by millions of people?
The photographs of my sex offender are ubiquitous. While his persona is not part of the current debate in the country, his image is in countless yoga studies and yoga altars around the world in a sign of reverence and worship, despite what I know and many people know about him.
In the mid-1990s, I studied yoga with Pattabhi Jois in Mysore, India, for several two-year stays. Pattabhi Jois created an athletic and intense yoga practice to which appointed Ashtanga. It is arguably one of the most influential and popular styles of yoga in the world. At the time, Pattabhi Jois sexually violated me in class, as did many other women, practically every day.
Back then, the idea that the guru of this yoga system was my sexual aggressor seemed inconceivable to me.
Practicing ashtanga yoga gave my life meaning and meaning by being part of an elitist group of certified teachers and advanced practitioners. It was my passion and my professional career, it made me feel healthy, fit, strong and gratifying, gave me a sense of belonging.
In addition I couldn't stand the idea of being a victim. The single word carries a stigma that I had internalized as synonymous with a loser, weak or pitiful person. I fooled myself so as not to feel or be seen as a loser, weak or pitiful. I convinced myself that Pattabhi Jois wasn't sexually violent. Occasionally, even I tried to outdo the aggressions. I wanted to believe what some people were saying, and they still say: that Pattabhi Jois was transmitting healing energy to me by touching me like that. Far from feeling pitiful, with these ideas I managed to feel fortunate, almost blessed.
It may sound like granting consent, but the asymmetry of power and the fear of reprisals if I complained, the fear of losing my friendships, my professional career and my sense of belonging, make it impossible to speak of consent: I was helpless in front of the great yoga teacher who unloaded her corpulence on me and rubbed herself against my body while I performed and held complex postures. I submitted, I endured, I tried to minimize it.
The truth is, there was never any consent on my part.
Today I choose to use the word 'victim' because, for me, it refers to my innocence in a situation of injustice.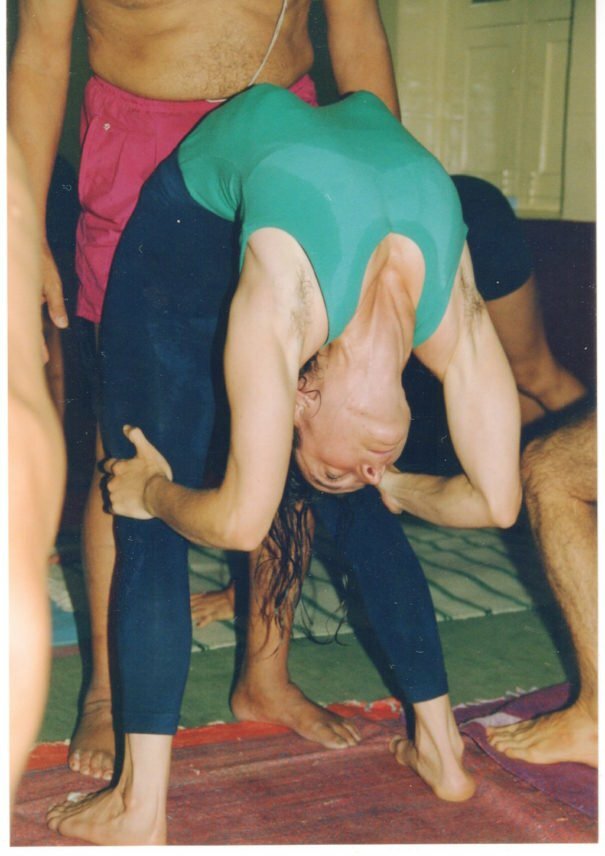 Allegations of sexual abuse against Pattabhi Jois, both on Mysore and on international tours, span thirty years. Different women have talked about how Jois kissed them, touched them, sexually rubbed through clothes and raped using her fingers.
For me, the most frequent and dehumanizing sexual assault occurred when I pressed his penis against my genitals and moved his pelvis rhythmically, while I held various yoga poses, as clearly seen in this photograph.
In the image where I'm making an arch, he doesn't even touch me with his hands: his pelvis, his genitals are the only thing in contact with my body, my pelvis, my genitals.
Despite the obvious reality embodied in these photographs, countless practitioners will deny that there is evidence of sexual assault. I know it well: I used to think like them. Sexual violence was assumed as part of Pattabhi Jois' method of manual adjustment. Also, in the images you see other people practicing around me, iemage my friends in the same space, one of them even took pictures. It's not possible to inflict sexual assault with so many people around, is it?
En mi juventud normalicé su comportamiento. Al igual que muchas personas que sufren abuso, me tomó bastante tiempo alejarme. Seguí estudiando con Pattabhi Jois en Mysore durante dos años y él siguió violentándome. Casi nunca advertimos la gravedad de una situación hasta que la dejamos atrás. Necesité años para ver y entender cabalmente lo que había sucedido.
He decidido publicar las imágenes que me han atormentado por más de veinte años como un paso más radical hacia mi reivindicación.
Me fui de Mysore en 1998, pensando que Pattabhi Jois carecía de ética y no debía ser maestro de yoga, mucho menos ser un maestro venerado. No obstante, darme cuenta y entender completamente la gravedad de su abuso de poder no fue algo instantáneo. Al principio, minimicé su violencia. Me tomó años pronunciar las palabras "Pattabhi Jois me agredió sexualmente".
El estoicismo es tan venerado en el yoga ashtanga como seguir practicando sin importar el dolor o la incomodidad es considerado encomiable. Además, se valora especialmente a las mujeres que aguantan el sufrimiento, de manera que yo había sido condicionada a no quejarme y a minimizar mi calvario. La intuición me decía que la comunidad desdeñaría el más breve de mis testimonios y que ahí solo encontraría críticas, estigmatización y desprecio. En lugar de alzar la voz, opté por desaparecer.
Deliberadamente, dispuse todo en mi vida para evitar ver su fotografía y volver a ser traumatizada por la imagen de su poder y prestigio. Me alejé de mi comunidad y amistades, cambié de carrera profesional y de sueños. Dejé de enseñar y practicar yoga. Incluso cambié mi apellido.
Ver fotografías de Pattabhi Jois alegre o rodeado de gloria detona en mí la reacción humana a la experiencia traumática. Mi cuerpo se congela mientras me esfuerzo por interpretar las señales que me envía. No distingo lo que me da seguridad de lo que me la arrebata. Mi mente se apaga… algo que, por cierto, el yoga ashtanga nos exhorta a hacer: hay que rendirse, someter el cuerpo y la mente a la práctica. Por cierto, someterse a Pattabhi Jois, también llamado Guruji, apelativo honorífico reservado a los maestros adorados, era sumamente valorado. En el yoga ashtanga, el grado de devoción del practicante es directamente proporcional a su mérito dentro de la comunidad de ashtanguis.
I needed 20 years to have the courage to write about this. Si pude hacerlo, fue gracias a las muchas y muy valientes víctimas de violencia sexual que levantaron la voz antes que yo. La constante humillación y señalamiento de las víctimas como culpables, tanto de manera abierta como soterrada, hacen casi imposible evitar mayor dolor cuando nos atrevernos a hablar. Si narro mi experiencia es porque quiero ser parte de la construcción de un mundo más seguro y amable para que las víctimas adviertan y reporten los abusos, un mundo donde reciban credibilidad y protección.
En parte, estuve de acuerdo con la publicación de estas imágenes porque son la prueba de que Pattabhi Jois abusó sexualmente de mí, pero también porque debe ser recordado como agresor sexual: no se trata únicamente del gurú sonriente en un altar de yoga, sino también de un hombre que violentó a mujeres delante de otras personas. Quisiera que estas fotografías fueran una invitación a reflexionar si estamos haciendo la vista gorda o subestimando cualquier forma de abuso sexual.
Karen Rain estudió en Mysore como alumna de Pattabhi Jois durante el periodo de 1994 a 1998.