The Gold Table of the Asanas
Many people believe that he practices yoga, even some yogis, for having an excessive fondness for the sea and trying to tackle the most sophisticated and flashy ones. However, they completely set aside pranayama, savanase, concentration and meditation techniques, and the attitude of life imposed by true yoga. Calle Ramiro writes.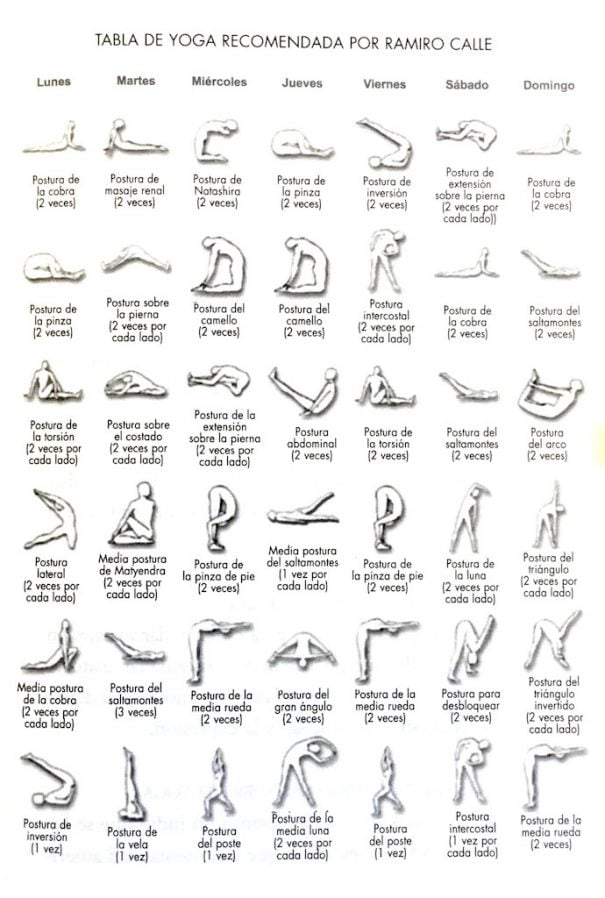 Yoga is based, like old buddhism, on three disciplines: ethics, mental and wisdom development. But we must never forget that the healthy ones are but a fragment of yoga and that yoga is infinitely wider and more transformative, as well as a life technique.
Yo mismo durante años, tomándome a mí mismo como un laboratorio viviente, me ejercité en todas las más complejas posturas del yoga, que nunca se impartieron en clase, pero que me ayudaban a trabajar conscientemente sobre mi cuerpo, mas sin desatender nunca el pranayama y las técnicas del radja-yoga. De hecho, a lo largo de cuarenta y ocho años, he impartido siempre más clases de radja-yoga que de hatha-yoga y he utilizado las técnicas del hatha-yoga como una escalera a las del radja-yoga. La postura por la postura, sin observar los requisitos adecuados, se convierte en una gimnasia más o menos exótica.
Hoy en día en el que que tanto impera el postureo y la utilización de ásanas muy llamativas para afirmar el ego, debo decir, con más de sesenta años en la vía del yoga, que la tabla de yoga más positiva, la que me enseñaron a fondo tanto en España como en la India, fue la que sigo considerando la gold table of the asanas and that once again I want to share with you. It consists of the following yoga postures or postures, after having performed dynamic warm-up exercises:
–Grip position (two or three times). 1 minute posture maintenance at a time.
–Extension position on the leg (twice on each side) 45 seconds on each leg.
–Cobra posture (two or three times) 20 seconds at a time.
–Grasshopper position (two or three times) 20 seconds at a time.
–Arc position (two or three times) 20 seconds at a time.
–Postura de la torsión (dos veces por cada lado). 45 segundos sobre cada lado.
–Half posture of the cobra (once or twice on each side) 40 seconds on each leg.
–Candle position (1 time). 1 to 3 minutes.
–Position of the clamp (twice) 1 minute at a time.
–Triangle position (one or twice on each side) 40 seconds at a time.
After the asana session, a few minutes of pranayama and a few minutes of savasana or deep relaxation.
Basic requirements: attentive and connected mind to the body; well-measured efforts both in making the position and maintaining it; paused breathing. Between position and position, a few seconds of relaxation are applied.
Note: On our website (www.ramirocalle.com) you can find drawings and photographs of these poses and many others.