Integral Yoga for Difficult Times: 7 Exercises to Boost Your Mood
The regular practice of asana and pranayama recharges all the cells of your body and helps you connect again with the joy of living. Spring begins with a more vital, confident and enthusiastic look. Write Mahashakti School.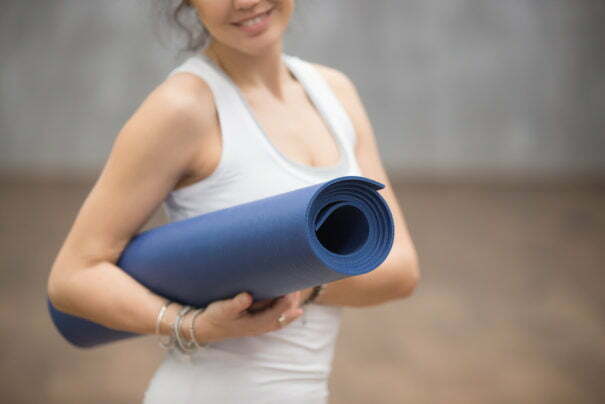 Do you find yourself decayed for no apparent reason? Have you stumbled lately with any difficulty that has made you lose hope? It's natural for your mood to temporarily fall apart, but if the sadness drags on, it's time to do something to remedy it. We propose 7 exercises to re- find the interior light.
1 Back to life
The first step to change is to re-learn to breathe. This will change your internal state in a way you can't even imagine. We'll fill the lungs in three phases.
Place your hands on your belly and start inhaling. Try to keep your abdomen from coming out, your hands should be still.
Now take your hands to both sides of the trunk, and continue inhaling. Let the ribs expand widely and move your hands.
Keep inspiring, but now put your hands in the center of your chest and try to push them up. This will be the last phase of inspiration.
Exhate in one phase, deeply and calmly.
2 Conquer the sky (Urdvha Tadásana)
Urdvha Tadásana is an ideal posture to improve mood. When you carry your arms up you feel lighter, like you can fly! Keeping your balance takes your attention to the present moment and forces you to put aside worries.
With your back upright and your feet a few inches apart, raise your arms and intertangle your fingers. Turn the palms of your hands upwards. Put your shoulders down and open your chest.
Pick a point to center your gaze and raise your heels to tiptoe. Hold your posture for at least 5 breaths, 5 seconds inhaling and another 5 exhaling.
3 Regaining courage (Warrior I)
Virabhadrá sai is great for getting in touch with your inner warrior. Strengthens buttocks and quadriceps, opens your chest and helps you face life's challenges with courage and fortitude.
From Tadásana he takes a step back with one leg keeping his pelvis towards the front.
Raise your arms on the side and place Kali mudra, gather scapulae and open your chest.
Bend the front knee until it is aligned with the ankle. Stay like this for 5 breaths with your eyes closed.
4 Strengthen the will (Tripadásana)
Tripadásana es una postura difícil de mantener, aunque merece la pena. Deja que tu cuerpo tiemble si es necesario, pero no deshagas antes de acabar las 5 respiraciones. Si logras sostenerte en la dificultad será más fácil que recuperes la confianza en tus propias capacidades.
Desde cuadrupedia, lleva una pierna hacia atrás y después la otra, apoya las puntitas de los dedos de los pies.

Observa que tienes las palmas de las manos a la altura de los hombros. La pelvis no debe caer, mete el ombligo hacia dentro y deja que las abdominales hagan su trabajo. Cierra los ojos.

Para deshacer, siéntate sobre los talones y descansa 2 o 3 respiraciones.
5 Cambiar la perspectiva (Sarvangásana)
A veces la tristeza surge porque nos aferramos a viejos patrones y nos empeñamos en negar el flujo de los acontecimientos. Sarvangásana permite ver las cosas de otro modo, tomar distancia y entender que los cambios pueden ser provechosos si aprendemos a relacionarnos con ellos.
Desde tumbado, empuja con las manos para elevar las piernas a la vertical. Llévalas por detrás de la cabeza y apoya las manos en la zona lumbar.

Asegúrate de meter la barbilla hacia la garganta. Ve ganando verticalidad poco a poco. Mantén 5 respiraciones con los ojos cerrados.

Compensa flexionando las piernas y llevando las rodillas hacia el vientre. Abrázalas y eleva ligeramente la cabeza del suelo.
6 Abrir el corazón (Urdvha Mukha)
Si algo suele ocurrir cuando estamos tristes es que cerramos el pecho. Los hombros caen hacia abajo y aparece joroba. Urdvha Mukha permite que nuestro corazón se vuelva a abrir a las oportunidades.
Desde cuadrupedia, lleva las piernas estiradas hacia atrás, apoyando las puntitas de los dedos.

Con la fuerza de los brazos comienza a bajar la pelvis y apoya los empeines en el suelo. Proyecta el pecho hacia adelante, juntando omóplatos. Cierra los ojos y mantén 5 respiraciones.

Compensa en la postura de niño, llevando los glúteos hacia los pies y apoyando la frente en la esterilla.
7 Equilibrar (Adho Mukha)
Adho Mukha te ayuda a cerrar la tabla de asanas de manera armónica. Es muy útil para compactar la energía e integrar el trabajo realizado.
Desde cuadrupedia, eleva la cadera manteniendo las piernas flexionadas. Junta escápulas y proyecta el pecho hacia los pies.

Estira las piernas proyectando los talones hacia el suelo. Mantén 5 respiraciones con los ojos cerrados y después siéntate sobre los talones para descansar.
4 Consejos revitalizantes
Incorpora a la práctica de asanas y respiración estos tips para sentirte lleno de energía. En poco tiempo notarás cómo mejora tu estado de ánimo.
Empieza las mañanas meditando, no hace falta mucho tiempo, con 10 minutos al principio será suficiente. Prueba a llevar la atención al centro del pecho, sentirás una paz que brota de tu interior. Cuando notes que te has distraído no tienes más que volver a esa zona y reposar en ella.

Rodéate de personas positivas, si puede ser en la naturaleza y realizando alguna actividad vigorosa mejor.

Toma el sol al menos veinte minutos diarios. La luz solar nos hace segregar serotonina, la hormona de la felicidad, por eso estamos de tan buen humor en primavera y verano.

Lleva una alimentación liviana y equilibrada. Los cereales integrales, las legumbres, los vegetales y frutos secos son tus aliados. Recuerda que los garbanzos, los frutos secos y los plátanos son ricos en triptófano.
School Mahashakti

Retiro de Yoga Integral de Semana Santa: del 18 al 21 de abril en la Sierra de Ujué, Navarra. Alojamiento en plena naturaleza, en cabañas de madera, alimentación vegana y práctica tutorizada de Yoga. Precio: 290 €

More information: https://www.escuelamahashakti.com/retiro-yoga-integral-semana-santa-2019/
Contacto: info@escuelamashakti.com T 650 06 00 65 – 948 05 07 05 – 981 15 02 91