World of Yogis and yupi worlds
Recursively assails me discomfort regarding the mistaken idea and naif that yoga makes us happy when we join hands in Namaste
y adoptamos beatífica sonrisa. ¡Hale, ya estamos lanzados por el camino de la iluminación! Pues me temo que el yoga no está para eso…
Pepa Castro writes.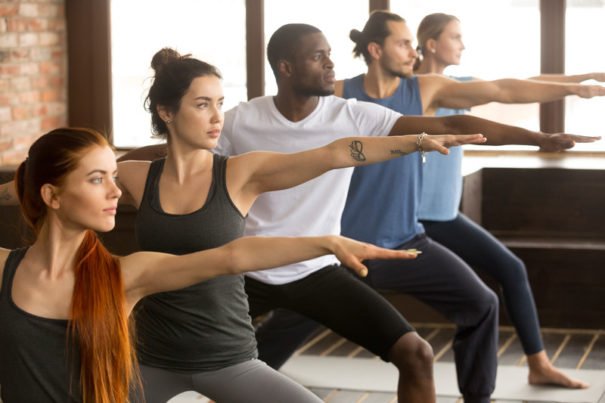 Is like when I read phrases that suggest that spirituality is a refugio contra el sufrimiento: algo así como "vente para acá, al ashram o a la iglesia, que afuera caen chuzos de punta". Qué idea tan interesada, ¿no? Es como acordarse de Santa Bárbara cuando truena.
Pienso que el sufrimiento habrá que encararlo con los pies bien arraigados en el suelo, para que no te tumbe, en vez de huir entre cánticos y plegarias. Y, por el contrario, tal vez sea en las épocas de bonanza cuando hay que elevar la vista al cielo para agradecer su belleza a todos los dioses buenos.
Total, que a estas alturas ya debemos saber que yoga no equivale a felicidad, ni es una vacuna contra el lado feo de la vida, ni tampoco un blindaje ante los males que amenazan el mundo. Sé que esto no gusta a todos ni hace parroquia, pero me temo que sea la verdad.
It is very well put in mode OM en la sala de yoga, pero luego salimos a la calle y hay que afrontar las circunstancias que toquen. La buena noticia es que el yoga sí nos ofrece recursos para dar la batalla, ¡ahí es nada!, pero la decisión de intervenir y el esfuerzo de lidiarla corren por cuenta del interesado.
¿Sacerdotes o guerreros?
Es una pregunta-trampa, lo advierto.
The battle is the dharma, the deber de vida de cada uno. El dharma no significa lo que más me gusta, lo que más me interesa o what I want to do, sino lo que, honestamente y sin mediadores, I think that I need to do. Es ese fuego que crepita en el interior del sacerdote que somos y que nos transforma en el guerrero que podemos ser. (Sí, el sacerdote se transforma en guerrero a través de la acción).
The problem is that around that I want to and to that must, entre that I believe to be and el que soy, se han adherido tantas creencias y condicionamientos a lo largo de nuestra vida que no resulta fácil desenmarañar la madeja.
En nuestra agridulce civilización occidental se ha logrado que identifiquemos felicidad con inconsciencia, alegre superficialidad, infantilismo, supuesta superioridad… No siendo el yoga un refugio para escapar al condicionamiento, al daño y a la frustración que acaba produciendo todo eso, sí se demuestra como una potente herramienta para intentar salir del engaño y ver la realidad sobre uno mismo, escuchando la voz de nuestro fuego interior y dejando al desnudo nuestro dharma.
El dharma, motor que me impulsa a luchar
Y ahí estamos por fin, en la batalla. La de nuestra vida, la de nuestra época.
Hace unos días, un apreciado maestro de yoga me escribió a raíz de mi artículo Niñas malas (o el limbo no es el yoga ni lo parece), en el que reivindicaba el derecho de yoguis y yoguinis a tomar parte activa en la lucha contra las amenazas que se ciernen sobre la sociedad y el planeta. Me recordó que, según las enseñanzas del genuino yoga contenidas en el Bhagavad Gita, "la vida es una batalla que todos tenemos que enfrentar (como guerreros) para hacer realidad la justicia social y el bienestar común. Tenemos que luchar con todos los medios y afrontando todas las consecuencias. Eso sí, el texto nos anima a librar esta batalla pero con el corazón despojado de cualquier tipo de odio".
Quienes sentimos muy vivo al guerrero que llevamos dentro, no tenemos que avergonzarnos y ocultarlo, como si lo correcto entre los buscadores espirituales fuera inhibirse de los asuntos mundanos, renunciar a la acción y sentarse a sentir crecer la hierba bajo los glúteos. Al revés, mostremos el orgullo de estar comprometidos con nuestro dharma, a menudo a base del esfuerzo, la incomprensión y los desgarros que toda batalla acarrea.
Solo tenemos que esquivar el odio y el resentimiento, tanto los propios como los ajenos, para poder mantener el corazón blanco. Y de nuevo el yoga también nos asiste en ello enseñándonos a no dejarnos arrastrar por el torrente de las emociones, tan reactivas y engañosas en ocasiones, sino guiarnos por el sereno discernimiento de lo correcto.
No, el mundo del yoga no son los mundos de yupi. Es un camino de honestidad y de toma de conciencia de nuestras limitaciones y capacidades en el que sobran las alegrías forzadas, los gestos vacíos, los arrebatos de amor universal y, por supuesto, el postureo. Como expresó Jose Manuel Vazquez in the article published in YogaenRed: "La felicidad no es hacer yoga, pero tal vez sí. Tal y cómo yo entiendo el yoga, la felicidad es la consecuencia de un aprendizaje, de un comportamiento ético y consciente (sat-chit-ananda). El resultado de un estado equilibrado de desarrollo y conexión con uno mismo y el entorno".
A lo peor nos estamos perdiendo todo eso si utilizamos el yoga y nuestro cuerpo solo para lucir en Instagram mientras jugamos a vivir en un mundo feliz.
Pepa Castro es codirectora de YogagenRed.