Jornada 'El Arte de la Relajación'
La relajación es necesaria en nuestra vida tumultuosa. Este día de retiro en el centro de la ciudad nos brinda una posibilidad de profundizar en el yoga sin salir de Madrid. Lo podrás disfrutar el próximo sábado 2 de marzo en el Centro de Yoga Sivananda.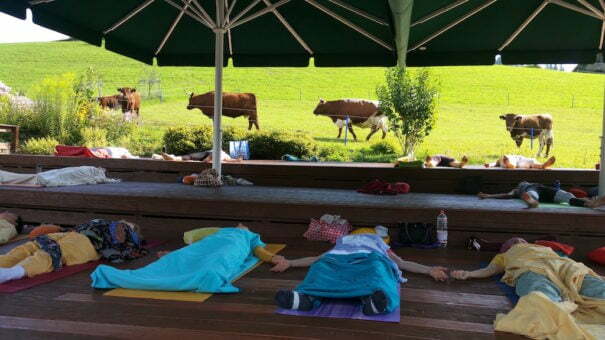 Jornada el arte de la relajación. Sábado 2 de marzo – De 12:00h a 21.00h
Swami Sivananda en su libro Hatha Yoga presenta la postura del Cadáver o Śavāsana de la siguiente manera:
• Extiende una manta suave y acuéstate en posición supina (sobre la espalda).

• Deja las piernas estiradas y las manos en el suelo a los lados.

• Mantén los talones juntos y los dedos de los pies separados.

• Cierra los ojos.

• Ahora relaja todos los músculos del cuerpo.

• Respira lenta y rítmicamente.

• Olvida todas las emociones efervescentes y dirige tus pensamientos hacia el interior.

• Relaja todos los músculos, nervios y órganos.

• Comienza el proceso de relajación desde los dedos de los pies.

• Continúa con los músculos de la pantorrilla, los gemelos, el sóleo y los plantares, músculos del cuello, rostro, etc.

• Comprueba que los órganos abdominales, el corazón, el pecho y el cerebro estén también relajados. Sigue un orden. No te duermas. En esta postura disfrutarás una paz perfecta, alivio, comodidad y relajación.

• Tendrás que experimentar los resultados beneficiosos de este āsana.
Esto debe hacerse al finalizar todos los ejercicios, solamente entonces la práctica será completa.
Program:
12.00 h Clase de yoga, con Shakti. Secuencia de asanas para eliminar el estrés.
14.00 h Comida vegetariana. We will eat on the terrace of the Yoga Center
15.30 h Conferencia, con Mahadev. The art of relaxation
17.00 h Clase de yoga, con Vishnu. Breathing and nervous system
19.00 h Meditación en grupo. Satsang, con Swami Santoshananda.
Conferencia: El poder de los Satsang.
Postura del cadáver: Śavāsana
Śavā significa 'cuerpo muerto'. La realización de este āsana brinda la apariencia de un cuerpo muerto.
• El cuerpo debe estar alineado; asegúrate de que la cabeza no esté girada hacia un lado.

• La espalda está plana en el suelo.

• Las piernas están estiradas pero no tensas.

• Los pies están separados al menos ½ metro.

• Los dedos de los pies caen relajados hacia los lados.

• Los brazos están en un ángulo de 45 grados (aproximadamente) en relación al cuerpo.

• Las manos están relajadas con las palmas hacia arriba y los dedos levemente curvados.

• Los ojos están cerrados.

• Todo el cuerpo está completamente relajado (No hay gasto de energía).

• La mente está concentrada en la respiración.

• No permitir a la mente preocuparse por sucesos externos.

• La respiración es diafragmática. Al inhalar el diafragma se contrae, desciende y el abdomen se eleva. Al exhalar el diafragma se relaja, vuelve a su posición natural y el abdomen desciende.

• La respiración es silenciosa, por la nariz.

• No debe haber tensión o esfuerzo en la respiración.
Para asegurarte de que no haya tensión en el cuerpo, sacude suavemente tus hombros. Gira lentamente la cabeza de un lado a otro, una o dos veces, acercando una oreja al suelo y luego la otra. Llevar nuevamente la cabeza al centro y fijar la mente en la respiración.
Centro de Yoga Sivananda Vedanta

Fundador: Swami Vishnudevananda, desde 1957. Para todos los que quieren profundizar en su práctica de los caminos del yoga. Os animamos a participar en la jornada completa o asistir a actividades sueltas. La meditación en grupo, a las 19.00 h.es entrada libre.

Puedes inscribirte por teléfono en el 91 361 5150 o por email enviando tu nombre, teléfono y correo electrónico a madrid@sivananda.net.

También puedes inscribirte online en el siguiente enlace:
https://www.sivananda.es/eventos/jornada-de-yoga-el-arte-de-la-relajacion/