Being yogis and yoguinis, then teaching
It is not possible to teach Integral Yoga if there is no strong commitment on a personal level. First of all, we must be Yogis and yoguinis, which necessarily means reserving a space of the day for our sadhana, an almost sacred, protected, cared for and respected space. Write Mahashakti Yoga School.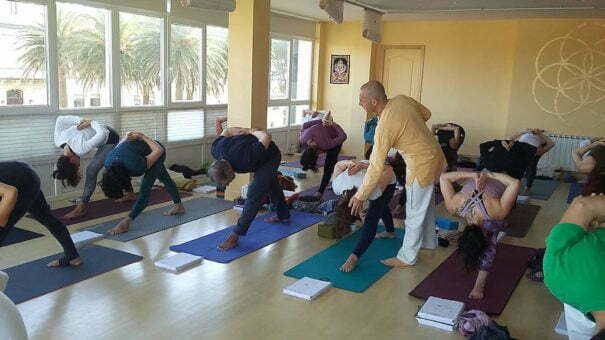 Since the Integral Yoga school Mahashakti we have been training yoga teachers for many years, people who will sooner or later end up giving regular, intensive or specific workshops. Throughout the formative process we contemplate how the lives of our students are transforming: they realize that some relationships they have maintained for a long time are detracting from their energy and decide not to continue cultivation them, for example, or change their attitude to the family and choose to forgive their parents, giving them another chance, or leave behind some harmful habit such as smoking, drinking, being awake until the early hours of the morning looking at social media, etc. Fortunately, many awakenings take place during the two years of our training.
However, we have also seen how, when these students start teaching yoga regularly, they are immersed in a maremágnum of schedules and sessions that are difficult to assimilate. Some tell us that they have so many classes that their own sadhana is relegated at the end of the day and that many days are so busy that they don't even find any gaps to practice. We have also heard again yoga teachers say that they take advantage of classes to do their personal practice.
In our view, this approach lacks the professionalism that every teacher should develop and project. To begin with, we believe that it is not possible to teach Integral Yoga if there is no strong commitment on a personal level. First of all, we must be yogis and yoguinis, which necessarily means reserving a space of the day (preferably in the morning) for our sadhana, an almost sacred space, we could say, insofar as it must be protected, cared for and respected. In addition to the practice on the mat and meditation cushion, it becomes necessary for yogi and yogi cultivate a yogi vision in the background a la hora de relacionarse con las situaciones cotidianas, interactuar con la gente, afrontar las dificultades, etc. Esto implica llenar toda nuestra vida de la profundidad del yoga, permitir que esta filosofía milenaria cale hondo de verdad, transforme cada rincón, ilumine cada segundo de nuestra existencia. A veces nos descubriremos a nosotros mismos cayendo en antiguos patrones, pero si permanecemos fieles a nuestra práctica podremos darnos cuenta en seguida y optar por una forma más pacífica y amorosa de estar en el mundo.
Firme compromiso
Cuando hacemos nuestra sadhana habitual por las mañanas y, a parte, tratamos de cultivar esa visión yóguica de la que hablábamos antes, nos estamos ayudando, de alguna manera, a nosotros mismos y, en consecuencia, a nuestros alumnos. Pues de nuestro firme compromiso, de nuestra constancia en la práctica, de esta base sólida que estamos construyendo, surgirá abundante luz y consciencia para todos. Seremos capaces de transmitir no sólo la correcta alineación en el ásana, no sólo el nombre en sánscrito de las posturas, no sólo una buena meditación, sino sobre todo y ante todo la esencia del Yoga Integral, que brillará por sí misma.
En nuestra experiencia, es esta esencia la que acabará tocando los corazones de aquellos que asistan a nuestras clases. Es esta esencia la que posibilitará que podamos seguir muchos años en esta maravillosa profesión sin quemarnos, sin desgastarnos, sin vaciarnos por dentro. Manteniendo viva esta luz, este espíritu, en nuestro día a día, animaremos a los demás a que practiquen, les contagiaremos casi sin quererlo las ganas de cultivarse interiormente, de evolucionar como personas, de mejorar. Porque siempre debemos tener en mente que, antes que profesoras y profesores de yoga, somos yoguis y yoguinis, y sólo desde ahí podemos ofrecer con coherencia, entregarnos sin perder el horizonte, volver después a nuestra Maestra Interior, a nuestro centro, a ese calor que resurge de las entrañas y que tantos años nos estuvo esperando.
Integral Yoga school Mahashakti
mahashaktiescuela@gmail.com / T 650 060 065 – 948 05 07 05