Interview with Joan Hyman: "Know understand the adjustments can be transformative"
It is responsible for the training of teachers of two large studies of United States. Joan Hyman will be teaching the best yoga in Madrid from 21 to 23 September, through a masterclass and four workshops. It is an interview of Paloma Dorado for YogaenRed.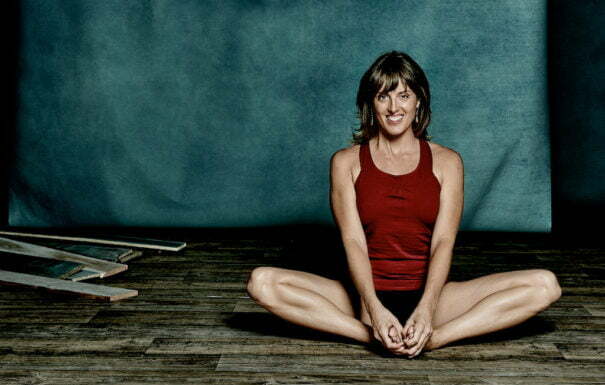 Joan Hyman She is the Director of the giant teacher training programs Wanderlust in the United States and also senior instructor for 15 years in YogaWorks, en Los Ángeles, California. Su orientación es singular, orgánica e intuitiva gracias a su extensa formación y práctica de Asthanga, Iyengar y Vinyasa, además de sus estudios de meditación y Ayurveda.
After 20 years teaching at international level, Joan Hyman arrives in Spain for the first time to teach several workshops in Madrid of the 21-23 September, as part of his European tour "Traveling from the Outside In"
What is yoga for you?
It is to live in a balanced way. It helps me to have the tools needed to keep the body healthy, the mind clear and open heart. Yoga connects us with a source of high energy that supports our lives and allows us to establish deeper connections with everything that surrounds us, and most importantly, ourselves.
How was your first approach to yoga?
Very young he lived in New York and my cousin gave me a few kinds of yoga for my birthday. To be honest, I was then very difficult to stay still, but yoga put me in touch with my body and the important thing was to live a healthy lifestyle. A friend had told me to go to the study Jivamukti in New York, which was a more fluid style and what a young dancer as I needed. This resonated with me and I was hooked! I was going to class often and gradually my lifestyle began to change and created healthier habits. A couple of years later I moved to Santa Mónica, California, to enroll in a yoga at Yogaworks teacher training and since then I have devoted my life to yoga.
You have a great training in different styles: Ashtanga, Iyengar and Vinyasa. Practice and teachers have influenced you most and why?
I love Ashtanga and am very committed to this practice from two decades ago! My first teacher was Maty Ezraty and instilled in me a very solid foundation of the Iyengar method. I studied with Annie Carpenter in the study of Maty and vibrated a lot with it since the two had a basis in the dance. She was my mentor during my early years at Yogaworks and has influenced the way in which I teach Vinaysa Flow from his method "Smart Flow and Intelligent Sequencing"
Lisa Walford, Professor senior Iyengar of Santa Monica, California, has been another great influence for me and even practical with it occasionally. Other teachers who have more given me during my career are Marla Apt, Tim Miller, Noah Williams and of course Pattabhi Jois!
Ashtanga practice every day, but when you teach, you transmit an own combination based on your experience. How would you define your style?
My daily personal practice is Ashtanga with elements of the Iyengar method. It is a great combination and I feel that he keeps the body safe, lined, vibrant and open at the same time. My classes are a union of these two methods. Comienzo con los saludos del sol del método Ashtanga y luego empiezo a profundizar en la alineación y a usar accesorios del sistema Iyengar en una práctica fluida. In class we have some positions and also use intelligent sequencing and a balanced series of body movements incorporating standing, Extensions did back, torsions and seated postures that lead us to end practicing pranayama and meditation.
After having taught internationally for many years. Do you feel much difference between the yoga in the United States and Europe?
Yes, I feel that there are differences when I teach in two places. Europe has not yet reached all the "passion" for yoga in the United States. UU, but see how it is spreading quickly also here. In United States it has reached a point of saturation, and the sector has blurred with the entry of many young teachers. I think that this change has to do with the fixing of Americans with celebrities.
The teaching of yoga has become an industry in itself and the younger generation has become "famous" instagram and has changed the image of the yoga teacher. Cuando me estaba formando para ser profesora, tenía que ir a la clase y mostrar mi práctica en el estudio. Después me quedaba un rato por allí y con suerte, conectaba con alguien. Now it seems as if the striking poses, a large number of followers and a brand that you support could get your schooling is greater...
I think that in Europe things are slower. When I teach here see the students are very interested in learning fundamentals of yoga and the alignment. I have come to Europe to teach regularly from 2012 and I have seen grow the interest in yoga greatly along with cafes vegans and sites of juices that open everywhere. I think cost the Europeans more trying something new, but once they feel the benefits, they are more constant over time.
It will be interesting to see how it changes the madness for yoga in the United States. For me, as a teacher, I believe that this is a very good to teach in Europe time.
You've worked at Yogaworks in Los Angeles, one of the pioneers in the world yoga studies. Several of the best teachers of yoga in this century have studied there. Now you lead in Wanderlust teacher training programs. Tell us how is the experience of working in an environment that is so inspiring.
Yes, I was lucky to learn from some of the best teachers of yoga in the world. To be honest, at the moment that was learning and doing my training was not aware of the way in which I was embarking. Yogaworks was my home and a school for me for fifteen years.
Al mismo tiempo, me invitaron a enseñar en un festival de Wanderlust y me encantó su espíritu creativo. Los propietarios de Wanderlust decidieron comprar un gran estudio en Los Ángeles y me pidieron que dirigiera sus programas de formación de profesores. Para hacer esto tuve que dejar Yogaworks. Fue una gran decisión para mí, pero sentí que era la forma de crecer y experimentar algo nuevo! Al final, todo funcionó muy bien y he podido enseñar en festivales Wanderlust en lugares increíbles, dirigir el programa de TTCs y aún así, enseñar en Yogworks de vez en cuando. Y aún continúo tres años después.
On your European tour, you teach workshops, retreats, and training of teachers around Europe modules. What your main recommendation for teachers who are formed with you?
Maintaining motivation and continue practicing. I see so many students who end up training with eager to teach! But, somehow, after teaching becomes more important to practice. When teachers lose inspiration to practice, his teaching begins to stay empty.
When I graduated in my own training, my teachers said the same thing: no matter how but get your priority of your practice! I have always been consistent with my practice and I think that this is the magic that supports teaching. As teachers, we simply share our yoga practice, and more practice, we can share more.
One of the workshops that you impartirás in Madrid will be on yoga adjustments. If they are good, they can even prevent injury. What is your opinion about the settings?
I teach corrective adjustments and encourage students to learn how to make the position on your own. Each of us has a unique skeleton and like our bones and joints have different forms, typically the majority of bodies need different settings. Enseño cómo mirar a los cuerpos de los estudiantes, cómo observar su energía y verlos de adentro hacia afuera. Desde este lugar puedes decidir qué tipo de ajuste les va a afianzar mejor.
Hacer el trabajo por ellos no les enseña, ya que comienzan a confiar en que el profesor se acercará para guiarlos en la práctica. Pero usando las manos como estímulo para ayudar a los estudiantes a comprender la postura y el potencial que tienen en sus cuerpos, el ajuste puede transformar.
En Madrid también enseñarás cómo hacer que las asanas avanzadas sean más accesibles. ¿Podrían darnos algunos consejos para los practicantes que deseen reducir su miedo a las posturas avanzadas?
The advanced asanas are to challenge us and so that we can understand how fear us blocks. If we only do postures that are easy for us, we will not grow. In the method Ashtanga, when one is stable in a posture is the time to move. Learning something new is often difficult, challenging. The practice teaches us to go slowly, have patience and follow the steps that help us to remain present. We need to be challenged to help overcome the limitations of the mind can get.
A good teacher creates space for students to stay present and learn the steps to enter the position. Cuando estamos presentes, el miedo no tiene espacio para entrar y avanzamos de una manera más suave. Avanzar en la práctica de asanas te ayuda a desarrollar más valor, más fuerza y ​​a mantenerte inspirado.
¿Qué esperas que los estudiantes se lleven de tus talleres?
Las ganas de mantener la motivación y ser la mejor versión de ellos mismos. ¡Practica, come sano, medita y rodéate de amor! Si elevas tu vibración, inspirarás a otros a hacer lo mismo.
Joan Hyman visita Madrid, donde impartirá una masterclass el viernes 21 de septiembre en The Class, coorganizada por Wanderlust y Shama Retreats, y cuatro talleres el sábado 22 y domingo 23 de septiembre en Ayoga.

The workshops will have simultaneous translation into Spanish and will post as 12 hours of training with Yoga Alliance (Continuing Education Contact Hours)

Discount on registration for the workshops until September 7.

More information and reservations: info@shamaretreats.com; www.shamaretreats.com/es/yoga-retreats-spain/talleres-yoga-joan-hyman/