Days of Yoga therapy, with José Manuel Vázquez
We talked to José Manuel Vázquez, promoter of the II Conference of summer Integral Yoga, very focused on this occasion in therapeutic Yoga.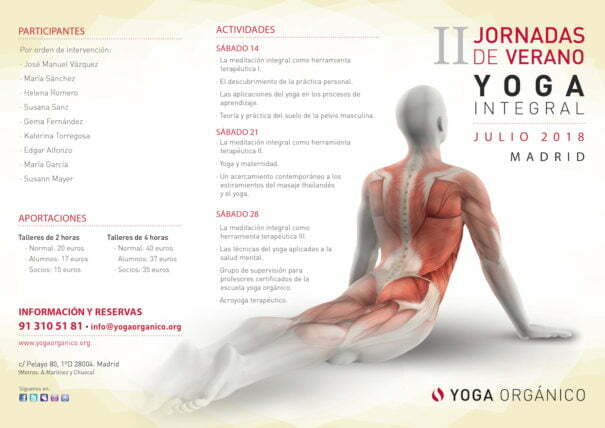 Jose Manuel Vazquez He chairs the Shiva-Shakti Association of Integral Yoga. He is Professor and Formator of teachers certified by Yoga Alliance. University expert in yoga therapy by CEU and European Yoga Alliance. Member of the International Association of Yoga Therapists, of the Spanish Association of practitioners of Yoga and the Professional Association of Yoga teachers in Madrid. Since 2001 he has run its own school of yoga, Yoga organic, where investigating organic comprehensive teaching of yoga and since 2010 directs a teacher training based on these principles.
¿Qué te interesa del yoga terapéutico, cómo llegaste a esta especialidad?
Yoga was part of a process of self-discovery and therapeutic exploration that began my 20 years always say I did not choose to yoga that yoga chose me. Appeared the opportunity to give classes and yoga was growing. He spent the time while I was in different types of yoga until 30 years I opened my school. My intention was, and still is, develop a work based on listening, understanding and respect for the body; a yoga organic, holistic and therapeutic guidance adapted to each person.
Our training school I invite teachers to make a personal work of introspection and analysis to find out which is your actual connection with yoga. It is important that each person finds his way of exploring the possibilities of yoga according to their needs and capacities. This approach to yoga is deeply therapeutic. With the passing of the years my relationship with yoga has changed a lot and it has gone through many stages, however its ability to line up with the processes of learning remains intact. For me yoga is a system of knowledge that sinks its roots in the health and balance of each person.
Let's talk about the specific knowledge of the yogaterapeuta. Is a teacher of yoga expert and a physical therapist work very different?
Yoga is not a physiotherapy or alternative therapy. Despite being a discipline Psychophysics with a large theoretical and empirical philosophical body formed over several millennia, there is a training, as if it is the case with traditional Chinese medicine, physical therapy or psychology. Its massive and disorderly introduction in the West has forced to start their labour regulation through the Ministry of labour in the context of physical activities and sport. It is a first step in the recognition of yoga as a discipline of knowledge, but are clearly insufficient. On the other hand the therapeutic yoga is a specialization that shyly begin to be taught in some universities as a postgraduate.
A yogaterapeuta need a greater understanding of Anatomy, Physiology, diseases, emotional management and mental abilities than a yoga teacher. In addition, if you don't have your own therapeutic work, the rest of knowledge that can be acquired have one lower value. On the other hand the teacher of yoga is almost inevitably that education in values associated with a way of healthy lifestyle such as postural hygiene, respect for the body, active listening, caring for the environment, the importance of breathing, feeding, the rest, etc. The more formed is a teacher can better develop their work, much more interior work has done with greatest honesty will develop its work. With time each teacher tends to specialize in a few aspects of yoga and not in others; It is impossible to cover all branches of yoga in depth. Applications of yoga in today's society are multiplying.
When we talk about medical conditions or treatments in the setting of therapeutic yoga, it is necessary to know that health professionals are the only ones qualified to make a diagnosis and proper treatment; the rest of professionals have to subject us to the medical and diagnostic reports submitted by them. When someone with a medical condition reaches teachers of yoga, our sessions never replace medical or physiotherapy treatment assigned for this purpose.
How is your work in therapeutic yoga? Do people come with diagnosis and treatment?
Lo ideal es que las personas vengan con su diagnóstico, en caso contrario nuestra capacidad de actuación se ve muy mermada. Les pido que traigan los informes médicos siempre que sea posible. Dependiendo de la situación, se puede recomendar al alumno asistir a clases colectivas, integrarse en un grupo reducido, hacer sesiones individuales o derivarlos a otros profesionales. En cualquier caso, nosotros no tratamos con "enfermos" sino con personas, y siempre que hay una patología diagnosticada actuamos con el consentimiento expreso del personal médico de referencia.
En mi caso, si hay dolor, después de una breve entrevista comenzamos explorando con sumo cuidado aquellos movimientos que pueden producir alivio para después recomendar un protocolo de actuación y una serie de ejercicios concretos. Es imprescindible que el profesor explique lo que se va hacer y lo que se pretende con ello y que el alumno entienda el proceso en su conjunto y la importancia de los pasos a dar. La comunicación con el alumno es fundamental para hacer una valoración de las posibilidades y objetivos de las sesiones. Aunque es un trabajo compartido, es necesario hacer entender al alumno que tiene la responsabilidad de su proceso y que nosotros estamos ahí para orientarle y facilitarle recursos y llegado el caso, apoyarle en las decisiones que tome.
¿Qué problemas o patologías deberían de ser atendidas exclusivamente en una sesión yoga terapéutico?
No hay dos casos iguales. Tengo personas con hernias de disco que no sienten ningún tipo de molestia y a las que una práctica regular les libera de tensiones, y tengo otros alumnos que sin hernias padecen lumbalgias constantes que les incapacitan para el seguimiento de una clase general. El dolor es uno de los factores principales que marca la pauta de integración en una clase. Otro es el grado de comodidad del alumno con sus limitaciones. También un factor importante es el grado de autonomía que tiene en la gestión de sus propias características y patologías. La cuestión es descubrir la forma particular de acceder a los ejercicios, sin comparaciones, exigencias externas o modelos ideales a seguir. Se invita a hacer un trabajo de exploración consciente para referenciar los espacios de liberación y ligereza y potenciarlos en la práctica personal. Hay alumnos que en una sesión entienden la propuesta y otros que necesitan más tiempo para familiarizarse con este trabajo; también hay personas que buscan otro tipo de acercamiento a sus necesidades.
The attitude of the teacher is essential. Teachers are not gods of flexibility, nor students better or worse depending on the degree of flexibility that have are there. While it is true that the grouping of people's characteristics or similar diseases can favor teaching at the beginning, sometimes I'm not very partisan create closed or groups of dividing people according to external criteria. All live with a certain degree of Pathology, we are aware or not of it. This renders us incapable of a very concrete form but also connects us to the world in a particular way. De la misma manera que no es saludable hacer todo lo que podemos hacer, aunque lo vivamos como un ejercicio legítimo de libertad personal, no poder hacer las cosas que nos gustaría o de la forma que nos gustaría también puede ser muy revelador, y puede llegar a provocar un cambio cualitativo en nuestra manera de ser y de comprender la realidad.
El yoga puede ser muy transformador en cuanto tomamos conciencia de nuestras "limitaciones" y sus posibilidades, y las aceptamos.