Books / the cat Yogi and the forest that meditated, violet Arribas
A beautiful Handbook of nature, ecology and environmental education that integrates a book of yoga postures, breathing, meditation, etc, with numerous keys to emotional psychology for children from 8 to 12 years. Edit Oberon/Anaya. PRICE: €19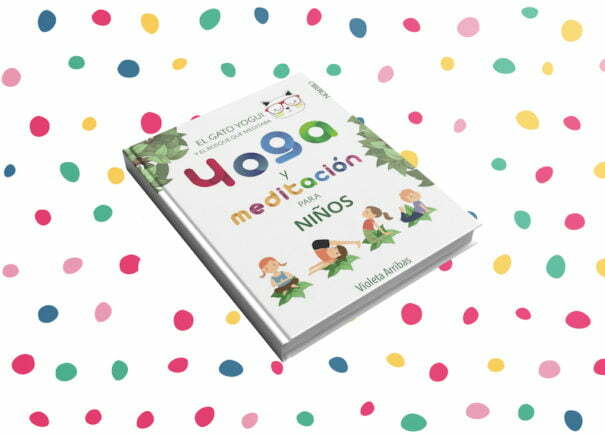 Violet Arribas launches his second work, The cat Yogi and the forest that meditating; Yoga and meditation for children, the Publisher Oberon of the Grupo Anaya. Available already in bookstores and on the Internet.
With a preface reminiscent of Enrique Gallud Jardiel (leer más abajo), esta obra concebida para niños de 8 a 12 años, es la primera de su género que suma un bello manual de naturaleza, ecología y educación medioambiental, a un completo y práctico libro de yoga con posturas, respiraciones, meditación, etc, en el que además hallaremos innumerables claves de psicopedagogía emocional para los más jóvenes, todo ello mimetizado bajo un atractivo relato de aventuras y misterio que es el hilo conductor de la obra, y que ofrece al mismo tiempo incontables actividades, ideas y juegos alternativos y conscientes para crecer en armonía física, mental y medioambiental. Yoga es todo eso y más…
Synopsis
Sin duda el imán para los más jóvenes será la fábula de cuatro amigos (Carmen, Marco , Sara y Leo) que tras recibir un enigmático regalo capaz de conceder deseos, inician un desafiante viaje de aventuras por un bosque tan real como mágico, en el que parecen haberse perdido. Un gato blanco de nombre Padmé les sorprende en un prado y les habla del yoga como la solución a una serie de problemas que los niños reconocen tener: ansiedad, dispersión, tristeza, enfado, miedo y otros. Padmé It assures that the enchanted forest that there begins has brought them for that reason and that they will have to take it so that its inhabitants give them the teachings and tools to overcome these problems. After giving them a scroll on how to combat boredom, Jack says goodbye and the four intrepid friends begin their adventures by the beautiful autumn forest full of life, crossing among others with a deer, a Fox, a squirrel, a Wolf, a river and a beech.
En cada encuentro los animales les cuentan las singularidades de su especie y hábitat, sus costumbres, curiosidades y también sus problemas, casi siempre relacionados con el hombre: deforestación, incendios, caza, sequías, contaminación del agua, etc. Así les inspiran en el amor y protección de la naturaleza, para finalmente indagar juntos en un problema que atañe a los niños. El ciervo por ejemplo les mostrará las causas de su nerviosismo y ansiedad: consumismo, exceso de estímulos, las prisas, para finalmente obsequiarles con un pergamino con herramientas de yoga como asanas, respiración y meditación que favorecen la calma, también consejos prácticos para su día a día, y juegos y actividades de recreo respetuosas con el entorno y que favorecerán el sosiego.
Lo mismo hará el zorro que para combatir la dispersión mental y la falta de entendimiento, les dará las claves y técnicas para cultivar la atención consciente y la inteligencia positiva. La ardilla enseñará a promover el contento interior y el agradecimiento contra los estados mentales tristes e iracundos. El lobo ibérico, cuyo encuentro es uno de los más bellos e impactantes de la historia, facilitará enseñanzas definitivas para acabar con el exceso de miedo, inseguridad y baja autoestima, o el acoso en el colegio y poder así convertirse en guerreros internos, fuertes, valientes y seguros como él. El río y el haya completan la historia encargándose de abordar la sabiduría y la compasión para vencer los apegos y el egoísmo, y propondrán un acertijo sin cuya resolución no sería posible regresar a sus hogares.
An ode to nature, a manual fictionalized for the full growth of future adults, beautiful images and a finish where nothing is what it seems...
Special mention deserve the cared and beautiful photography that she accompanies the book, la mitad capturadas en mágicos hayedos, bosques de castaños y robles, ríos de montaña, donde los niños aparecen practicando yoga y técnicas de conciencia plena. Por otro lado se han seleccionado inspiradoras imágenes reales de los animales de nuestra fauna ibérica que ejercen el papel de maestros en las andanzas y peripecias de los chavales protagonistas, así podremos ver a la contenta ardilla, el apacible ciervo, el astuto zorro y el valiente lobo, entre erizos, petirrojos, desmanes, y cómo no, a Padmé, the cat who practiced yoga and never got bored.
The author
Violet Arribas She is passionate and knowledgeable of nature and Yoga, to which she has dedicated the last 12 years. He has written the book entirely in his cabin in the forest of the Sierra de Gredos and has personally selected the natural enclaves for yoga photographs and directed the photo sessions, he has also chosen the images of the animals, all with the intending to move the kids through the visual impact of each snapshot, the love she feels when she finds herself immersed in nature and the beauty and meaning of it.
Violet is a teacher of Yoga and meditation and Director of Padmasana Center. Mountaineer, tireless traveler, great lover of nature, animals and wolves, is also the author of the book Yoga y Ayurveda, de la ansiedad a la salud integral, de Alianza Editorial,
Dónde conseguir el libro. En Amazón, Casa del Libro y demás librerías, además de en su centro de Yoga.
Para contactar con la autora o el centro: www.padmasanacenter.com C/ Mar de Omán, 34 28033 Madrid. Tfno de atención público 91 3822733. info@padmasanacenter.com