We encourage you to participate in 'Yoga for change'!
¡Quedan pocos días para que puedas aportar tu ayuda en esta gran acción con la que honramos el Día Internacional del Yoga! Demostremos nuevamente que se puede hacer realidad la unión entre yoga y solidaridad participando en la acción 'Yoga para el Cambio'.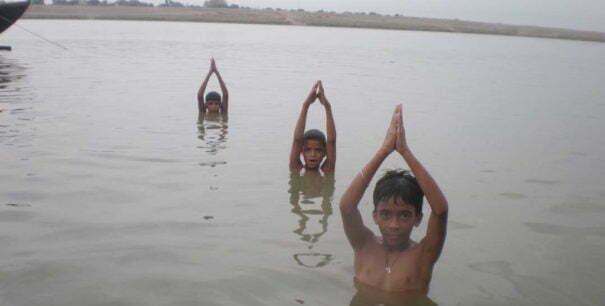 The call of ' Yoga for change' del año pasado fue todo un éxito, ¡pero este año lo superaremos gracias de nuevo a tu ayuda! En YogaenRed We support the call of the NGO seed for change para que, honrando el Día Internacional del Yoga, celebremos actos especiales durante la semana del 16 al 24 de junio en beneficio de niños y familias muy desfavorecidas de Varanasi, en India.
Centros y escuelas de yoga de toda España, organizarán masterclass, charlas o actividades solidarias de yoga, meditación y otras actividades que deseen, con el fin de apoyar la labor de Seed. En la primera edición, en 2017, participaron unos 50 centros y 1.100 personas de todas las comunidades, recaudando más de 13.000 euros.
Al igual que en esta primera edición, para estas actividades solidarias se ha fijado una aportación por participante de 12 eurosWhat se destinarán íntegramente a financiar los proyectos de educación, nutrición, salud y empoderamiento de la mujer que la ONGD desarrolla sobre el terreno. A cambio de la participación solidaria de los centros y de sus alumnos/as, todos/as they will receive a bad seed of rudraksha brought from Varanasi.
¿Cómo puedes participar en 'Yoga para el Cambio?
–Si eres profesor de yoga y quieres sumarte a esta iniciativa, puedes organizar una actividad solidaria a favor de Semilla entre el 16 y el 24 de junio.
Mándanos tus datos (o los de tu centro), el tipo de evento que deseas realizar, el día y la hora al correo: yogaparaelcambio@gmail.com antes del 11 de junio. Una vez enviado, recibirás un mail con toda la información y los materiales necesarios para poder organizar y difundir la actividad.
–Si eres practicante de yoga, puedes apoyarnos uniéndote a algunas de las actividades organizadas en tu zona (podrás ir consultando el listado de centros participantes aquí).
E igualmente, puedes ayudar a difundir el evento y animar a tu centro o instructor de yoga a participar con alguna actividad.
All the information here.
Mira este precioso vídeo:
Yoga or
Y si no tienes la posibilidad de organizar o participar en ninguna actividad, pero quieres colaborar igualmente con 'Yoga para el Cambio' realizando una aportación, puedes hacerlo a través de la opción de 'Yoga 0'. Con esta opción, estarás apoyando el trabajo de Semilla para el Cambio en India y recibirás igualmente la mala de semillas de rudraksha. Para participar en 'Yoga 0' se puede acceder directamente a través de este enlace.
Information and contact: Manuel Blanco Aisa
Seed volunteer coordinator for change
Teléfono: 639 648 880
Email: yogaparaelcambio@gmail.com

www.semillaparaelcambio.org/colabora/yogaparaelcambio www.facebook.com/semillaparaelcambio/
https://twitter.com/semilla_cambio