Interview with Dr. José Rugué Jr.: "Ayurveda explains how life works"
Dr. José Ruguê Jr. (Swami Narayanananda) is director and co-author of blended learning training of therapists Thalassemedical of the school Yoga Brahma Vidyalaya, offering for the first time in Spanish. Here he tells us with due rigour does Ayurveda, 'Science of life'. It is an interview of Samtosha Ayurveda for Yoagenred.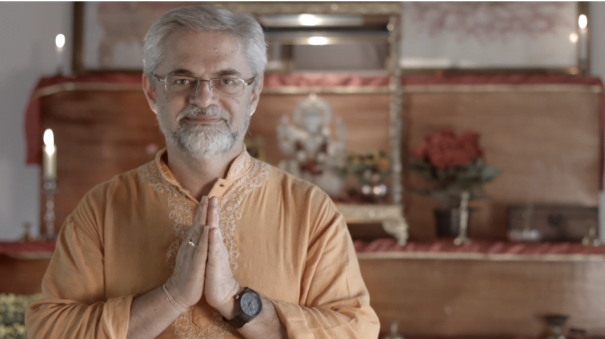 Yoga ("union") and Ārveda ("Science of life") are two traditions that exist and are developing in parallel, imbricated, for at least 5,000 years. The Yoga is the spiritual aspect of the Āyurveda, and the Āyurveda It is the therapeutic aspect of yogic wisdom.
With a deep Renaissance in India and in the West in recent years, the Āyurveda provides us with a comprehensive model and holistic health that works at all levels of the person and in all fields of life, thus opening up the possibility of leading a lifestyle based on the Union with nature, integrating with it and therefore living yoga not only in practice on the mat, but in all areas of our life.
In line with the recent launch in Spanish of the Ayurvedic therapists training in the School Yoga Brahma Vidyalaya, the blended course of Ayurveda more full and deep available to date for Spanish speakers, interviewed the Brazilian doctor Joseph Rugue Jr. (Swami Narayanananda), health care professional trained both Western medicine and Ayurveda, master of Yoga and Ayurveda, director of the Yoga Brahma Vidyalaya School and co-author (along with the North American David Frawley) of the course which, after 25 years and more than 3,000 therapists trained in Portuguese language, just be translated into our language.
Could you define the Ayurveda in a simple and comprehensible for everyone?
Ayurveda is the Science of life. Explains how life in ourselves and nature throughout the universe. This science was developed by the ancient Vedic sages of the India, in a period called Saraswati civilization, more than 5,000 years ago. Teaches us to live in harmony with natural laws, get health, strength, longevity and happiness, even while immersed in modern society.
What is the relationship between Yoga and Ayurveda?
Yoga and Ayurveda are originally a single from science of the perennial wisdom that constitutes the eternal inheritance of human culture, bequeathed by the sages. Ayurveda is the aspect of health within the Yoga. Yoga points toward the goal, the existential aim and methods to make the truth, the fullness without which there is no health in the real and full sense of the term.
Up to what point can Ayurveda be applied to our society?
Ayurveda is fully applicable to the modern Western world. Even rescue the culture of our local ancestors, that all ancient peoples have developed valuable knowledge related to nature and the interaction with it. On the other hand, overwhelming modern technological culture made us turn our backs on these traditions that bring immense and wonderful solutions for the "dead ends" that our society is taking us. El Ayurveda rescues an integral and harmonious vision of interaction with nature, and has scientific, methodical, through the use of plants and natural foods, as well as a wide wisdom to lead our lifestyle and daily activities based on the micro universe that surrounds us all the time (weather, the seasons of the year, the person's age and many other factors).
As a professional physician also trained in Western medicine, what it has given Ayurveda his vision of health and your clinical practice?
First of all, the Ayurveda has rescued my inner vision of the deep interdependence between body, vital energy, mind and soul into development imbalances and the rebalancing of the health. To shortly come into direct contact with this wisdom, I could begin to see the disease not as an isolated entity, but as a fact in a "field": the sick person in its interior, family, social, natural and cultural context, etc. Moreover, Ayurveda has given me wonderful tools for the prevention and the maintenance of health, many of them are little studied, and even repressed and frustrated in our practice of modern medicine.
Something worth mentioning also is the fact that I contributed resources to change the diagnosis, evaluation and treatment of chronic diseases for which modern medicine does not cure is or just highly toxic treatments, increasing in the extreme success of my medical practice. And, finally, I'd like to add that, in sum, Ayurveda has helped me to understand the need for a multidisciplinary approach, integrating and holistic to meet people.
It has just been released, through the Yoga Brahma Vidyalaya School, for the first time in Spanish, the blended learning course of formation of Ayurvedic therapists. How has the experience and trajectory of these formations been so far?
Since 25 years we are working day and night to prepare professionals to expand the practice of Ayurveda to all peoples and countries. We are since then driving courses in collaboration with professionals in Europe, Canada, South America and the Indiathrough which we have already formed to more than 3,000 Ayurvedic therapists.
Given the need to further expand access to this sacred science and the benefits it can provide, we create together with the internationally respected Dr. David Frawley (Vâmadeva Shastri) a blended learning course to facilitate the access of all to the successful training provided by our school. Recently, all our course has been translated, folded and organized for the Spanish language with the talented collaboration public of Víctor García Cruz and Ana Gabriela Terra, therapists trained by us and co-ordinators of the course in Spain through Samtosha Ayurveda.
What is the Ayurvedic therapists training and what qualifies?
The purpose of this course is form therapists in depth that can apply the tools of Ayurveda to their own lives and those of their family and friends, as well as professionally attend to other people. These practices have three fundamental objectives: maintain and promote health (including through methods of rejuvenation), restore the psycho-physical-energetic balance and contribute to the process of treatment of diseases.
How is structured the course, how hard and from where it can be done??
The course is structured in 20 modules online recorded videoclases and extensive written material about the Ayurvedic education: history, philosophy, Anatomy and Physiology from the point of view of Ayurveda, pathology, nutrition, routine of life, study in depth of the medicinal plants with emphasis on local plants, methods of detoxification such as Panchakarma, methods of rejuvenation, therapies such as aromatherapy, Chromotherapy, gemstone therapy, therapy with mantras, yoga from the Ayurvedic perspective, subtle psychology of Yoga and Ayurveda, etc.
All these issues have both theoretical and practical vision. They are also classroom modules con los profesores de la Escuela Yoga Brahma Vidyalaya de varias nacionalidades, incluidos varios profesores de la India. Estos módulos instruyen prácticamente al alumnado en procedimientos ayurvédicos tales como el masaje abhyanga, shirodhara, udwartana, bastis externos, pinda sweda y varios otros. Pueden ser realizados de tres formas: intensivo de un mes en la India (en la Kerala Ayurveda Academy and the International Academy of Ayurveda), intensivo de un mes en el Suddha Sabha Yoga Ashram, en Brasil, o a través de módulos en ciudades donde haya centros acreditados por la escuela Yoga Brahma Vidyalaya en los países de lengua española.
Los centros que tengan interés en recibir dicha acreditación deberán entrar en contacto con nosotros: habrán de crear grupos de estudio con un mínimo de 20 alumnos, entonces enviaremos nuestros profesores a la ciudad correspondiente para los módulos presenciales. Además, el curso consta de cuestionarios mensuales ligados a los módulos de estudio que deben contestar los alumnos y ulteriormente son corregidos por nuestros profesores. Hay también chats quincenales conmigo donde se pueden resolver dudas acerca de la temática de cada módulo, así como un extenso material escrito y preparado por mí junto al Dr. David Frawley.
¿Qué certificado reciben las personas que completan la formación?
Certificado de "Terapeuta Ayurvédico" emitido por la Escuela Yoga Brahma Vidyalaya, con los sellos de acreditación del World Movement for Yoga and Ayurveda, International Academy of Ayurveda y American Institute of Vedic Studies con una carga horaria de 1488 horas.
¿A qué tipo de personas está dirigido este curso?
Este curso está diseñado para todas aquellas personas interesadas en mantener o restaurar su propia salud, así como para aquellas que quieran trabajar profesionalmente con el Ayurveda, provengan previamente del área de la salud o no. Habiendo realizado la formación, el alumno podrá adecuar mejor e individualizar su práctica y enseñanza del Yoga, en caso de que sea instructor de Yoga.
The course enables widely to act in the area of education in health, nutrition, clinical Ayurvedic Panchakarma (Ayurvedic detoxification) and Ramayana (Ayurvedic rejuvenation), programs Phytotherapy, orientation of lifestyle, pharmaceutical preparation of medicines natural Ayurvedic, in the area of human resources of companies looking for talent in accordance with individual characteristics that are taught by the Ayurveda, and many other fields.
More information: /https://www.escolayogabrahma.com.br/ and https://www.facebook.com/ayurvedasamtosha/