Interview with Nichi Green: "Vinyasa Yoga takes my more playful side"
Teachers in Asthanga and Vinyasa yoga classes are followed by thousands of students around the world. Nichi Green will arrive in Madrid on 2 and 3 February to teach the art of sequencing and the magic of yoga more fluid and creative. It is an interview of Paloma Dorado for YogaenRed.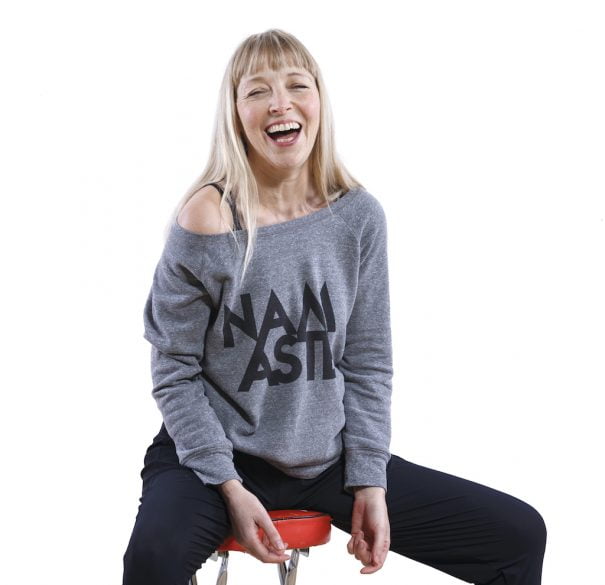 Director and founder of Yoga Space in Leeds, United Kingdom, Nichi Green Yoga takes dedicating to teaching and of Asthanga and Vinyasa teacher training for 16 years. Has been formed with many of the best teachers in the world, including Shiva Rea, David Swenson, John Scott o Pattabhi and Manju Jois and is a regular Professor in the study known online Ekhart Yoga It has more than 800,000 students worldwide.
Nichi has developed a creative style, with special rhythm and fluidity that come from the harmony between the movement and breathing and trust in his intuition.
In his first visit to Spain, Nichi Green will give a workshop on the art of sequencing in Madrid, on 2 and 3 February. We know Nichi more closely in this interview:
What yoga for you?
For me yoga is to tune both with myself and with everything around me. It has given me confidence, stability and has taught me to trust my intuition and not to be afraid of trying new things or make mistakes. Yoga makes everything more real, because brings me again to the present moment. It gives me energy and makes me feel more awake and alive.
What teachers have influenced you most in your teaching and why?
Shiva Rea has much influenced my practice. For years I had been mainly practiced Ashtanga and I loved it, but then met Shiva Rea and I fell in love with creativity and fluidity of his teaching. Jivamukti Yoga has also had a great impact on my practice. Although it has aspects similar to Ashtanga, I opened new ways of sequencing with music and philosophy.
It was wonderful to meet Pattabhi Jois. I have a lot to thank him for. The year I found you had my son and was beginning to teach. After meeting him, I knew that I wanted to continue teaching and sharing my love for yoga.
For years you have focused your practice of Asthanga Yoga. From how you enriched the Vinyasa Flow Yoga?
When I teach Vinyasa Flow, I feel that I am connecting with the creative part of my brain and I can adapt to the energy, mood and level of my students.
It really helps me to have a very solid in Ashtanga, since I've delved into this style, and I've been able to teach for many years. Vinyasa Yoga takes my more playful side and I encourage my students to do the same. When I practice and teach Vinyasa I'm totally in the here and now and I love to see the place where leads, both my students and me.
Today day can find stress in the deep layers of the body of the majority of people, including regular yoga practitioners. What tools do you use to help your students to eliminate that tension?
I work with Yamuna Body Rolling because free deep in a short time and you can quickly feel the benefits. I also use repetitions and fluid movements to access these points of tension, which sometimes are not perceptible at first. I have discovered that this paper works particularly well in areas such as the hips or shoulders.
What is Yamuna Body Rolling and what are the benefits of introducing this technique in a class or a workshop?
Yamuna Body Rolling is a novel method to improve and regain a good functional movement and a tool of self-care, which organizes the body so that all of its parts to work properly.
It was created by a teacher of yoga called Yamuna Zake, known worldwide for his work on the "architecture" and the balance of the body. Used balls of different sizes, which are made to roll through different areas of the body using our weight to release the joints, realign and stimulate the bone. It creates exactly the same feeling of relaxation and calm that yoga, and helps to learn about our habits of body tension.
It is very useful for teachers who want to delve into the anatomy and alignment and the perfect complement to integrate in any yoga class, helping you improve the practice and prevent injuries.
We know that our body is not just every day, but in our practice we sometimes follow the same yoga sequences. What are your recommendations to adapt yoga practice to our physical and mental state?
I believe that meditation and movement are the key. It is important to be quiet to tune with what you need. The body knows to tell you when it is not feeling well, but we tend to listen to it or respond only when we feel pain.
We can solve the problems much faster if We have developed the habit of listening deeply, move, massage it, etc. Some people, after spending all day sitting, wondering why they don't have power; others train too, but then do not dissolve the tension that have accumulated in the tired muscles. We have to train ourselves in undo it and do something alike! And we tend not to be very good at that. Our ego leads us to places where often the body doesn't want to go!
In your long experience forming yoga teachers, would kind of asanas recommend to your students to always include in their classes?
I encourage you to start with breathing and then release the shoulders and mobilize the hips, it is really important to the home. I teach in training students You can get almost all the information about a student's body with only see him in the position of the mountain/Tadasana and Adho Mukha Svanasana.
Classic standing poses such as the triangle/Trikonasana, the extended/Utthita Parsvakonasana side stretch and bending forward on foot with legs separated/Prasarita Padottanasana are basic elements to help develop stability, strength and flexibility. Of course, the sun salutations for heat, make breath flow and will boost attention.
In addition, I usually recommend work the hips in postures of soil and twists and ending of Supta Matsyendrasana (laying torque) and a long period of Savasana.
What can you expect from a workshop with Nichi Green?
Much information backed by hands-on exploration, either individually or in small groups. I myself use the kinesthetic learning, so my workshops often follow this teaching method. I encourage my students to that they perceive and observe the response after practicing posture or a sequence. What has changed? What has it been moved? How do you feel now? Combine the work of Yamuna Body Rolling with yoga is great for improving this perception.
Why you think your online classes are followed by tens of thousands of practitioners of yoga throughout the world?
This is difficult to answer! Different teachers resonate with different people. I think I'm pretty direct and communicate well, which helps if English is not your native language. In addition, I believe that I try to teach a type of yoga that is accessible and functional.
Often people only want placed on the mat with you, practice and start or end your day in a simple way. I am also very comfortable facing the camera. I often forget that it's there once I begin to teach, and that helps to connect.
Increasingly more people choose to experience a yoga or meditation retreat for a few days. In your opinion, why go to a yoga retreat?
When you choose to go to a retreat, you know you're going to find yourself with like-minded people, so first of all, lose you the fear of travelling alone. It is the perfect opportunity to nourish you in contact with yourself y esto es algo que realmente necesitamos. Estamos tan ocupados con el trabajo intelectual y las relaciones y compromisos sociales, que raramente nos permitimos darnos a nosotros mismos este tiempo.
Tomar unos días de libres y participar en un retiro, te ofrece todos mejores elementos de unas vacaciones (naturaleza, descanso, buena alimentación), pero poniendo el foco en el tiempo para ti, ya que toda la organización se construye para que no tengas que pensar en nada más. Con la gran popularidad del yoga, a los estudiantes les encanta la idea de poder sumergirse en el yoga por unos días y comprobar cómo su práctica mejora o se desarrolla en sus inicios.
Mis alumnos a menudo establecen relaciones de amistad duraderas en los retiros, porque experimentan juntos en ese bello proceso. ¡Observar la transformación en las personas durante el retiro es algo muy hermoso!
¿Qué has aprendido al enseñar a nivel internacional?
Que todos somos iguales y que la belleza del yoga es que esto destaca por encima de lo demás. Todo consiste en conectar y dejar que el yoga te lleve de vuelta a casa, a tu interior. Una vez que conectas contigo mismo, se te da mejor conectar con los demás. Los yoguis comprenden que es así, que estés donde estés, siempre y cuando practiques yoga y meditación, estás en casa.
El Taller de Nichi Green
En su primera visita a España, Nichi Green impartirá un Workshop sobre el arte de secuenciar en AyogA, Madrid, los días 2 y 3 de febrero, con traducción simultánea al castellano.
Nichi volverá a España para impartir un removal en la naturaleza en Lanzarote, del 27 de mayo al 3 de junio, organizado por Shama Retreats.

More information and reservations: www.shamaretreats.com; info@shamaretreats.com
Descuento en las inscripciones del taller hasta el 12 de enero.