Clarifies your doubts: «how long should devote to meditation?»
In this section, Javier Ruiz Calderón offers answers to our questions from a perspective of critical and up-to-date yogic tradition. Are invited to write to Javier info@yogaenred.com making your doubts or uncertainties.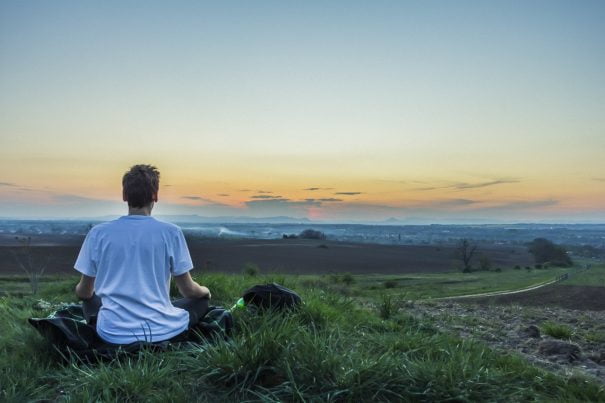 Pregunta: «¿Cuánto tiempo conviene dedicar a la meditación?»
Answer: Una vez le pregunté eso a mi primer maestro, Swami Krishnananda (del Shivananda Áshram de Rishikesh), y me respondió: «El máximo posible».
La respuesta depende de para qué medite o haga yoga cada uno. Voy a responder suponiendo que el lector practica yoga en serio.
En el fondo, todas las técnicas del yoga son distintas formas de meditación (y si no lo son, no son yoga). Como dicen los Yogasutras, la práctica «se consolida cuando es prolongada, continua y cuidadosa» (1.13). Para llegar lejos en la práctica de yoga, esta debe ser continua; es decir: tiene que llegar un momento en que estemos meditando todo el día, desde que nos despertemos por la mañana hasta que nos acostemos por la noche. Alcanzado este nivel de práctica consciente, esta prosigue automáticamente durante el sueño.
Es evidente que es muy difícil llegar a este nivel; pero no es imposible, y merece la pena intentarlo. Podemos ir aumentando gradualmente el tiempo que dediquemos a la práctica formal de ásanas, pranayama, meditación, bhajans, servicio desinteresado, etc., hasta llegar al «máximo posible» que nos permitan nuestras circunstancias laborales, familiares, etc.
Además podemos realizar retiros periódicos de práctica intensiva, en los que suelen producirse progresos significativos. Y, en todos los momentos que no podamos dedicar a la práctica formal, habría que intentar mantener una actitud yóguica o meditativa —repitiendo un mantra, observando la respiración, afirmando nuestra identidad con lo Absoluto, etc.— hasta que el yoga se apodere de nosotros e impregne todos los aspectos de nuestra vida.
Esto es lo que se llama el «yoga de la acción» o karma yoga: la realización de nuestras acciones cotidianas con una actitud contemplativa y desapegada. Porque el auténtico yoga no es solo algo que se hace unas horas cada día sino, sobre todo, una forma de vivir.
Javier Ruiz Calderón (Shankara) He holds a PhD in philosophy specializing in philosophies and religions of the India. It has almost forty years studying and practicing yoga, vedanta and meditation. He is a Professor of these subjects, as well as Hinduism, Buddhism, Sanskrit and Vedic chant.

Upcoming activities: Curso «Estudio de las escrituras del yoga y el vedanta» (Madrid, desde el 27 de enero de 2017. Información: www.ashtanga-yoga-alcobendas.es ). Presentación del Yoga dictionary de L. Villegas y Ó. Pujol (Centro Casaasia Madrid, 31 de enero de 2017. Información: www.casaasia.es/actividad/detalle/219515-presentacion-el-diccionario-del-yoga-historia-practica-filosofia-y-mantras ).