Books / Yoga in the kitchen, of loyal Zaira
An educational, entertaining, practical and transformative, work steeped in the wisdom of tantra-yoga and ayurveda. It includes recipes, yoga sequences and interesting nutrition tips. A full tour of the Alchemy of food, health and awareness, to know and experience what nurtures us really. Edit: Uranus. Available from September 4.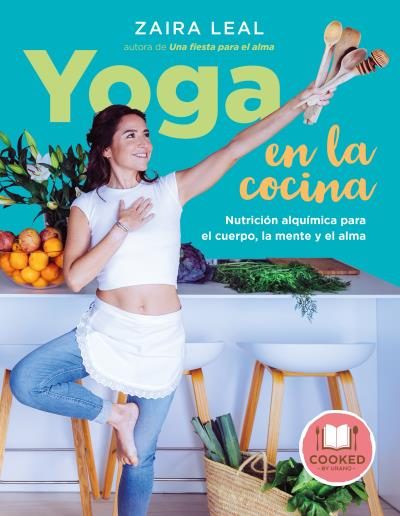 Much more than a cookbook, much more than a book of yoga, the new work of loyal Zaira proposes a comprehensive compendium of recipes based on ayurveda, yoga and the most current nutrition principles and techniques to enjoy physical health emotional freedom and higher States of consciousness.
Each one of the chapters, corresponding to eight physical and mental States-«detox moment», «good-bye to stress', 'sweet dreams' and much more-is organized into different sections designed to transform ourselves at all levels: sequences of yoga infused with the technique of Bowspring, which we can make to our own House; ayurtips or recommendations of lifestyle inspired by the Ayurvedic philosophy; creative recipes to nourish us and enjoy; superfoods that will help us achieve optimal health, as well as meditations and visualizations.
It is simple, delicious and helps us to meet an important need: the give us moments exclusively dedicated to our well-being and transformation. Pure Alchemy for the body, mind and soul.
The author
Loyal Zaira es experta en yoga y formadora de maestros, además de escritora y coach de salud, bienestar y del estilo de vida ayurvédico, dedicada a la expansión de la luminosidad del ser. Profesora acreditada de la técnica Bowspring, profesora certificada de Anusara® Yoga y de Vinyasa Yoga, certificada por el Chopra Center for Wellbeing, Zaira ha desarrollado programas de yoga y bienestar para adultos, de perfeccionamiento de profesores, para mujeres, con fines terapéuticos, para niños y adolescentes. Se dice de ella que es «cantante y tejedora de cuentos que se hacen realidad», pues incorpora la belleza del chanting, la filosofía y la meditación en sus clases y sesiones de asesoramiento-coach. Es autora del título Una fiesta para el alma, también publicado por Ediciones Urano.