Yoga retreats in July 2017, updated
In this guide you will find the best retreats organized by specialists in yoga, meditation and personal growth techniques. Powerful elements combine to live a holiday happy, relaxed and full of meaning. Choose the withdrawal that suits you! And if none fits you, query in this effective specialized search engine: EncuentratuRetiro.com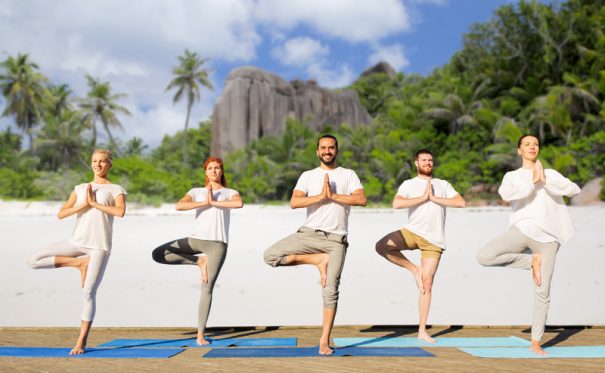 Removal of introduction to the Mindfulness and inner smile
From 1 to 4 July
Where: Casa Toya. Madrid (Zaragoza)
We have designed this retreat with lot of care and love, because we believe that mindfulness, mindfulness in movement and mindfulness interpersonal tools are very powerful to bring peace and well-being to your life. To that we add a touch of inner smile and dance, are sure that people that you compongáis the group you will arrive to experience a feeling of unity and affection that will endure over time.
Price: 245-280€ (depending on room)
They offer: Monica Linares and Maria Tallon. Master mindfulness at the University of Zaragoza.
More information: http://conscienciaenmovimiento.es/
Ashtanga yoga retreat/workshop: exploring the Bandha, Pranayama and Drishti
From 2 to 4 July
Where: Sammati Alicante
We are already in summer. What better excuse to get away for a weekend and enjoy the workshops of Ashtanga with Cosmin Yogi. Rest in Sammati and enjoy your diet with Jj van Tuijl vegerariana.
Ashtanga Yoga is a very powerful tool that can allow the practitioner achieve incredible levels of consciousness culminating in absolute freedom, but can sometimes be too immersed in mysticism, not because this was the intention, but by the lack of understanding of their language based on our present perfect and not based on the constraints of the past restrictions. As we are an evolving species that lives in an ever-expanding universe, change every moment, transforming us into the following and the following and so on, and this is how our practice and our way of life is transformed. Although many people now practice yoga, there is the possibility that not everyone can enjoy the full potential of this wonderful practice. When it understands how to access the deeper layers of consciousness, one can perfect its domination over the mental and the energy matter, creating more and more physical and mental space, releasing more and more resistance to release complete all karmic conditioning.
It teaches: Cosmin Yogi, self-taught and passionate about the practice of Ashtanga Yoga, Cosmin has the opportunity to study and become Sri Manju Pattabhi Jois, the son of Sri K. Pattabhi Jois and after years of intense work, receives his grace to teach this practice, in the true tradition of his father.
Price two nights: €280 (including full lodging, workshops, use environment, pool and jacuzzi, meals and drinks (alcohol not included), shuttle Sammati from bus stop in Pilar de la Horadada, train station in Balsicas (Mar Menor), Murcia (San Javier) airport.) From other destinations, consult.
Reserve: sammati.wellnessfinca@gmail.com | T 0034 609 173 638 (wsp)
More information:
http://www.yogavlc.com/
Jagruti Hindu Yoga Retreat
2-30 July
Where: Malaga
This retreat arrives in Spain from India to move as pure and beautiful through its ancient philosophy-yoga. Coexistence with the India of yoga, traditions, their way of life, their spirituality, their culture, their ceremonies, rites, celebrations... Learn, learn a lot and enjoy doing... An introspective journey of discovery and reunion. If you're not going to India, she comes here... Hindu teachers will share his teachings from the India of the Himalayas and the Ganges, from the world capital of yoga (Rishikesh) to Malaga (Mijas).
Culture and philosophy of the hindu yoga throughout a month open so you come when and how you want. You only configure your participation to create a unique and customised experience. Wake up! There is a world entire waiting there inside... you hope very soon!
Contact: info.jagrutishyr2017@gmail.com | Whatsapp: + 918979829948
It organizes: Jagruti & seeds of consciousness
More information:
http://www.jagrutiyatra.com/
Kundalini Yoga Festival
From 3 to 7 July
Where: Finca Akhaara in Brihuega, Guadalajara.
Dexintoxicar with Yoga. With Sarabjit Kaur. Treatment for stress and help you focus on a person. With Lakhmi Chand Singh. The power of the mantra. With Sampuran Kaur. The steps of the transition. With Jai Hari Kaur. The destination numbers. With Devta Singh.
Price: €260 (includes stay + meals + lessons)
It organizes: YogaKundalini.com
More information: http://www.yogakundalini.com/ | http://akhara.es/
Tantra holiday
From 3 to 8 July
Where: Pinar de la Perdiz, Alicante
Treat yourself to a different yoga vacation enjoying the ancestral knowledge of Tantra. Training, workshops, healthy food, saline pool, private rooms, therapeutic MUDs from sea, all inclusive in a respectful and intimate space of incomparable beauty. You don't need to come with a partner. Possibility of massage, small group Max. 10 people. Commitment to quality backed by over 20 years of teaching profession. "There is no Tantra without Yoga, because the Union is the source of all life". Included. -
Contribution: €750 lodging in room double with private bath and shower - 3 daily meals from dinner on Monday to the Saturday lunch - training in Tantra + book of the author Love, only love, manual Tantric. -Workshops and sessions of yoga and meditation. -Excursion to marine therapeutic baths - 30% discount on massage Tantric (reservation required) valued at € 70, discounted stays at €50, 90-minute session.
Who: Look at Lu http://mirenlu.com/
Contact: T 622 76 13 22 WhatsApp or mirenluguinea@gmail.com
More information:
https://www.sammatiwellnessfinca.com/
Yoga camp in summer for children
4 to 6 and from 18 to 23 July
Where: Ashram Vettaveli, mill, Puerto Moral, Aracena (Huelva)
The adventure of discovery of being based on the tradition of Siddha Yogis. 2 shifts: a camp short from 4 to 6 July 2017. And another from 18 to 23 July 2017. These camps as a aims to offer a physical space but also inner exploration of the self from the happiness and are intended to complement the education our children receive at schools.
True education is a path of search and return to the self. True education is the path to the pure consciousness. Our work focuses on help to clarify that road from the standpoint of Vasi Yoga. And as they say the Siddha Yogis should not be expected to ask elders to guide our life towards the knowledge of self and to the pursuit of happiness with a capital letter. The Vasi yoga helps the development of all the potentialities of the human being. Being, learning is not something you can learn is talking, it is practices that enable experiencing our true being, so will use pranayama, asanas, meditation, nature walks, dance. Stories and games. Songs and art. All integrated into the Siddhas yogic tradition.
Price: camp 6 days and €140 €300 weekend camp.
Contact: Ramon wheels Gomez /ashramvettaveli@gmail.com / T 650751464
More information:
https://ashramvettaveli.com/
Yoga Retreat in Elena Ferraris Yoga
From 5 to 9 July
Where: Alps Dolomites, Italy
Treat yourself to a few days of relax combined yoga, bike rides, walks through forests and mountains in the incredible surroundings of the Dolomites mountains in the North of Italy, all accompanied by an excellent regional cuisine. A holiday of Yoga and SPA in lovely surroundings for you only!
The price includes accommodation at the hotel in half board (breakfast and dinner) 6 sessions of yoga / bike tour / guided tour in the forests of the Unesco heritage / Excursion discovering the food specialties of the area / circuit sauna with expert trainer who will guide you at Dolomiti Spa in the hotel / dinner with wine tasting of the region at the Stuben Picnic.
Price: 4 days half-board with pack included: €670 single room and double room € 562. The price does not include the flight to Venice (approx. €250 from Spain), the transfer from Venice to San Candido. Total transfer price €230 per way. The transfer will be divided among the participants, availability 7 seats.
More information: http://www.elenaferrarisyoga.com/retiros-de-yoga/
'Self-esteem & self care' yoga retreat
From 7 to 9 July
Where: Eco Jabierans, lovely eco village near Castellon
The basis of self-esteem is the recognition and acceptance of who we are, with our virtues and defects, with our strengths and weaknesses. From there, use resources to get us closer to our be more authentic and free. We propose to focus our July retreat in the self-esteem and self-love and acceptance development. We'll make it in a protected and welcoming atmosphere in a beautiful eco overlooking the Sea (near Castellon).
We propose a retreat alternating yogic practices, meditative, energetic massage based on traditional Chinese medicine with moments of rest, introspection and Beach (we are 35 km away from the beach).
They are several cottages available (2 to 6 people), ideal if you want to come with friends and share space or if you come alone, is a good opportunity to meet new people who share the same philosophy of life. You also have the possibility of camping. The food will be vegetarian, healthy, seasonal (from the same garden of the farm). This retreat is specially designed for people who feel that they need to develop more self-esteem, people who need more confidence in making decisions and people wanting to make a change in your life but who do not know exactly how.
Contribution: €155 all included (accommodation, food and activities)
Contact: akaljotiyoga@gmail.com / T 679210167
More information:
https://akaljotiyoga.wordpress.com/
Holiday with Yoga in Cantabria
From 7 to 12 July
Where: Valderredible Valle, Cantabria
The objective, connect with the gratitude and joy, enjoy. We will make yoga, meditation, expressive movement, excursions to towns with charm, Thai massage and a very rich food. They are double rooms. We give an interactive digital album, to remember the best moments.
Price: €480
It organizes: Carmen Ramos
More information:
http://www.yogaynaturaleza.com/verano-valderredible-album-gratis/
Removal of Yoga & meditation in an eco near the sea
From 7 to 9 July
Where: Eco Serratella, Castellón
Our next retreats of Yoga & holidays will be near Castellón, Serratella, an eco Javier, has built a lover of nature, sculptor and therapist. The proposal is to practice Kundalini Yoga, meditation, Qi Gong, and simply enjoy the beautiful environment that surrounds us, be in harmony with nature. The program is in preparation, but you have some photos of the beautiful place.
Contact: akaljotiyoga@gmail.com
More information:
https://akaljotiyoga.wordpress.com/2017/05/09/yoga-verano-y-eco-aldea/
Trip to Viet Nam doing Yoga
8-July 27
Where: Viet Nam
Join a new adventure with Apasho yoga for the best of Viet Nam alternating yoga practice and enjoying the many activities offered by the cultural and heritage of one of the most popular destinations in Southeast Asia. And if the country is special, the way in which you know it still will be more: we will live one of the best experiences of the trip touring bike for 5 days Vietnamese central interior mountain at the hands of a local organization motera: Easy Riders.
We'll navigate one of the natural wonders of the world: the magic Bay of Halong Bay. We will visit villages and tribes of another time, we will lose markets and street stalls between massages, bike rides, exotic fruits and delicious coffee. We will make new friends and visit with them, beaches, dunes, lakes, waterfalls, plantations infinite and together we will enjoy one of the best cuisines of Asia. If you want a different experience full of adventure and new sensations, this is your trip! Group 5-11 persons
Contact: info@apashoyoga.com | T + 34 917585551
More information:
http://apashoyoga.com/
Disconnected by the sea

9-16 | 16-23 | 30/7-6/8

Where: Caños de Meca, Zahora and Conil (Cádiz)

July: 9-16 | 16-23 | 23-30
August: 30/7-6/8 | 6-13 | From 13 to 20 | 20-27
September: from 27/8 to 3/9 | 3-10 | From 10 to 17
October: 11-15
8 days and 7 nights, designed for 'disconnect' in a privileged location, facing the sea, calm the mind, in Virgin beaches, without overcrowding and go no further, 8 days in which: enjoy what you like (nature, yoga, workshops, gatherings, music aware, receive massages, excursions, health food, etc.) in a relaxed and fun atmosphere. Share friendships with people like you. Make every moment what you want, the activities included in the care program, or those that at any time you desire, without obligations. We're on vacation!

Contact: Email: info@vacacionesdesconecta.com | T 619718932

More information:
http://www.vacacionesdesconecta.com/los-programas/desconecta-frente-al-mar
1st week of Biocontrucción
10-July 16
Where: Brihuega, Guadalajara
How to cut and assemble a geodesic dome of 20 m².
Price: €130 at camping (includes stay + meals + teachings). Bring your tent and bathing suit for the pool.
It organizes: Akhara
More information: http://akhara.es/
Yoga Retreat, Ocean and detox
From 11 to 17 July
Where: Lanzarote (Canary Islands)
Like to enjoy your holiday at the sea while you dig in your yoga practice? From 11 to 17 July will be in Villa Amethyst, a villa by the sea, beside playa Famara, from which you can make trips between volcanic sand colors, Palm trees, enjoy the sea, the light of the island and rest from your pool. Accommodation in which all cares to perfection to provide the best for your well-being. (http://www.villa-amatista.com/es) and a perfect place to escape, practice yoga, meditation, and connect with a @ mism @.
We will make yoga sessions, both morning and afternoon, and you'll have your personal time so you can enjoy your inquiry by the island. About the practice, it will be for all levels. Through 7 dynamic yoga, vinyasa yoga, dance yoga, pranayama (breathing techniques), meditation, kriya yoga, katchugen and energy demonstrations, reiki and other dynamics, indagarás and will rest in the harmony and depth of your being. This activity, together with healthy and depurative, feeding in this fantastic place, make this retreat an unforgettable experience.
More information:
http://amaraomyoga.com/wp ascontent/uploads/YOGAHOLIDAYS. HEALTHANDADVENTUREnuevo.pdf
Yoga and Mindfulness retreat
From 11 to 18 July
Where: Menorca
Hatha vinyasa yoga, yin yoga, restorative yoga, yoga nidra, pranayama, relaxation, mindfulness workshop and cooking workshop creative and conscious, meditation with the sunset at secret Cove. A day in Menorca: 7.30 breakfast light / 8.30 class 1, 5 h of vinyasa yoga, combined with pranayama exercises or yoga nidra or meditation / 11.00 abundant, nutritious, and delicious brunch / 13.00-19.00 free time to enjoy the island at your own pace or in shared cars / 19.00 Workshop 1, 5 h of mindfulness techniques / 3 h of conscious creative cooking workshop / excursion to cala Morell to meditate with the sunset / 20.30 Yin Yoga or restorative Yoga class / 21.30 dinner / 22: 30 guided relaxation and meditation with star / 23.00 silence and rest
Contact: albertcolomerneo@gmail.com | T 622154315
More information:
http://www.anandayogainstituto.es/
Yoga & Acroyoga 'Revitalizes your summer'
From 11 to 16 July
Where: Sammati Wellnes Finca, Pilar de la Horadada, Alicante
(Ashtanga style mysore on demand) This removal of 5 nights / 6 days will be an opportunity for: relax, rejuvenate and renew itself; To connect with a community of beautiful people; Delve more into your practice; Letting go of stress and emotional tension; And find a deeper connection with the present moment. You will have three teachers for this retreat which will contain a maximum of 15 participants.
This is a luxury that we offer as we believe in quality over quantity and want to make sure that we have the opportunity to spend time working with each student. Mornings of Yoga (Ashtanga Mysore style demand), Vinyasa, Acroyoga 3 hours a day, workshops of pranyama, investments, yin, restorative yoga, meditation, etc in the evenings. Excursions included!
Contact: info@elreinodenita.com
More information:
http://elreinodenita.com/es/
Summer Gangadhara - Yoga, meditation and silence removal
From 13 to 16 July
Where: Garden Mandala, in Valberzoso (Palencia)
Yoga, meditation and hiking with silence in the Montaña palentina practices. Shared or single room according to availability. Full Board, vegetarian menu.
Price Complete removal: €300; weekend €240
It organizes: Gangadhara Yoga Madrid
Contact: gangadharamadrid@gmail.com | 629 78 51 47 (Borja) t | irene.pmartin@gmail.com / T 635 80 81 97 (Irene)
More information:
http://www.gangadharayoga.com/
Gypsy Camp Fest
From 14 to 16 July
Where: Puerto de Santa María (Cadiz)
A weekend getaway based on the multicultural meeting of dances, music, yoga, chants, rituals, meditation, celebration of nature and Visual performing arts as well as the tasting of natural products from the region.
Enjoy all the Gypsy camp, its facilities, workshops, festivals, flea market, health food, art in every corner of a natural setting near the beach for a weekend. The price includes accommodation + diet + workshops and enjoy the facilities. There are several prices: pack camping, pack hostel, twin pack, family pack and day passes. Available on the web the different rates.
More information:
https://karavanmusicproyect.wixsite.com/gypsycampfest
Yoga and Mindfulness retreat
From 14 to 18 July and from 11 to 15 August
Where: Terra d' Àngels, Ciutadella de Menorca
Organized with love by Laura Ruiz inspired Yoga & Albert Colomer breathes Albert Colomer. We offer you a holiday where you can enjoy the incomparable beauty of the island of Menorca, beaches and stunning cliffs, its white sand and waters of Turquoise, from your best state of physical and mental well-being. Staying in a green space surrounded by trees and special energy, eating healthy and vegetarian, doing yoga, pranayama and meditation every day, practicing mindfulness inside and outside of the mat and sharing experience between friends.
5 days and 4 nights to relax, recharge, enjoy and connect with you on the wonderful island of Menorca, paradise declared biosphere reserve in 1993. The proposal is open to all, both regular practitioners as casual, as those who begin.
Contact: Laura: laura@inspira-yoga.com | 656 68 29 25 T | Albert: albertcolomerneo@gmail.com | 622 15 43 15 T
More information:
http://www.inspira-yoga.com/retiro-yoga-verano-2017-menorca/
Yoga and nature retreat
From 14 to 22 July
Where: House Binahia. Valley of Baztan, Navarre
Your body, your teacher. Yoga and body consciousness. The proposal for these days is to know of pleasant way aspects of our anatomy that are key to the correct and effective practice of Yoga. We will learn about the anatomy of our body through yoga techniques and, in doing so, we will get more to our being. This knowledge makes that we can put more awareness to improve our technique, promoting the vital energy to flow properly, releasing blockages and returning US health.
Although this is an intense course, both theoretical and practical, is not at all hard or difficult. Each day we will work the body in different ways, putting awareness are where the most important constraints and dealing with them effectively. Being in an excellent natural area, we will complement this training outputs and rides by nature. For yoga teachers who want to complement their training and improve as professionals. Every practitioner of Yoga, both rookie and veteran who wants to use what they learned to their personal benefit.
They offer: Luis Luna (Ganesha) and Lola González (Mahi siddhi).
With the participation of the musical duo of Adama, with their mantras and songs sagradas.en the Valley of Baztan in Navarre.
Casa Bihania)www.binahia.es) it is a very special place in nature that allows us to combine classes in room with walks and outings in different environments of the Valley, connecting with different forces and energies of nature. Accommodation in double room with bathroom. Vegetarian food largely organic. We will ask the help of participants in kitchen tasks.
Price: €660 (course, activities and full board accommodation)
Contact: info@yogacrisalida.es | T 660363261
More information:
https://www.yogasegovia.com/verano-2017-tu-cuerpo-tu-maestro/
Yoga and dance holiday retreat
From 15 to 21 July
Where: Espai de l' harmony, Cruïlles, Baix Empordà, Girona
A relaxing holiday to do yoga and meditation outdoors without haste, to enjoy this privileged surroundings of the Empordà nature and to rediscover our balance and our inner peace. We will practice Kundalini and Hatha yoga, meditation and dance to balance and harmonize the body and mind and dance life. We will visit the coves of the Costa Brava, will make trips to the landmarks of the area and enjoy walks and the garden of the House.
They offer: Lisa Howe and sea Anton
Espai de l' harmony is a cosy country house situated in the medieval village of Cruïlles, next to La Bisbal, Girona. Delicious food served is a diet vegan balanced ecological and proximity. For more information (programme, prices and pictures of the House etc) look at the website of Lisa Howe: www.yogacuentos.com
More information:
http://www.yogacuentos.com/
Energetic and dynamic Yoga Retreat
From 16 to 22 July
Where: Malaga
Come to enjoy a yoga retreat aimed at advanced practitioners and teachers in an incomparable two-km Beach: La Minda Allegria (Malaga) practices: both individually and together, the practices are designed to delve into the areas of the interpersonal, personal and transpersonal. Thus, every practice begins with group dynamics; where, through the game, interpersonal skills, and the management of the social emotions work. Then we got into a vigorous yoga practice; where, through the work of postures and breathing deepens in the most personal part of the / a praticante, strengthen their sense of identity. Finally, each practice ends with a guided meditation; where, through relaxation techniques, seeks to expand the individual consciousness toward a deeper inner knowledge.
The withdrawal is formulated in a mode of full Board with delicious vegetarian food.
They offer: Anna Pairalo (Yoga Teacher RYT500) and Paco SB (Yoga Teacher RYT200)
More information:
http://www.goyogazaragoza.es/retiro-yoga-avanzado-en-malaga-julio-2017/
Retirement Vidagenia
From 17 to 22 July
Where: BOR of the Cerdanya, Girona
This retreat offers a space where caring for your body and your mind in the idyllic natural surroundings of La Cerdanya. Thanks to the practices of yoga and meditation, guided by Sergi, the yoga teacher and organizer of the trip, you will feel like your mind speed decrease and you get a well-being that long you are wanting to feel. In addition yoga exercises, adapted to all levels, will help you to reduce physical discomforts and promote to your nervous system and organs.
The removal vegan menu is intended for people without being vegetarian you want to discover some new recipes with which you can expand your gastronomic possibilities. Thanks to the cuisine fusion of Maran, Naturopath, chef and workshop leader of removal, and his art to combine food and essences, enjoy traditional dishes and other more exotic that will surprise your taste buds and give you joy. All of this in one of the most beautiful and admired in Catalonia, where we will share exits of hiking to give us baths of forest to 2000 meters and breathe and regenerate our cells thanks to the purity of these mature forests that, according to a Japanese study, power the immune system thanks also to the aromas of your plants and flowers to Meri Biochemistry, will help us to recognize. In addition we will also visit the source of a river where we bañaremos.
Contact: info@vidagenia.com / 654 492 512 T
More information:
http://vidagenia.com/index.php/retiro-de-julio/
2nd week of Biocontrucción
From 19 to 23 July
Where: Brihuega, Guadalajara.
Do soil and cover the geodesic dome.
Price: €130 at camping (includes stay + meals + teachings). Bring your tent and bathing suit for the pool.
It organizes: YogaKundalini.com
More information: http://akhara.es/
Yoga & creativity summer retreat
From 21 to 23 July
Where: Farmhouse shovel. Santa Margarida i els Monjos (Barcelona)
New edition of our traditional removal of summer, with which we symbolically close the season and celebrate the most expansive time of the year. Weekend creative and transformative that we will return to perform different activities based on Dynamics for awakening the body, focus and quiet the mind, heal emotions and gain in confidence, observation, listening and awareness. Expanding energy and releasing limiting patterns, we will practice Kundalini Yoga, mindful breathing and meditation, as well as art therapy and dynamic stimulating creative expression. Diet healthy and vegetarian. Temazcal of purification as a welcome.
Yoga & creativity retreats drive integral care of body, mind and spirit to get a little more to the free being who you are. We tailor specifically for each occasion our suggestions to help you align yourself in a more conscious and healthy life choice.
They offer: Daniel Gomis, teacher of Kundalini Yoga and Integral Yoga training with official certificate of professionalism | Anna Carlota Fernández, art therapist and host of therapeutic theatre workshops.
Contribution: €180 (€160 by booking before July 7) all inclusive
Contact: 617 16 83 92 T | yogaycreatividad@gmail.com
More information:
https://yogaycreatividad.com/
Holiday D-conexion: Coaching, Mindfulness, family constellations
From 21 to 25 July
Where: Etxalar, Navarre
Enjoy an experience of D-conexion with yourself and your interior to transform your life. It grows to freeing you of locks to evolve into your adult self. You sanarás conflict conscious and unconscious to begin a new phase full of wealth, love and happiness. Self-knowledge through habit stop, look and feel, to be aware and take decisions desired in life in a creative and empowering way. Learn or strengthen your life calmly and efficiently. It evolves specifying your goals in life, according to your own principles, beliefs that limit us to achieve our dreams and feelings that we absorb. They will be 5 days you will not forget, with more than 30 practical h, since they will be a before and an after in your life. Mindfulness, family constellation and Coaching, provided by three professionals who, during the workshop, we will be by your side in creative and integrative manner so they are a few days from turning to everyone, thanks to the generosity of the contributions of each participant in the workshop.
They provide: Beautiful María X. Almunia, instructor of Mindfulness, Neuroliderazgo (Search Inside Yourself, Google), degree in chemical / Mayte Ortiz Urbina, therapist, facilitator of the new constellation family quantum /Mikel Arrizabalaga Mazarico, perspnal professional coach, Executive and equipment certified by Asesco, engineer.
This workshop is aimed at all audiences, or not aware of the tools that are going to develop. All learn from everyone, and of course enjoy of the wonderful environment of the nature of Navarre, in a baserri for us alone, surrounded by the sweet singing of the birds, the fresh green grass and a ray of Sun that gives us light.
Price: € 500. Include all activities, with more than 30 h practices, facilitated by professionals who will be available at all times actively, accommodation and full Board
Contact: hola@sukhena.es / T 605467741
More information:
https://sukhena.es/experiencia-coaching-mindfulness-naturaleza
Tantra holiday. The magic of feeling
From 21 to 30 July
Where: Ashram Soul Garden. Turrillas, Almeria
The Association of traditional Tantra offers you this summer the Tantric holidays, guided by our master Andreas, who reveals practical, direct and far-reaching spiritual teachings to bring us closer to our essence. Ten days of life tantra for your spiritual growth and your rest, for the expansion of your feeling and the expansion of your consciousness through the joy and celebration. An opportunity to get closer to your true being, and connect with others, and with the Earth and nature.
Retreat aimed at older people who wish to know and practice the essence of the traditional Tantra. You don't need previous experience.
The Ashram Soul Garden is a space of more than 10 hectares in the countryside, a magical "garden of the soul" to find yourself and to connect with other people, with spaces ideal for Tantric work and for rest and recreation.
Guide: Andreas Windisch, master of traditional Tantra
Contribution: camping€ 600 / €700 bed (all inclusive)
Information and reservations: 622 333 287 T | 636 868 219 | ashramsoulgarden@gmail.com
More information:
https://ashramsoulgarden.com/
Removal of Yoga, meditation and family constellations
From 21 to 23 July
Where: Pyrenees
Fabian Rojas, with more than 30 years of professional experience as a therapist, psychologist, and psicocoanalista, gives us this unique retreat. Combining the best of yoga with the strength of family constellations. We usually get each participant to constele his own family, for this you need the help of others. If you wish, you can participate as a representative in the other constellations. Fabian, after working in America and Scandinavia, decides to establish residence in Barcelona where he works as a therapist in his own heart, as well as yoga teacher. Among its extensive training highlights, Gestalt therapist, psychoanalyst, family constellations. Also has a degree in psychology and anthropology. All this extensive training as well as its extensive life experience, make their constellations unique and very healing.
More information: http://www.retirosyogapirineo.com/yoga/constelaciones-fam-julio/
Female Moon yoga: women and centres moles
From 21 to 23 July
Where: Brihuega, Guadalajara.
Female luna Yoga is a workshop for women, about the Lunar centers, woman's cycle taught by Yogi Bhajan in Kundalini Yoga techniques.
Price: €170 (includes course and interactive map of centres moles manual + stay + meals + teachings). €150 (if you book before July 7).
It organizes: Mujer Luna Yoga
Contact: 662 529 000 (Surjit)
More information: www.mujerlunayoga.com
Yantra Yoga vacation
From 22 to 28 July
Where: Can Capsec, La Vall de Bianya. La Garrotxa (Girona)
7 days immersed in nature. Merges the Yantra Yoga practice with free time to make excursions, cool off in the pool and enjoy a harmonious coexistence. Yantra Yoga is the Tibetan Yoga of breath moving, authentic and ancient teaching that helps improve the State of the elements of the body and the physical and emotional health, favouring the natural balance of the mind through a deep work with breathing.
Price: €460
Contact: gloria.yy@dzogchen.es / T 635048415
More information: https://www.yogatrail.com/event/vacaciones-de-yoga-en-la-garrotxa-7689165
Santiyoga road

From 24 to 29 July

Where: French way of Santiago

A different holiday by the French way. Route removal of six days, to feel the steps walked, to connect with paths that were already trodden by thousands of pilgrims. Ask yourself: what will you find on the Camino de Santiago? What is your purpose? Why is this the moment for ti to make the way? These and other important questions arise at the start of a pilgrimage path. So that the camino de Santiago is mystical and magical, but this will be a different path because it will be a direct path to our interior.

We will use the body activity, yoga, meditation and personal growth techniques to go slowly immersing us in ourselves, feel the serenity and calm that we will be catching on step by step. Hiking and connection with nature will also be an indispensable tool for this internalization, you are, Furthermore, well held by professionals and by a group, which will accompany you along the way. An opportunity for self-knowledge, so that out of this trip, with other new landscapes in your mind and in your soul.

More information: http://www.santiyoga.es/
Retirement ' Yoga and arcane: understanding and practice '
From 24 to 30 July and from 7 to 13 August
Where: House looms, value, Alpujarras (Granada)
Six days of Yoga and living together in a simple and familiar environment in which we will experience different ways of working with archetypes and the asanas. Through the study of the 22 arcana of the Tarot, we will develop a deep practice, aimed at knowledge and research personal microcosms, with its challenges and lessons, and closer similarity to the universal macrocosm, where we come from and where we are going. The universal and everyday life together in the yoga session with an intention of evolution, discovery and transformation. Not to mention enjoy and learn junt@s.
Teacher: Carmen old heir
Information and reservations: ahimsayogandalucia@yahoo.es / T 620549192 (ask for daily program)
Price: €390 (course and full Board)
More information: https://casalostelares.blogspot.com.es/
Yoga and meditation retreat
From 26 to 30 July
Where: Pirineo Navarro
With over 30 years of experience, Swami Krishnananda proposing live traditional yoga in nature. Removal takes place in a house completely renovated medieval palace less than a decade ago. The reform has brought all its brightness, without losing the traditional flavour: Woodburning stove, fireplace... This retreat will develop life of Ashram, which involves live in nature, an environment that facilitates the experience of yoga, regular and systematic practice in accordance with the ancient tradition of Yoga where all teachers and students share experiences. We will practice asanas, meditation and panayama. Practices are adapted to the different levels, it is not necessary to have previous experience.
More information: http://www.retirosyogapirineo.com/yoga/yoga-swami-julio-2017/
Yoga and healthy leisure holidays in the
From 26 to 31 July
Where: Throat of Gredos, La Vera (Ávila)
A holiday of yoga, nature and healthy leisure in Gredos, on the farm the sky of la Vera, in the interior of an indigenous oak forest and close to a beautiful gorge of crystal clear waters which descend from the peaks of Gredos.
Padmasana has prepared a program of 6 days, 5 nights containing daily yoga of great quality (practice of Hatha Yoga, Pranayama, meditation and psychology of Yoga, Mantras, Nidra Yoga or yoga hypnosis), breathtaking excursions in nature (gorges Minchones and Gualtaminos where to bathe in its beautiful natural pools every day, saw Losar, people veratos), dynamic group, vegetarian cooking and nutrition workshop , walks under the stars, Celtic Festival of summer and some other surprise to take care of yourself and relax in a unique setting of natural beauty without forgetting the fun and making new friends.
Price: 325 (€375 if you want double room) € all inclusive.
It addresses: Violet Arribas, Padmasana Center Director, teacher of yoga and meditation, Ayurveda, yoga, writer of the book teachers therapist Yoga and Ayurveda, integral health anxiety.
Reservations: 91 3822733 t / info@padmasanacenter.com
More information:
http://www.padmasanacenter.com/docs/2017primerSemestre.pdf
Travel doing yoga in Indonesia
From July 27 to August 13
Where: Indonesia
18 days of adventure, volcanoes, rice fields, temples, sacred, tradition, spirituality, culture, ancestral rites, gastronomy, pristine beaches, coral, and of course funds... yoga! Prepare your backpack, open your mind and let yourself fall in love with one of the most beautiful places of the world, a country with more than 18,000 islands, lush nature and a rich kaleidoscope of cultures with Buddhist, Hindu, animist and Christian influences. An extraordinary journey where everyone can enjoy at your own pace and connecting with all your senses.
We will start exploring Java island with its ancient temples and one of the most photographed volcanoes in Asia, bromine. We cross to its neighbour and most sacred island, Bali, and will end the last days of the trip in the White Sands and clear waters of the Gili islands. In addition to the activities offered by nature and Indonesian land altered the practice of yoga wherever possible surrounded by an explosive and exuberant tropical nature. It doesn't matter if you have not practiced yoga before, this trip is a perfect excuse to get you started. In the case that you're a regular yoga, you'll love the experience of keep practicing it while travelling in enclaves and unique places. Are you coming with us? Group 5-11 people.
More information: http://apashoyoga.com/
Fold
From the 28th to the 30th of July.
Where: Ashram in San Martín de Valdeiglesias, Sierra de Madrid.
Summer, the Sierra energy, an Ashram. Self-knowledge through Yoga, meditation in motion and the art created by and for you mism @. Rest, calmness, exploration and integration time. Time to open and embrace. Time share.
Single price: €225. Places are limited to 12 people.
A minimum of 6 people is required to perform. Consult price of companion. Children are welcome.
Accommodation in a shared room (max.4 per room) with bathroom.
Food ovolactovegetariana (see others).
Contact: proyecto.retirarte@gmail.com Eva: 659299025
More information: https://www.facebook.com/events/850644061759447/?fref=ts
Removal of Yoga, meditation and relaxation
From 28 to 30 July
Where: Sierra de Segura, Jaén
Removal of Yoga, meditation and relaxation in the heart of the Sierra de Segura, an environment and enviable facilities. This retreat is ideal for disconnecting everything to connect with you and re-conectas with nature. We will make practices of yoga and meditation, hiking aware and of course, something necessary and indispensable as enjoy free time to enjoy the wonderful facilities and silences and sounds of nature.
Contact: 615 589 523 t (Ezequiel Rodriguez) and 629 82 40 81 (Iris Zamora)
More information:
https://espaciosaludableyoga.wordpress.com/retiro-de-yoga-meditacion-y-descanso/
Positive Festival
From 28 to 30 July
Where: Valle de Benasque (Pyrenees)
Positive Festival, the reference event for the body and mind in Spain/Aragon, held its first edition in Benasque. Classes guided yoga and meditation, lectures on mindfulness and nutrition and music live are the basis of this new format which, undoubtedly, will change the body, mind and soul of the attendees. This event is based on seven concepts that define its identity: connects Yoga and meditation / move: music / learn: conferences explore: nature notes: cinema / love you: Marketplace
The Palace of the counts of Ribagorza, restored Renaissance building from the 16th century, will be the main stage of this event, which will be completed with the great outdoors in different locations. Activities in nature, projections of film, show cooking, workshops, among others, are scheduled. Positive Festival offers more than 75 activities to enjoy with some of the best yoga teachers, expert professionals in mindfulness or nutritionists.
Yoga lovers will have the opportunity to experience outdoor yoga classes more than 1,912 metres above sea level, surrounded by the highest mountains of the Pyrenees front of the imposing circus of the Ampriu. Nature takes on special importance in this festival. Benasque is a paradise for activities in nature. Thanks to the guides in the area attending public can discover this Valley trails, enjoy hiking or trail running, in addition to the silent moments mounted in a kayak in the Linsoles swamp surrounded by mountains with an incredible vegetation as the jungle of Conques. In addition, there will be workshops of cooking with chefs in the Valley where will be developed from vegetarian diets, vegan, therapeutic, gluten-free, diabetic.
More information:http://www.positivofestival.com/el-festival/
Men who meditate
From 28 to 30 July
Where: Brihuega, Guadalajara
Develops the facets that modern man needs to live a relaxed and balanced the onslaught of time and be successful.
Come share, breathe and learn.
They offer: Tirso Esteve and Devta Singh.
Price: €150 (includes stay + meals + lessons)
More information: www.yogakundalini.com | http://akhara.es/
Ioga Vacances a la Natura
From 29 to 31 July
Where: Montseny (Barcelona)
Organised by Centro Ananda Yoga of Lleida. This is done in OmShanti, yoga school located at the foot of the Montseny.
Price: €230 with practices, accommodation and delicious food
Contact: T 973266571
More information:
https://www.anandaioga.com/ca/inici
Yoga weekend and more
From 29 to 30 July
Where: Moià (Barcelona)
It develops your vital potential through movement. Body awareness, postures and movements of Yoga and Chi Kung to live the body as a gift and discover your vital and energetic potential. We propose a new withdrawals of meditations dynamic, based on the conscious movement, yoga and chi kung, so that everyone can improve your mood and easily re-synchronize rhythms, breathing and consciousness. Inhabit the body practices for rooting and making more flexible the spine, relieve pains, activate the meridians and polarities, balancing and nurturing through the senses and the energy centers with the natural energies of the environment, listening more to communicate intimately with the inside and outside.
People of all ages and physical condition with or without experience in Yoga and Chi Kung.
In Moià, in a fantastic country house of 600 square meters in the middle of nature with capacity for 20 people in shared rooms with 2, 3 and 6 beds. Vegetarian vegan diet and energy made from tasty dishes prepared with natural products.
They offer: Jesus Vazquez and Manel Casaus
Contribution: €130 includes stay, activities and meals.
More information: http://meditacioespaiobert.com/es/activitat/fin-de-semana-de-yoga-y-mas/
Disconnected by the sea

From July 30 to August 6

Where: Caños de Meca, Zahora and Conil (Cádiz)

August: 30/7-6/8 | 6-13 | From 13 to 20 | 20-27
September: from 27/8 to 3/9 | 3-10 | From 10 to 17
October: 11-15
8 days and 7 nights, designed for 'disconnect' in a privileged location, facing the sea, calm the mind, in Virgin beaches, without overcrowding and go no further, 8 days in which: enjoy what you like (nature, yoga, workshops, gatherings, music aware, receive massages, excursions, health food, etc.) in a relaxed and fun atmosphere. Share friendships with people like you. Make every moment what you want, the activities included in the care program, or those that at any time you desire, without obligations. We're on vacation!

Contact: info@vacacionesdesconecta.com | T and whatsapp: 619718932

More information:
http://www.vacacionesdesconecta.com/los-programas/desconecta-frente-al-mar
Dynamic Yoga Retreat with José Luis Cabezas
31 August 7
Where: The nature of Galicia (DharmaGaia)
This retreat in nature is an open, nutritive, powerful and recommended immersion for all. They clarify and deepen the dynamics of integrity of the practice and teaching of Yoga, expanding series dynamic Yoga, meditation in motion and stillness, and the autopractica development. Adapted and advised individually. In the context of withdrawal, without distractions or large material luxuries but own simplicity and having all the time everyday to the level and relax in the fresh and abundant nature of Galicia.
Fully catered, with guidance and reinforcement of expert tutors, teachers support and a wonderful group, both by the hosts in DharmaGaia and your kind attention, accommodation and rich and nutritious meals. All conducive to deepen, in the practice and teaching of yoga, while favoring a real restorative summer break.
Contact: info@yogadinamico.com
More information:
http://www.yogadinamico.com/