Plans for growing the yoga this weekend
It is a privilege that we can further deepen in the Yoga, whatever our level of learning. And it is that Yoga has so many techniques and resources! Let us give thanks to all lovers organizers of these activities of weekend that we propose here, for giving us so many and such varied opportunities for further progress in our practice.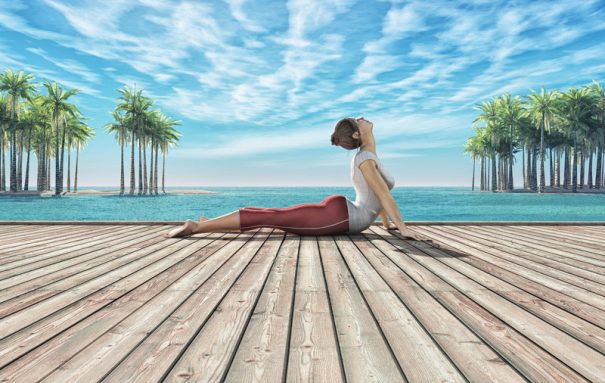 Friday, June 2
Mindful Vinyasa Practice workshop
In a Mindful Vinyasa Practice workshop, we honor the feminine energy of receiving. Stop, do not balance our energy, needed to connect with our talents and unique gifts, with our creativity and inspiration. The practice focuses on unlocking diaphragms and joints, the main regulators of body energy. When these energy regulators contract we have tense muscles and muscles off.
It teaches: Itziar Goikolea. Trained as a teacher of Yoga by the school Om Shree Om and in Bali
Opening hours: 19.00 to 21.00
Contact: 685 549 906 T
Where: City Yoga, artists C / 43. Madrid
More information: http://www.city-yoga.com/agenda/item/604-descansar-en-el-ser
Kundalini yoga course: vitality & stress
2-4 June and 11 June 9. A course of 6 days that will give you the tools to be able to cultivate the ability to recognize stress in us mism@s and otr@s. You develop the tools to transform it and balance it with conscious relaxation. Kundalini Yoga gives us the techniques to prepare us with vitality and overcome, every crisis. Working individually and in Group exploring the nature of stress as individuals and culturally.
They offer: Sarabjit Kaur, pioneer of Kundalini Yoga in Spain, with over 40 years of experience and Devta Singh Khalsa, both trainers of teachers of Kundalini Yoga.
Contact: secretaria@yogakundalini.com | 659 47 95 60 T
Where: Finca Akhara in Guadalajara
More information: http://www.yogakundalini.com/
Yoga Workshop hormone therapy
2 to 4 June. Yoga weekend retreat in which you will learn the sequence of Yoga Therapy hormone developed by Dinah Rodrigues as a natural therapeutic method to keep in harmony and optimal health of the female endocrine system, as well as to resolve imbalances in young women (painful menstruation, impossibility of pregnancy, absence of menstruation, lack of libido, low vitality, premature menopause).
In a very comfortable space, with everything you need to share a few days of yoga among women (open to men also if the previous registered are happy). We will enjoy the yoga sessions in the spacious hall of the geodesic dome, of the pine forest of shared accommodation, from a rich vegetarian diet, the pool...
It facilitates: Gloria Mataix, formed with Dinah and facilitator of the method in numerous workshops from 2015
Where: Farm school Amalur-mother earth, in San Vicente, Alicante
Where: Amalur-mother earth, San Vicente, Alicante
More information: http://www.raniyoga.es/proximas-actividades/taller-yoga-terapia-hormonal-alicante/
Yoga and meditation retreat
2 to 4 June. Treat yourself to this weekend retreat. A retreat is always a unique experience, very personal. A dive for live practice at the Fund, which will help you to get out of the rut, connect with your essence and cultivate your ability to auto observation and opening. Excellent diet vegetarian and meditations in a beautiful natural setting.
Contribution: €220 single room ensuite accommodation. Vegetarian full Board. Activities and classes.
Contact: Rosa Mª Lopez. 637-985-036 T | rosamarilopez@gmail.com
Where: Casal de Pau.Centro of spirituality. Carretera de Viladrau, km. 3-Arbúcies (Girona)
Removal of Yoga, dance and meditation
2 to 4 June. A space to caress your body, recognize your cyclic nature, observe everything that happens within you, hug him deep and walking past, intimate contact with your essential nature: the rest when you can hear the true silence of the heart.
With Martha Japinder, Yogini, dancer, doula, and social worker, with 13 years of experience in the practice of yoga, dance and work with groups.
El Yoga, la Danza y la Meditación son nuestros vehículos. Shakti Dance- Yoga Danza, Yoga Integral, Shatkarmas (purificación yóguica), Danzas meditativas y Giro, cantos, y tiempo para disfrutar de aquello que desees hacer. Un entorno maravilloso nos acoge en la Sierra de Gredos. Montañas que abrazan, aire que nutre, agua que relaja, espacios para pasear con tus pies descalzos… Pequeñas casitas para dormir. Y una estupenda y nutritiva comida bio-vegetariana.
Contribution: 245 €
Reservas y consultas: yogadanzadoula@gmail.com / T 655532530
Where: Hospedería del Silencio. Sierra de Gredos (Ávila)
More information: http://hospederiadelsilencio.com/
Yoga and meditation
2 al 5 de junio. Aprender meditación es una ciencia de vida y de profundización en un mismo. En un entorno inmejorable, un monasterio milenario, será un fin de semana para adentrarse en el arte meditativo y encontrar paz y recogimiento Aprenderemos como meditar, qué herramientas nos proporciona el yoga, y compartiremos experiencias únicas de interiorización.
Contenidos: prácticas de conciencia corporal, ejercicios respiratorios, práctica de la atención: atención periférica y atención central, los pasos de la meditación, las dificultades de la meditación, la práctica del centramiento, meditación y técnicas meditativas.
Price: 240 € (140 € del curso, 100 € alojamiento, pensión completa)
It organizes: Centre de Yoga Siddharta
Where: St. Daniel Monastery (Girona)
More information: http://www.centredeioga.com/
Therapy of nudity
When we arrived at our Center, the brain rests and order reappears. The Center neither hides nor disappears; the brain is not something alien to us, and what sets the pattern of behavior that insists on the concealment of this Centre is not anything other than a fictitious identity of fear. When we take the firm determination of undress it, it disappears.
En un taller de este tipo la sanación o el inicio del movimiento sanatorio no es externo a nosotros, ni nos viene dado por algo ajeno; sino que parte del sistema creado en el propio taller. Las soluciones son halladas en nuestro interior merced a la fuerza de cuantos formamos parte de dicho sistema y a su vez este utiliza una mucho más grande; aunque más que fuerza deberíamos referirnos a un orden permanente, que en nuestra individualidad olvidamos por completo. En el fondo casi todos nuestros problemas podrían definirse como un pequeño olvido.
Where: Espacio Ronda. Ronda de Segovia 50, Madrid
More information: https://yogayconocimiento.com/
Sábado 3 de junio
Taller inmersión en Vinyasa Krama Yoga
Asanas balance on one leg, also known as austerity (tapas asanas) positions since many sages of antiquity practiced them to meditate on the chosen God. They are mostly balance with sequences that allow travel from one to another so beautiful and harmonious, affecting a deep rooting from which build the balance. This script offers a unique and progressive development from Vriksasana towards Natarajasana, with sequences that are adapted to different levels and possibilities of practice.
It teaches: Blanca San Román. Se inicia en la práctica del Yoga en 1990 ,tras una trayectoria de varios años practicando en diversas escuelas, desde 2007 se forma según las enseñanzas de Krishnamacharya y amplia sus conocimentos con diversos maestros de esta tradición en La India y Europa. Reconoce como su maestro a Srivatsa Ramaswami, discípulo de T. Krishnamacharya durante mas de 30 años, de quien aprende la técnica de Vinyasa Krama. Titulada por KYM en Chitiksa Krama (800hs.) tiene también la certificación de profesora de Vinyasa Krama con S. Ramaswami (100hs).
Contribution: 60 € (aumnos Dhara: 50 €)
Info y reserva: pablo@dharayoga.es /T 652 03 11 86.
Where: C/Redondilla nº3 bajo. Madrid
More information: http://www.dharayoga.es/
Taller de Masaje para parejas
An opportunity to enjoy the touch of the couple with an attitude of openness and presence. We will learn to put the technique to share enjoyment and intimate communication. Through breath and contact with the other, it is easier to inhabit our bodies and feel life more fully.
Opening hours: from 10 to 19 h
Facilitators: Antonia Jerez, corrective massage, and Rosa Montells, graduated specialist and massage River open. The two Gestalt therapists
Price: €60
Contact: alzinadecollbato@gmail.com | 665-305-869-T
Where: Alzina of Collbató, calle Pau Bertran, 4, Collbató (Barcelona)
More information: http://www.alzinadecollbato.cat/
Workshop 'Basics of Hatha Yoga'
Nuestra práctica de asanas es un paso en el desarrollo integral del Yoga. Las asanas, aisladas del resto de la práctica, no ofrecen el efecto transformador que la tradición del Yoga ha desarrollado durante milenios.
Este taller está enfocado a todos aquellos que llevan un tiempo desarrollando su práctica de Yoga y están interesadas en profundizar en la tradición y peculiaridades de esta rama de la tradición en la que se fundamenta la enorme variedad de estilos de Yoga que se practican en occidente. Exploraremos de forma práctica y teórica los elementos clave de la práctica de asanas, desarrollar el vínculo de las mismas con la respiración y entender los conceptos sobre los que se fundameta la meditación.
Durante el taller profundizaremos en comprender:
La alineación en las asanas: forma vs función. Como identificar y transformar los patrones posturales que me limitan.

La respiración como hilo conductor: como reenfocar nuestra respiración para generar las bases del pranayama durante la práctica de asana.

La base filosófica del Hatha yoga: la teoría y puesta en práctica de sus principios. Como desarrollar una práctica personal basada en nuestras necesidades y entorno a un objetivo, la meditación.
Precio: 55€ (incluye manual y certificado)
It teaches: Borja Sáinz
Where: AyogA, Calle Atocha 56. Madrid
More information: http://ayoga.es/estudios/atocha/
Domingo 4 de junio
Yoga Nidra 'El Templo del Dharma'
Con Marta Espeita, Eva Espeita, Jorge Lozano y Aolani Shirin. Historia creada por Eva y Marta Espeita Guión y Narración por Eva y Marta Espeita. Composición musical por Jorge Lozano, Eva Espeita y Aolani Shirin (Se puede asistir habiendo o no asistido a las anteriores ediciones)
Opening hours: 18:00 a 20:00 (apertura a las 17:30)
Where: Centro Gloria Alba. Conde de Vistahermosa, 15. Madrid
More information: http://www.aushadhiyoga.com/
Yoga Nidra workshop
Also called yoga of sleep or psychic yoga. In this interesting workshop we will embark on a beautiful sensory experience, where you make a journey inside our own body, in a lucid, conscious, and very refreshing way. What should we do? Small group meditation. We will create our own sankalpa or statement positive. Long and deep relaxation in Savasana (practice of yoga nidra)
Contribution: €10
Where: Wiphala. Calle Valdemoro 3. Arroyo Culebro neighborhood. Leganés. Madrid
More information: http://www.crececonyoga.com/pr%C3%B3ximos-talleres-y-eventos/