Yoga Festival: unity in diversity
Sivananda Yoga Vedanta centers meet 60 years, and in Madrid is celebrated with a Festival of Yoga. Five days to enjoy an exceptional program. Workshops, conferences and concerts. Do not miss it! From 17 to 21 May.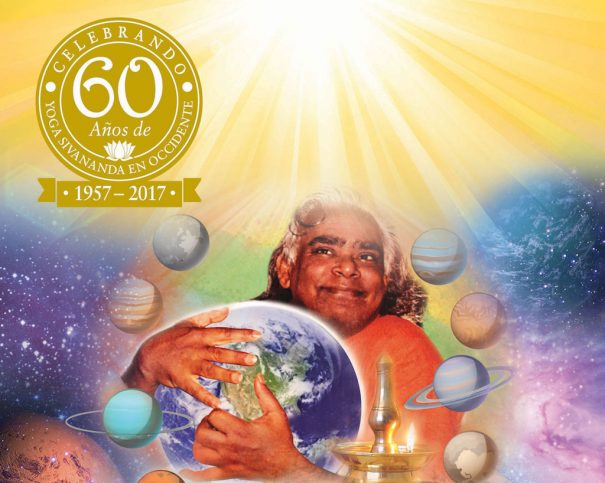 "It is not easy to celebrate sixty years of a school of Yoga in the world. A school that remains continuously in various countries, teaching classes and classical teachings of yoga. Why are especially pleased this event we want to share with all schools yoga practitioners,"Gopala.
"Melodies of Eastern wisdom" Act. A journey of five days to the meaning of life.
Five days of recitations of the Srimad Bhagavatam to deepen the understanding of the four paths of the classical yoga, whose wisdom is contained in this sacred scripture.
For 20 years we have the good fortune to enjoy these wonderful musical recitations with Sri Venugopal Goswami. This spiritual event is an extraordinary opportunity for all seekers who yearn deeply the essence of yoga. Live music: singing, harmonium, flute, oboe, and tables. (Simultaneous translation to the Spanish).
Iinvitado of honour Sri Venugopal Goswami, Bhakti Yoga Acharya, Vrindaval, North of India.
Sri Venugopal Goswami comes from an ancient family tradition of 500 years. He was initiated into the traditional teachings of Bhakti Yoga in the Temple of Radha Raman. He studied for many years with the famous Indian singer Pandit Jasraj, great teacher and interpreter of classical music of the India with Swami Durgananda, Yoga Acharya, disciple during many years of Swami Vishnudevananda and the Director of the European Sivananda Yoga Vedanta centers. Its practical and intuitive style of teaching is the result of an intense practice with over 40 years of experience. Author of the book "The inner road" with Swami Sivadasananda, Yoga-Acharya and disciple of Swami Vishnudevananda many years. It is an inspirational yoga teacher and taught for 30 years in the training courses for teachers from all over the world. Author of the books "Yoga: a beginner's Guide" and "Yoga your guide at home"
Program:
Wednesday, May 17
17:30 h yoga workshop: variations of postures for a strong back, with Swami Sivadasananda
19:00 h lecture: Yoga: the noise to silence with Gopala
20:00 h melodies of Eastern wisdom with Sri Venugopal Goswami: the inner wealth
Thursday, may 18
17:30 h yoga workshop: variations for hips, with Nadapriya opening
19:00 h lecture: meditation in action, with Swami Sivadasananda
20:00 h melodies of Eastern wisdom with Sri Venugopal Goswami: the source of happiness
Friday, May 19
17:30 h workshop of yoga: the Prana and the nerve impulse, with Swami Sivadasananda
19:00 Conference: healthy diet for the body and mind, with Swami Santoshananda
20:00 h melodies of Eastern wisdom with Sri Venugopal Goswami: the key to inner happiness
Saturday, May 20
Special anniversary celebration: as a gesture of gratitude to all students of yoga activities scheduled for this day in its entirety will be free.
12:00 h yoga workshop: Flex forward and deep relaxation, with Vishnu variations
12:00 h teachers workshop: the movements of the spine: where how and when you can feel, with Swami Sivadasananda
14:00 h vegetarian food
15:00 h 60th anniversary: audiovisual presentation with Swami Sivadasananda
16:30 h: advanced level yoga workshop: classical variations of Asanas, with Gopala
16:30 h: intermediate level yoga workshop: bending backwards step by step, with Lakshmi
18:30 h: Yoga: skill in action. Conference special anniversary, with Swami Durgananda
20:00 h concert of Nada Yoga: melodies of Eastern wisdom with Sri Venugopal Goswami
Sunday, May 21
12:00 h advanced level yoga workshop: rotation of the spine and other joints, with Swami Sivadasananda
12:00 h yoga intermediate level workshop: same issue, with Gopala
14:00 h vegetarian food
15:30 h Conference "Effort and divine grace", with Lakshmi
17:00 h yoga workshop: firmness and relaxation in the meditative postures, with Swami Santoshananda
19:00 h melodies of Eastern wisdom with Sri Venugopal Goswami: celebrating the universal love
Donativo de participación. Miércoles, jueves, viernes y domingo: taller de yoga o conferencia 14€ o una clase de tu bono. Estudiantes, paro y socios 11€. Para bonos ilimitados: 4€ por actividad.El sábado día especial aniversario: entrada gratuita para todas las actividades programadas. Domingo: 30€ para toda la jornada. Melodías de sabiduría con Sri Venugopal Goswami, entrada libre para todos los amigos del yoga. Especial aniversario: El sábado 20 de mayo 10% de descuento en todos los bonos de clases y cursos.
More information:

Centro de Yoga Sivananda Vedanta

Calle Eraso 4, Madrid