Vegetarian recipes / asparagus soup with almonds
We share great and sanisimas recipes blog 'Eat to live'. Type and kitchen Gauri, Professor of vegetarian cuisine of the Sivananda Centre of Madrid and the affiliated Centre Sivananda Vedanta of Granada.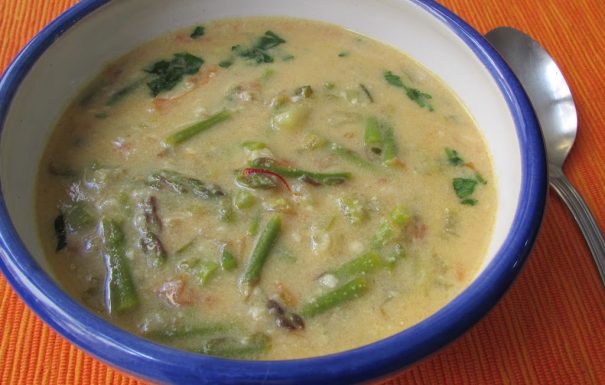 This recipe is an adaptation of a traditional recipe of my land which is made with asparagus, more intense flavor than cultivated asparagus. Although more expensive organic, grown here, I recommend you to buy them as well. Because some of the asparagus that sold these lands rich in asparagus, bring them from Peru.
So, best buy less and eat less but which is good.
Ingredients: (4 people)
1 bunch asparagus ecological parties and washed (250 g approx.)
1 stick of celery brunoise
1 tomato, peeled and chopped into brunoise
1 piece 5 cm approximately grated ginger
A piece of grated turmeric root (½ teaspoon ground turmeric can be used)
½ teaspoon ground red pepper
A few strands of Saffron
2 tbsp. organic fine oat flakes
20 peeled raw almonds
1 litre of water
Extra virgin olive oil
Salt
1 teaspoon minced parsley.
Preparation
Grind almonds dry mixer and gradually add the water and beat well. Book
In the Pan where it will boil the soup, place two tablespoons of EVOO and saute celery, ginger and turmeric, all together, a couple of minutes. Add the chopped tomatoes and sauté, on low heat, 5 minutes more. Then put the strands of Saffron, paprika, asparagus, and the tablespoon of oats, stir so that the ingredients are mixed.
Add the almonds, salt water and bring to a boil over heat medium-high, watching that not overflow the liquid. When it starts to boil, lower the heat to a minimum and cook covered for 15 minutes. Serve decorated with parsley
That you enjoy it! and they are... Happy beings.
Yoga Sivananda Vedanta Granada-afiliado. T 660-288-571.