Top 10 blogs of yoga in Spanish
For your interest, we share this blog article Insayoga, Noelia Insa Satorre driving. "This week I have been giving me a turn by the network to see what is published about yoga in Spanish - says Noelia. And I have found some very interesting yoga blogs". You can see the original entry in the link that is at the end of this article.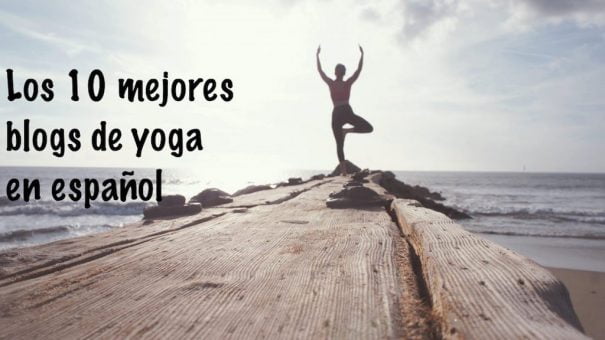 Some knew them (the majority), others have discovered them now but surely I will visit them again.
The truth is that all the blogs of yoga that I follow regularly are in English. You could say that English is the language of yoga, after Sanskrit. There are many more content in English than any other language: not only blogs but also videos, books, magazines, tutorials, counts Instagram, etc., etc.
So I decided to make a small collection of the 10 best blogs for yoga in Spanish know, or more exactly, the 10 that most like to me. As you can see, are not numbered, and this because I do not intend to establish a hierarchy, there is no best or worst. I have listed them in the order in which I have been getting to know them, and I have grouped them into three types: General, specialized and personal.
-General:
There are some blogs that publish all kinds of articles on yoga, from positions, to philosophy, meditation and even recipes. They are normally written by multiple contributors.
It features sections for yoga, today, meditation and mindfulness, lifestyle, etc. Within the yoga section, you can find description of positions, reviews of books and some articles of yoga philosophy.
His collaborators include names such as: Chema Vazquez, Marta Cabrera, Paloma Guillén, Silvia Jaén, Julia Arteaga, Jacobo López or José Luis Cabeza (dynamic Yoga).
It is worth visiting it from time to time to have a fun time.
They define themselves as the website for lovers of yoga, and in it you'll find asanas, yoga for kids, yoga for beginners, benefits of yoga for all ailments, and some reviews of books (very few). They also have a shop, with very reasonable prices.
Without a doubt one of the most complete and assets is the blog of the Aomm.tv platform. They published much about yoga and pilates, meditation, and healthy life. In the yoga section there are articles of all kinds: benefits of yoga, history and philosophy, recommended reading and inspiration... even pranayama!
They write: Noelia Quiroga, Carla Sánchez, Heydi Toledo and other teachers of the platform.
Well-written and easy to navigate. Highly recommended.
-Personal:
Other blogs of yoga are those carrying a single person, and that, normally, focus on their own experiences during the practice of yoga.
Cris Aramburo blog is a gem. From their own experience, and with a careful and thoughtful style, talks about crucial issues in yoga, as the importance of meditation, elasticity, fear, etc. And it gives us memorable phrases like this: For me, and I repeat it much in class, the position is one scenario more that this mind-body landscape and learn how to breathe on it.
Also talks about his childhood, his mother, his strength and his weakness. Pure poetry.
Cris Aramburo, author of Yoga with Cris, definitely one of my favorite yoga blogs.
From Argentina, Viviana Daya Devi Cortés takes a very interesting blog, which she defines as notes on yoga, Buddhism, masters, vegetarianism, recipes, health, medicine, words for the soul, protectionism, ecology, and more. And he adds that it is not a commercial blog (...) only a blog of information. Well know it, in these times!
It contains very long and elaborate, articles on topics such as yoga and menstruation, or yoga and scoliosis, with lots of photos, links to videos and books. According to me, he is preparing new articles about yoga for swimmers, belts, yin yoga and a biography of Swami Satchitananda yoga. We will be aware.
Inma third blog is a delight. Particularly the section reflection Friday, contains his thoughts on topics such as loneliness, silence, eternity, art talk... And it accompanies them dating and very inspiring photographs.
Particularly well written, it shows that it is a great Reader blog.
Surely you know this blog better than I do, since the author is very popular. It is the Vietnamese Xuan Lan, grown in Paris and based in Barcelona. It is a blog with a fresh and entertaining, style aimed at the urban yogis. In it you can find also many videos of yoga.
Although she herself confesses that only three years ago that he discovered yoga, Lucia has become one of the celebrities of this practice. On his blog, we find mostly articles focused on his own experience as a yogini. Always in the first person, tells us from how it started with yoga, until you are sexy men Yogis.
I met him recently, but from what I read, I like very much. This blog, which carries the alicantina (like me). Nita Miralles, was born, as she herself says, as an attempt to share their nomadic yogic life. Indeed, in it we find a chronicle of his journeys, both physical and spiritual. From their adventures by different countries, until your inner journey towards the acceptance of herself and love of life.
-Specialized:
With Oscar I was lucky to coincide in the training of teachers in Vinyasa Krama Yoga organized Dhara Yoga, which was given in Madrid by teacher Srivatsa Ramaswami. So I can say first hand that not only Oscar is a lovely person but it is one of the greatest connoisseurs of style vinyasa krama in our country.
His blog focuses on his years of this style of yoga teaching experience. He found articles of all kinds: benefits of yoga for various ailments (such as allergy, for example), translations of articles from their teachers (Ramaswami, Anthony Grim Hall), reflections on the yoga, and many things more.
Another one of my favorites
Of course, the publication of reference of yoga in Spanish is, without doubt, Yoga network. If I have not included it in this selection it is because I do not consider it a blog but one digital magazine. But I still it always, I love your newsletter every Monday and Thursday and open it, because I know that there is always some interesting article. With writers of the stature of Ramiro Calle, Arjuna, Joaquín García Weil, Yoga pirate or Pepa Castro needed that is always something wonderful to read.
And that's all for today. Again I repeat, it's a selection among the blogs of yoga that I know, but I obviously do not know them all. So if you have a yoga chulisima blog and you have not appointed, please, do not you offense you, on the contrary, leave the name of your blog in the comments and I'll be happy to read it and include it in an upcoming entry.
Read the original article in Insayoga: http://insayoga.com/blogs-de-yoga-en-espanol/