Concentration, energy and health for young people aged 10-15
The IAM (integrated Amrita meditation) 10/15 is designed specifically for young people aged 10 to 15. It is based on a simple physical exercises and practice of meditation with displays.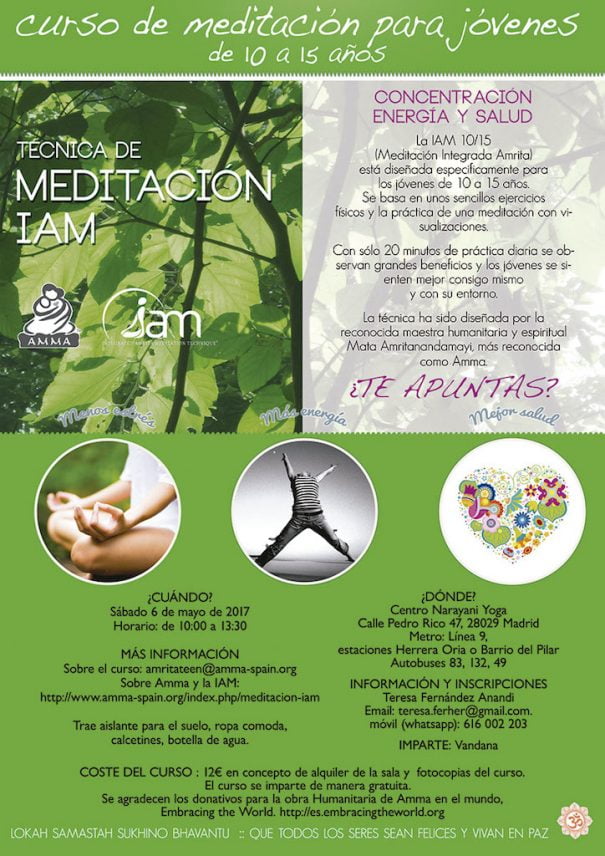 With only 20 minutes of daily practice there are great benefits and young people feel better with himself and with his surroundings.
The technique has been designed by the renowned humanitarian and spiritual teacher Mata Amritanandamayi, better known as Amma. Would you like?
If so, when? Saturday, may 6, 2017. Opening hours: From 10:00 to 13:30
Where? Narayani Yoga Center. Calle 47 rich Pedro. 28029 Madrid. Metro line 9, station Herrera Oria or Barrio del Pilar. Bus 83, 132, 49
It brings insulation for flooring, comfortable clothes, socks, water bottle.
It teaches: Vandana, amritateen@amma-spain.org
Contact: Teresa Fernández Anandi: e-mail: teresa.ferher@gmail.com | T (whatsapp) 616002203
Price: €12 in rent of the Hall and photocopies. The course is taught for free.
Donations for Amma's humanitarian work in the world, are grateful Embracing the World.http://es.embracingtheworld.org