Vegetarian recipes / energy ball
We share great and sanisimas recipes blog 'Eat to live'. Type and kitchen Gauri, Professor of vegetarian cuisine of the Sivananda Centre of Madrid and the affiliated Centre Sivananda Vedanta of Granada.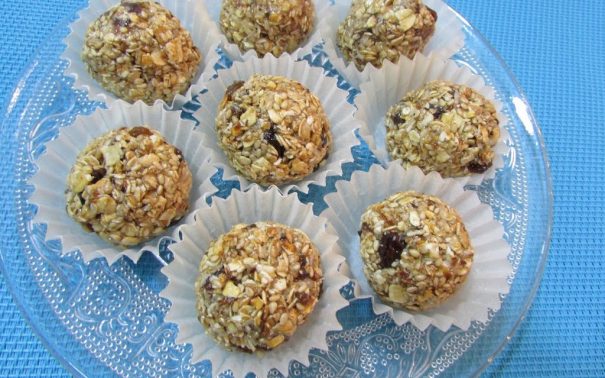 Esta receta la preparamos en el curso de 'Cocina para Gente Ocupada' que hicimos el día 5 de marzo. Es un tentempié rápido y sano. Lo puedes conservar una semana y es ideal para llevarlo cuando necesitas un extra de energía. Está inspirada en un recetario de los Hare Krishna, el prasad ideal.

Ingredientes: (Para unas 20 bolitas)
8 cucharadas de avena en copos suaves

1 cucharada de semillas de sésamo

1 cucharada de uvas pasas

1 cucharada de coco rallado

1 cucharada de orejones de albaricoque

1/2 cucharadita de cardamomo molido

1 edulcorante líquido: miel o cualquier sirope vegetal.El justo para amalgamar las bolitas.
Preparation:
lavar y tostar el sésamo en una sartén, reservar. En la misma sartén tostar los copos de avena, sin dejar de remover hasta que estén dorados.

En un bol mezclar todos los ingredientes, primero los ingredientes secos y por último el edulcorante, hasta formar una masa compacta. Hacer bolitas del tamaño de una nuez. Puedes untar en las manos un poco de aceite para ayudarte a formar las bolitas del tamaño de una nuez.

Poner en cápsulas de papel para servir.

More recipes: http://comemosparavivir.blogspot.com


Yoga Sivananda Vedanta Granada-afiliado. T 660-288-571.