Interview Victor Mulberry: "therapeutic yoga makes us aware of the tensions"
Therapeutic yoga is not about the symptom or intends to release a pain through a determined stance, but it goes to the root of that pain, the cause for which is manifested there disharmony. And it is, in a daily 20-minute practice, harmonise that harmony to restore health. Aranzazu Corrales speaks of it with Victor Morera.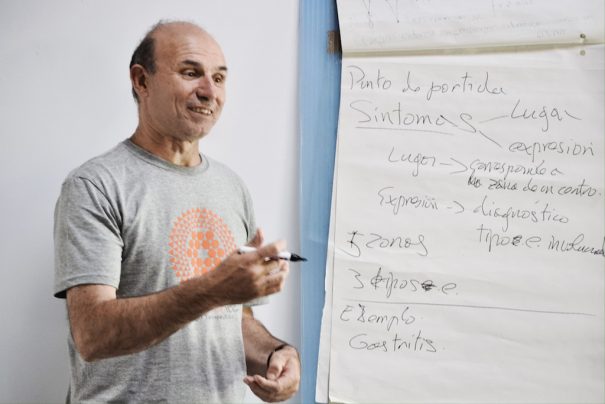 Victor Morera, yogaterapeutas-former 16 years of school Pranamanas Yoga, It has been the pioneer in start Yogaterapia formations in Spain. Trained in osteopathy with teachers and schools from various countries, as well as in other manual therapy techniques. Profesor-formador of yoga Sadhana teachers training school, from 1996 to 2012. Creator and founder of the formation of Yogaterapia in the year 2000. That same year he began his studies in Sintergetica (synthesis of different energy medicines), which delves into the manual medicine. Currently still linked and their practical applications in the field of health research. In 2008 he began his studies in the hands with Jorge Carvajal formation, which is incorporated into the teaching team. In 2009 he founded School of Pranamanas Yoga, along with Grazia Suffriti. Creator of the method "movement organic conscious (MOC)", a system of healing through the consciousness movement. Author of the book: postural Bases in Hatha Yoga
What is therapeutic yoga?
Therapeutic yoga is a single relationship. Originally, yoga was born in a teacher relationship. There is a statement that says that yoga adapts to the student, not the student to yoga. In this sense, therapeutic yoga adapts to the student. The characteristics of each student are unique with respect to age, work, physical conditions, objectives and specific needs. Therapeutic yoga takes into account and designs the most appropriate practice for that person in particular, to meet your objectives.
How evidenced that docente-estudiante relationship?
Care is individualized. I.e., who teaches has time to observe and get to know the student and tell you to perform movements in a certain way. When we speak of āsana, prāṇāyāma, or any possible Yoga tools, the key lies not so much in what is done but how it is made.
A person can be a position or a proposal of breath control very correctly, but may make unconscious gestures that will create tension. In this regard, the yogaterapeuta is who helps you be aware of these tensions and facilitates and teaches media do not force to tighten. Tells you the points to regular or brackets that can be used to make the type of breathing and posturefulfilling the role that and not looking for both an external form.
What can be treated with therapeutic yoga?
The first question is not what can be, because we do not conceive the isolated disease. First, the yogaterapeuta focuses on the person. Secondly, yoga focuses on health, not on fighting the disease. Thirdly, there is the vision that has human yoga and, therefore, also of the disease, has its specific context.
And, what that context?
The human being consists of a physical body, an energetic body, a mental body, a spiritual body and lives immersed in an environment of family, social, cultural and environmental. All of this is the human being. Therefore, when happens something a person, which we call disease, it is happening - somehow - to all their constituents. To treat something physical, it must be the energy aspect. To work the energy, we have to understand how it works in the human energy: understand how circulates the prāṇa in the body, understand the influence that has the gesture in connection with ourselves, with our psyche and in the context that manifests itself.
The concept of health, therefore, is different from what we are accustomed...
Exactly. What brings this holistic vision of the human being is that when there is a mismatch - which we call disease- actually there may be a problem of circulation of energy, a mental health problem, or even a consciousness or spiritual problem. Yoga is only understood through yoga.
The art that we have developed - and therefore the relationship between the yogaterapeuta and the student is important - is the field of observation, meet the student to detect where the greater friction, occurs what hinders the process of recovery of health. We learn to observe and listen, basic process for all yoga teacher and above all a yogaterapeuta. The art of observation is the art of reverberation inside the other, to the other to your interior and your interior.
And, what conclusions you have extracted the yogaterapeutas watching from this conception of the human being?
What currently inadequate habits produce much of our health problems. The practice of yoga does not fight against the disease but that search generated changes in the habits of people. I mean provides awareness. The consequences of these inadequate habits are reduced, because practice serve to perceive the results in your body when the mind begins to focus, when breathing begins to expand, when you stop you every day a time to focus on yourself and say you want and that you accept when you are living. I.e., it's making small changes in the life of a person who, in the long run, with repetition, generate major changes.
And so they heal diseases, pain or discomfort?
Yes. Therapeutic yoga is not about to attack the disease. It is not find positions that release a low back pain, for example. Rather than focusing solely on the manifestation of the symptom, power the health of the person who starts a process of healing, giving you tools so you understand that low back pain is not separated from the whole shaping its existence. If we want to release low-back pain, we show that person how damage. Because back pain is not more than a strategy that warns that there is something in the body that is not in harmony. In the background, cany practice of yoga that search is to produce harmony, harmony between what we think, feel and do.
What are the clinical results of the practices that you propose?
I've many years exercising consultation of osteopathy, sintergetica and other therapies, but the yogaterapia adds the component of education in health, educate the self-management of health and that, over time, is what keeps most people welfare. In this regard, the yogaterapia and yoga reduce overall dependence on the exterior without excluding it.
There are many studies on the effects on the health of practices to get calm the mind, have a loving heart, cardiac coherence, increase flexibility and reduce stress in the body, improve the vitality of the body through the breath. Yoga gets all those effects, which lead to overall health.
And, why the yogaterapia is so radically healing?
Because it has something unique and powerful: the attitude of the person who goes to the yogaterapeuta is the wish to do something for your health. The person who goes to a query of osteopathy or physiotherapy, or any other technique, is going to be patient, to passively receive something from outside. In yogaterapia the person participates actively in their health, is agent of health. What he wants is that we teach a practice to improve your health. It is a paradigm shift: it's people who say: "teach me to discover why it hurts, to start changing."
But it may be that, despite this, not solve all diseases. We have to assume that there are people who may be deeply sick without having symptoms and there are people who may be deeply healthy with symptoms. Because if we consider that health is the absence of symptoms, we put the painkillers as Kings of the health process. How not it hurts nothing, everything works very well and is healthy.
Again, reappears a fuller concept of health...
Yes. And it is the basis of the effectiveness of the results. Yoga conceived health from another place. What yoga is looking for is that we can see what happens to us with some calm and certain equanimity, that what happens to us is significant for us. Hurt may hurt us, but we avoid suffering.
Clinical effects, therefore, are not measured according to the pain which eliminate or reduce, but with the exercise of healthy habits that generate a healthier lifestyle, which has its effects on multiple parameters of health (quality of sleep, digestion, evacuation, sexual life, relationships, habits, activity and rest, etc.).
What you are asked the consultant in a yogaterapia process?
To make the process efficient, we recommend a four-session compromise proposal. The first is to know the person and develop practice. The second - after a few days, long enough for the person has learned his practice - we see how practice, that is essential. You think you have understood it, view drawings that we have designed for you, you may even have an audio practice, but you can that you are doing differently than what we wanted.
After setting the practice, we propose a third session at fifteen days. They are fifteen days of commitment to his practice. This session tells us what has felt. In this session we can adjust, sharpen and clarify. Sometimes small changes are introduced, sometimes elaborates more on one aspect. Sometimes we observe something and focus on what we have observed at that time. Because It is a process of living out the people before us.
The fourth session is within a month. I.e., in two months, we have seen four or five times the person who attends inquiry. That session checks to see that the objective proposed in the design of therapeutic series has been reached and, to from there, the person can continue with other objectives and creating a new process or visit every fortnight or every month to review its practice for the evolution of the same and to share their experiences.
That is the model. It is essential that the person undertakes to explore the process, since if it does not practice we can not appreciate it.
And, the question of gold, how much time and energy daily has invest a person in that process?
Our challenge is to find out how the practice has to be effective in twenty minutes. We say twenty minutes because everyone can spend twenty minutes of your life to a practice. If we propose a one-hour practice, not all people practice it, unless they have very established the discipline of self-care in your life. Sometimes even twenty minutes seems to them too.
As shown, we do not advocate in quantity, but in quality. In addition, we believe that how effective is the repetition, consistency, drop by drop to create a new habit of health. Often little is more effective than much but only once a week. Less is more.
The challenge of the yogaterapeuta is that in those twenty minutes distilled the essence of what mobilizes the health of that person. This is art in which the yogaterapeutas we specialize and that who we are dedicated to teaching we pass in our formations.
Pranamanas Yoga. Yoga therapy training school, program biennial of deepening in the therapeutic application of yoga, to persons who have previously made a yoga teacher training. The aim is to give yoga an approach individualized response to demand and to the personal needs of each student.

Home of the next editions: Madrid in April; Barcelona in September; Valencia in October; Seville in January 2018 and Donosti in October 2018.

Presentacion-demostracion workshops Key to identify the practices of yoga. In Seville 06/05/17 (Inssai, av. Europe 72, Ginés), 03/06/17 (Sadhana, Alginet, 5) Valencia and Barcelona 17/06/017 (Tariqah, Gran de Gracia 115). From 10 to 14 h and from 16 to 20 h. More information: yogaterapeutico@pranamanasyoga.es