Interview with Núria Vives: "know better our perineum makes us stronger women"
This great teacher teaches us to know the more hidden part of our Anatomy and, however, one of the most relevant for our lives and for the practice of Yoga. And he does it with skill and an enormous delicacy. Do not miss this interview... (and its course, if you have a chance).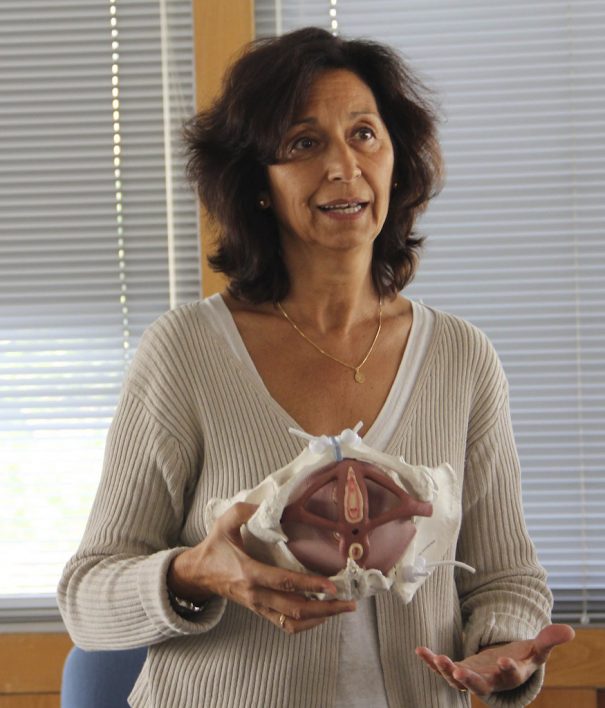 The course is super because link knowledge about the perineum with postures and movement. Gets the anatomy service of consciousness. Methodology and pedagogy of this course are invited to reconcile with the aridity of the descriptive Anatomy and find the direction of the movement from the own experience in the body.
We talk to its creator, Núria Vives, co-author of the book Stop moving with Blandine Calais-Germain, with whom he has worked for more than 30 years, she is the founder of the method 'Perineum, integration and movement'. Its courses are taught in Spain, Italy, France, Chile, Mexico and Argentina. He is Professor of Sensory Awareness and great body education expert and Anatomy for movement.
Question: Do perineum? Pelvic floor? Pelvic muscle diaphragm? What is the correct definition and where is?
Nuria Vives: So many names for an area of our body as unknown! And many of them are names prohibited, offensive, curse words.
I say an unknown area of our body because it is in the area of our external and internal genitalia and, in general, women played it to us little and we even look. It is so unknown that there is also who called it "the place" that has no name and... If it has no name, does not exist.
I like to call her perineum. I like the word perine, because one of the definitions found comes from the Greek and means: Peri, around, and neo, Temple.
In fact, the perineum or the pelvic floor is a set of muscles and fascia, superficial and deep, that are inserted into the lower part of the bones of the pelvis and surround the three holes of the urethra, the vagina and the year, and these holes at the same time have their own muscles or sphincter.
It is certainly an area somewhat "mysterious" and away from our eyes, don't you think?
Lately I found with some young women who are unaware what is the perineum and tell me that they recognize that it gives them "thing" explore, look through a mirror or put your fingers inside your vagina. Also many women have confessed that their vulva, dislike her external genitals. How will we like if in the best of cases it has no name, and if you have it is an obscene Word? The women, apart from the own do not see many other vulvas to compare. Only the specialists in urogynecology and midwives.
Then we say why do that we don't like? Do in relation to which model we compare?
Because this is a reality. It seems to us that with internet things have changed, but much of the information that reaches us on our genitals, and especially on sexuality, is a model designed and created by man and for man. At one end we have pornography, which presents a perverse sexuality and distances us from our daily reality.
In your experience, as a tutor of many students of Yoga teachers and other disciplines of consciousness through the body, do you think that a different situation occurs? Do these professionals know the perineum?
In all these years I give seminars on the subject, one of the things that strikes me is the great ignorance that we have of our pelvis and the body in general, and I think it important to be able to transmit that knowledge from the corporeal experience. This also happens to many teachers of Yoga, and is extremely important to know an area so relevant and transcendent in their practices.
In the proposals I offer much care language so that we can get closer to this area of our body with kindness, tenderness and respect. Take care where we tend not to do it usually is very important, and you should learn as much for yourself as if we teach others. Do in relation to our sexuality, while we wash in the shower, or when we have any discomfort (cystitis, Candida...) My thought is that the more we know and love over this part of the body (and others), less will allow any abuse or indifference.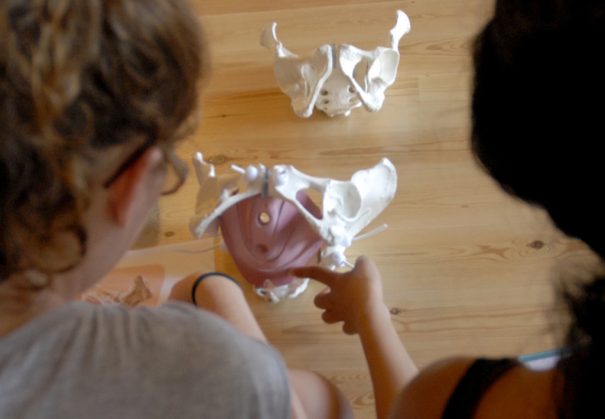 And what propose?
Closer to the knowledge of the perineum with curiosity, without prejudice and with full attention, because it awakens us new feelings, regardless of sexuality, because they feel and know. Or perhaps, we discover that we do not feel... that it is also a way of feeling!
Because if one thing I believe is that awake the sensory experience of the area is a very good personal investment.
Locate where live your perineum and what is the perineum have been two key questions that I normally do, and very often I realize has continues to be a taboo. Many women respond to things such as: "No I know, that there down, low, what you cut at birth, a point between the vagina and anus...".
If I want to get to know us a little more, to get to the perineum first must recognize "the House of the perineum", our wonderful bone pelvis containing the soft tissue of the perineum. The bone is hard, we can feel it and feel under your fingers, and is easily accessible. Even so, often feel shame just to touch the pelvis, because the pelvis is also taboo, and a great unknown.
For us, women, know and above all to feel the volume of our pelvis is also a good investment for our self-esteem, and find the Center, our strength. To reach out to all the muscles of the pelvic floor or perineum, we recognize first the bones of the pelvis, touching them with our own hands, and this first helps to situate better the area.
I always travel with pelvic resin models. The fact view a three-dimensional pelvis and place the perineum first in the model can give us confidence, is a concrete information, and allows us to live it from the naturalness. Because of that it is in a first time, know and feel where this muscle is located. Bones, hard tissue, framing our tissues sensitive and delicate, soft tissue. We are symbolically protecting us.
Is it possible to describe and imagine the female perineum?
We imagine each bone of the ischium that continues, following forward and upward. This bone caminito already not called ischium, but ischiopubic Ramus. The two branches merge at the bottom of the pubis forming what we call the anterior triangle of perineum.
Over the years I have noticed the importance that has for us women recognize, locate and to represent in our body this triangle bone formed by two bones that connect the bones with the pubic symphysis. Palpation of these branches is sensitive because they are very sensitive to the touch, and the area is intimate. It is worthwhile to know that These two bones inside you will find our most profound femininity: the delicacy and strength of the perineum.
Looking at home, in intimacy, this area with the help of a mirror, we will recognize it much better to see it in an atlas of anatomy.
Our previous perine, our former triangle of perineum, is very sensitive, but sometimes, or throughout life, "we anestesiamos it", not to feel. On the one hand, because feel can produce a feeling of shame, and on the other this area can hide in your body memory wrong vivid or traumatic experiences. Know this area, help us keep it more present and to integrate it in crucial moments of our life
Is there some easy tips that you can offer to take care of the perineum?
I briefly put some examples of situations where taking care of your perineum will give us in the long run much satisfaction and well-being:
.. .when received more pressure, such as lifting a weight, sneezing or coughing, then activate it! Unzip it! Coordinate it with the abdominal muscles!
... While we make pipi or defecamos, loosen it without pushing! Dedicate a sigh!
And also in such crucial moments such as:
... birth, allowing that to relax, to stretch it, it widens to let the baby,
.. re-confirmation love, feel the area well alive, present and participatory!
... after birth, take care of it to recover tone, flexibility and elasticity!
... and when one day tell us that we are already menopausal because we carry a year without the rule, there, more than ever, to moisturize every day throughout the area.
As a new habit, morning and evening salute with our hands and our wet fingers of oil or cream that ignored area, badly named, little-known that we call the vulva, vagina, perineum, usually pelvic... with recognition, delicacy and tenderness. Recalling that be aware of This small and valuable part of our body makes us stronger as women.
The course of specialization 'Perineum, integration and movement'

Teaches Nuria Vives, educator and psychomotor

Where: International School of Yoga of Madrid. 91 4166881 t - info@escueladeyoga.com

When: from 25 to 28 of may 2017 (28 hours)

More information: www.escueladeyoga.com/cursos-nuria-vives/

www.perineintegracionymovimiento.com