Therapeutic Yoga practice / shoulder pain
I practice yoga for many years. I am 74 years old and suffer from painful shoulder. Lately I did 20 sessions of fiisoterapia, try not to force my shoulder. I would like to know what asanas should avoid. Thank you. Alicia from Cordoba, Argentina.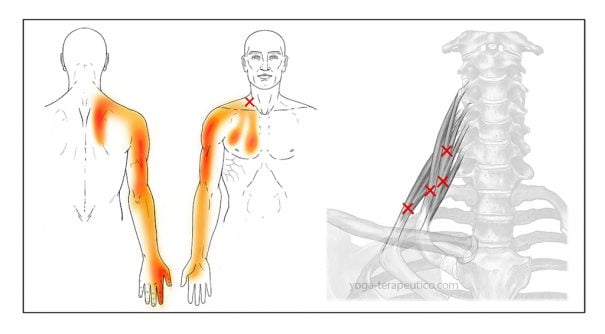 The shoulder is one of the areas of the body that is most frequently seen troubled by musculoskeletal conditions. These can be of different nature and, in addition to wake up pain, can limit mobility, generate joint noise, disturbances of sensation,... Conditions that are most commonly associated with a painful shoulder are:
– Strain of the deltoid and trapezium: This is the muscle in the shoulder and that gives the characteristic rounded shape. The professional and/or sports utilization, even brought about by the development of everyday activities, is capable of increasing the muscle tone to develop painful contractures.
– Presence of myofascial trigger points: trigger points tend to be a very common cause of shoulder pain and can be considered contractions exacerbated capable of generating distance (irradiated pain) pain. Some of the muscles that have capacity to develop shoulder pain from trigger points are: supraespinoso, escalenos, infraspinatus...
– Subacromial syndrome: subacromial syndrome refers to the entrapment, inflammation, including rupture of different structures of the shoulder, which include the supraespinoso, the subscapular and the subacromial bursa.
– Interapofisarias joint dysfunction: blocking or functional alteration of the joints which is behind the vertebrae is capable of generating also pain in the shoulder, besides in the upper part of the arm, head and neck pain.
– Radiculopathy: the entrapment of a nerve root by part, for example, of an intervertebral disc herniation or protrusion can also generate pain in the shoulder region.
As you can imagine, it is essential to have an accurate diagnosis about the cause that causes your symptoms to be able to act efficiently. However, may be you useful a series of considerations which tend to be of great help whenever a painful syndrome occurs in the shoulder, regardless of the cause that originated it:
Avoid the pain both in the practice of yoga as in the day to day (the emergence of pain tends to perpetuate the problem).
Avoid the practice of asanas with arms raised and seek alternative positions for them in order to avoid overloading the muscles that may be involved in the process.
Avoid head positions that will increase the pitch of the neck musculature as when projecting this previously, for example, in front of the computer or, to practice postures like U tthita Trikoṇāsana (best left head relaxed toward the ground).
Avoid asanas involving load on extremities such as grilled or Caturaṅga Daṇḍāsana.
It is advisable to study the movements and postures that awaken the pain since they can provide relevant information about the process. Shoulder problems tend to have much to do with adopt inappropriate postures and the presence of structural alterations as the hyperkyphosis and scoliosis (there would be because that Act on these conditions if is estimated that may be related with the problem).
If you are interested in obtaining a free video of therapeutic Yoga, please visit: www.yoga-terapeutico.com

If you want that the experts in the adaptation of yoga to different diseases, injuries and disorders biomechanical, Alex and Or, respond to your questions, write a mail with your question a: info@yoga-terapeutico.com

Alex monastery and Or Haleluiya

Alex monastery It is physical therapist, ostopata and posturologist with wide experience in the field of health care and teaching. He has been Professor at the Ramon Llull University in Barcelona of physiotherapy for more than one decade and has worked about five years as a therapist at the Hospital Sant Pau (aside from having his private practice for 20 years where he sees cases of all kinds). He is the author of the book Spine healthy (translated also to the Russian).

Almost 20 years has taught Anatomy, Physiology and pathology to yoga teachers, must be one of the first in Spain, and no doubt has a lot to offer when it comes to teach the more than 40 pathological processes studied in the training jointly with Or, as well as how to deal with them all them with therapy through movement.

Or Haleluiya It is a Yoga teacher, acupuncturist, master's degree in Psychology (UAB). President of the Spanish Association of Yoga therapy. Or began his practice at age 22 in the Iyengar method intensively for seven years, traveling widely to study with teachers known worldwide in this method. It has certified in Anusara yoga, restorative Yoga, and Yoga therapy. Or has made a couple of courses of dissection human in the universities in London and Scotland. It's regular writer of articles in different journals.

Or classes are exceptional by their masters to refine biomechanical of people practice yoga according to the skills and needs. It also has an original ability to tell stories of the Indian mythology related to the biomechanical studied in their classes that move and connect with the heart.