Sadhana of meditation ' Nada Yoga-Yoga of the sound '
Since Aushadhi School of Yoga, Eva Espeita is the fourth edition of this course-sadhana (practice person) of Yoga of the sound with a proposal that addresses the practical and academic aspect of a yoga way quite unknown in our country although increasingly opening up more.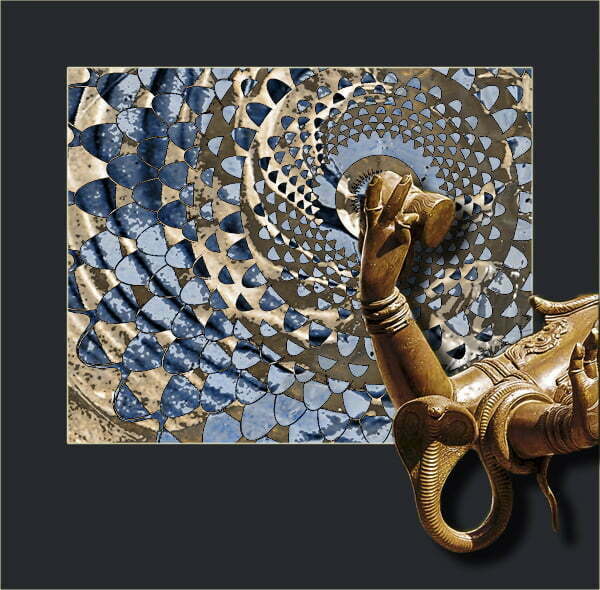 If it exists in the mystical traditions of the India, a sensory environment privileged at the time of approach to the understanding of the ineffable, this area is without doubt the of the sound. Similarly, if there is a particularly effective and immediate support to silence the mind and access States of balance, deep concentration and meditation, that stand is undoubtedly the meditative experience with sound. The Nada Yoga or Yoga of sound It is the path of yoga (a path often cross, because working with sound is present in all the other paths) whose way is, in one way or another, in the attention to the sound vibration.
Picking up the baton from different traditions of yoga and mysticism sound (no Yoga, Tantra, Vedanta, Bhakti, Dhrupad), using more contemporary proposals (Deep Listening, modern techniques of overtone singing) and above all, our dedicated expertise and research environment to these practices, their sense and its effects, propose a sadhana Yoga of the sound where we have synthesized and unified various practices in a unified and progressive, full range of spiral structure. The aim of this course, in addition to being an introduction to the sense and anything Yoga theory It is, first of all, introduce, accompany and guide students in this series-sadhana practice.
Along the road towards the awakening of consciousness that is proposed to us by the ancient Yogis, Nada Yoga Practice assists us and accompanies the process of silence and pacify our minds (abandoning patterns of stress and dispersion), harmonize our body and feelings, focus attention and develop concentration, free from direct and effectively blockades hindering us vitally, thus arousing our potential in terms of health, communication, creativity... First and foremost, the Yoga of sound operates in growing our presence, of our full attention to the experience of the present moment, only possible key to the fullness.
The universe, say the ancient mystics, is essentially vibration. Our bodies (themselves) are essentially vibration. The past, present and future of manifest existence are, in their latest and subtlest Stadium, vibration... therefore sound, music. In the listening of nothing, as in the articulation of sadja, as in the repetition of a mantra, as in the free flow by the waves of the Raga, we connect with the primary source, with our latest, vibrational nature. We get lost to find ourselves. We lose our ego to find our essential being. We transcend ourselves.
Program
In a sadhana, built in five phases in a cumulative, unified personal practice will begin at students in the theory and practice of the following meditation techniques of Yoga of the sound:
Outer meditation through comprehensive development practices of the deep listening to different sound sources (human, environmental instruments).
Inner meditation practice on the refined listening to the inner primordial sound(nothing anusandana) from the Tantric tradition.
Meditation practices active in opening the voice and breath through exercises selected from pranayama, as well as an adaptation of specific methodologies coming from the Canto Dhrupad based on the line (samvad) with the sound the instrument-generated refrain Tampura: Karaj (search the lower tones and its resonance in the body) and Akar (articulation of the vowel "a") and the pursuit of the Svar or tuning.
Phonetics, articulation and metric of the Sanskrit language and its use in the edge of the Vedic mantras (from the monotonous singing up to three so-called "magical" notes that make up all the Vedic chant: udatta, anudatta and svarita), use in mantras and traditional syllables of the Dhrupad and in the bijamantras tantra.
Practices of meditation and subtle harmonization through a work ofvisualization of the ascent and descent of the energy through the central channel through the simultaneous singing of the bijamantras traditional tantra related to the energy centers of the body and Ragas (Indian modal scales born of the tradition of nothing yoga), whose different grades can also correspond with the vibration of the
The mantra or pranava OM in those texts, the tradition and the practice as mantra central of all the tradition sound of India.
Comprehensive task of understanding of the relationship between melody and rhythm, as the basic components of all the musical phenomenon, and how symbols and clear experiences of space and time in our lives.
The phenomenon of music in the human being as a means of transformation and healing from the physical to the subtle and the relationship between the devotional emotion (bhava bhakti) and technical precision in execution.
Study of the phenomenon of sound in the traditional texts:Vedas, upanishads, yoga-sutras, tantras and shastras.
To whom it is addressed is course
Yoga practitioners who wish to deepen the study of this tradition, as well as teachers or teachers who want to develop a genuine and complete practice.
Scenic musicians or artists who want to delve into the meditative and healing potential of their environment (sound, voice).
Although some experience and a clear layout, it is recommended you sincere and committed towards the meditative practice, not required however, to follow successfully this course, advanced yoga or music knowledge.
We propose a Sadhanawhich means to develop a daily personal practicefollowing the indications during the sessions, which are given all the necessary explanations and clarification of doubts, next to the own guided sessions that serve as reference.
Dates: Saturday 4 of ticm'ceiias: Nada Yoga / Saturday, March 4: Vedic chant / Saturday, April 1: Tantra / Saturday, may 6: Bhakti /
Saturday, June 3: Indian classical music
Total duration: 20 hours
Contribution: 220-200 euros
Contact: contacto@aushadhiyoga.com.
More information:
http://www.aushadhiyoga.com/index.php/formacion/cursos-de-profundizacion/cursos-sadhana/nada-yoga-yoga-del-sonido
Teachers

Eva Espeita left (Swamini Radhananda Saraswati) She is founder, co-organizer and Professor of Integral Yoga in Aushadhi Yoga school in Madrid (Spain) through regular classes, workshops, courses, retreats and seminars. It starts in the Yoga in 2001 and is dedicated to his teaching since 2003 mainly in Spain and also abroad. His areas of teaching include: body Yoga (Hatha Yoga, ancient and modern, according to several schools including Asana, Pranayama, Mudra and Bandha), Yoga of energy (Kundalini Yoga - Kriya Yoga, Chakras, Prana Vidya), Yoga of sound and devotional (singing Dhrupad, Nada Yoga (, Bhakti Yoga, Mantra or Kirtan), Mental Yoga (Raja Yoga, Patanjali, Antar Mouna, Yoga Nidra) and Yoga of knowledge (Jnana Yoga, literary tradition of Yoga and Vedanta, Tantra and the philosophies of the Shaivism). Great Britain is formed initially and for years since the tantrika lineage with direct disciples of Swami Satyananda Saraswati as Danilo Hernández (SW. Digambarananda), SW. Nishchalananda (which began it as a Sannyasin - Swamini in 2011) and SW. Gyandharma in Spain, and China, with whom he has lived, accompanied and translated in different seminars and retreats. It also explores other visions and relevant schools in the body work (such as Pattabhi Jois with Borja Romero Valdespino, Iyengar with Gustavo Ponce and Nieves Garcia of the Corral and Juan Antonio Sánchez, John Friend and Desi Splnger, Feldenkrais with Marye Wyvill, (breathing and prenatal movement with Montse Cob, Kung - Fu / Wushu school Wudao). He has translated from English into Spanish several foreign teachers of Yoga and meditation retreats and seminars. After learning self-taught and also directed in music from rock to European sacred music (Paloma Gutierrez del Arroyo), passing through the Mediterranean modal music (with Efrén López) and ends in the sound tradition of India (Rajesh David, Russil Paul), is especially dedicated to the study of the Dhrupad (oldest Hindustani classical music) with Amelia Cuni in Germany and their teachers Padmashri Ramakant Gundecha Pandit and Pandit Padmashri Umakant Gundecha (The Gundecha Brothers) in Italy and India, where to go regularly to form. She was founder of the research projects musical Sunyata and Tandava in concerts, audio tours and retreats in nature and currently offers solo concerts and performs collaborations with musicians such as Jorge Lozano Cabrero, Alicia Corral, Aolani Shirin, Ravi Ramoneda and Shivaya Om. Initiated studies on the philosophy of art and aesthetics, mythology and symbology, etc. by Marta Izquierdo Espeita, is also student of various meditation systems that have emerged throughout history (Buddhism, Taoism, Kabbalah, Cabalistic Tarot, Alchemy Medieval European shamanism). It maintains contact with the academic study of these traditions of self-taught and also attend courses of doctorate of Sciences of religions at the Instituto Universitario de Ciencias de las Religiones, as she is currently attending Sanskrit language with Eugenio Lujan at the Complutense University of Madrid.

Alicia Corral is tortista and researcher in the field of the performing arts and the voice.
Degree in interpretation from the Institut del Teatre of Barcelona. Master in Estudis Teatrals by the Universitat Autònoma de Barcelona and PhD candidate in performing arts from the Universidad Rey Juan Carlos in Madrid.
Winner of the premi de perfeccionament 2009 of the Institut del Teatre "Living movement/Eurithmy" and the award of perfeccionament 2010 awarded by the Institut del teatre "An approach to the technique of the Baul of Bengal". Following the trail of Grotowski worked with Thomas Richards, Mario Biagini, Jairo Cuesta, Jim Slowiak, Abani Biswas, Pei Hwee Tang and Pere Sais. In 2005 he conducted field work in India, working with singers of the tradition Bāul, specialists in the practice of Vedic chant Raddha Sundararajan, Sobhana Srinibasan and Manaka Desikachar and collaborators from Grotowski as Abani Biswas and his group Milon Mela studying ancient techniques of yoga of sound, vocal yoga, singing Bāul and Vedic recitation. In 2013 finished his training as a singer and a specialist in Vedic chant between India and England with school K.Y.M. in Chennai (India) and the S.K.Y., Chennai (India), in addition to training as instructor of yoga in the SVYASA University of Bangalore (India). In 2014 has been certified by the Central School of Speech and Drama, London as an associate professor of acting and vocal training method Fitzmaurice Voicework®. She is the founder of Group of Vedic chant "Namaskar" together with Olga Solà and Manish Shrestha that in 2014 released his first album in Barcelona. Currently working as a teacher in the Escuela Superior de Arte Dramático de Galicia in the Department of physical theatre. In 2015 continues her vocal research in India, to learn the ancient art of the hindu chant with Dhrupad practice through artists Umakant Gundecha and Ramakant Gundecha.

Jorge Lozano Cabrero comienza su actividad musical con la guitarra en el área del rock, el jazz y el flamenco, estudiando con maestros como Ramón Montoya o Juan Sánchez, mientras aprende el cajón y otras percusiones de forma autodidacta. Continúa con la percusión clásica en Neopercusión, donde descubre la percusión India, Oriental y Afrolatina con profesores como Serguei Sapricheff, David Mayoral y Nantha Kumar. Así, comienza a viajar por diversos países como Marruecos, Egipto o India, para investigar y aprender estas músicas en sus orígenes y tradiciones. Aprende la rítmica Karnática en la Ganesh Tala Vadya Vidialaya de Chennai (sur de La India) con la familia Vinayakram, con quienes colabora como guitarrista y percusionista en diversos espectáculos y grabaciones. En Benarés (norte de La India) aprende la rítmica indoustaní con el maestro de tabla Issuar Lal Mishra y el maestro de Pakhawaj Pandit Sri Kant Mishra. Descubre el Oud árabe y conoce de la música oriental bajo la tutela del maestro sudanés Wafir Sheik, con quien trabaja habitualmente. Colabora, acompaña o compone en diferentes proyectos como Rasa, Andrés Olaegui Quartet, Khairkán, Manglis Compás Machine, Shankara, Algures trío, Vikku Vinayakram, Pandit Baluji Shrinivas, Pandit Ashok Pathak, Atta Chakki, Selva Ganesh, Mukti, Vishnú, Cíngaro Drom, Tala y Tacón, Javier Paxariño…Ha organizado cursos y talleres como músico y educador social, con niños de infantil, primaria, secundaria, adolescentes y adultos durante los últimos años en colaboración con colegios y ayuntamientos en España y organiza la Zanzíbar World Music Jam, primera Jam session de músicas del mundo en Madrid. También enseña música en los festivales Etnosur y Filmec. Estuvo dirigiendo el departamento de música en la escuela oficial de música y danza india, "Nataraya" asociada con la Universidad de Artes en Allahabad, India. Acompaña en los kirtans de Swami Satyasangananda Saraswati de Bihar School of Yoga, India. En los últimos años, se ha dedicado a la investigación en la música como forma de meditación colaborando a través de conciertos, viajes de sonido y retiros en la naturaleza con Eva Espeita (Swamini Radhananda Saraswati) de "Aushadhi Escuela de Yoga" y con Víctor Oribe en "Voarte". Actualmente forma parte de "Rasa", "Nad Duo", Franco Barral tercerto, "15" de Ara Malikian, "Prau katrapa"y "Naoum", además de otras colaboraciones.