Course of deepening and training in Yoga classic
Coinciding with the tenth Anniversary of Padmasana Center, everything is ready for its next Course of Deepening and Training in Classic Yoga (Hatha and Radja Yoga) 2017, with Violeta Arribas. I begin on February 4.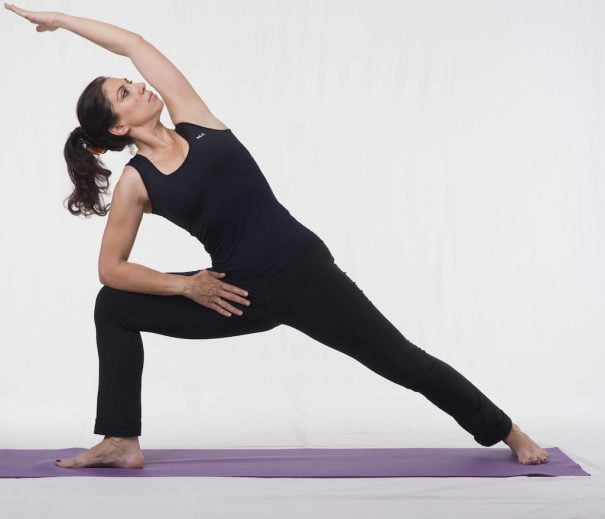 This Course is aimed at all those who have practiced Hatha yoga for a sufficient time to experience in themselves all the benefits that this reports and want to share in a demanding way the goodness of this science, acquiring the necessary pedagogical knowledge at all levels.
Also eligible for these courses are those people who simply intend to deepen and recycle in the study of yoga, without any teaching purposes. Our goal is to provide students with a sólida base pedagógica tras el oportuno entrenamiento y práctica psico-físico y espiritual, para que puedan de manera solvente y segura llegar a impartir una clase de hatha yoga, o integrar los principios de la sadhana.
Para poder valorar la calidad y rigor de este Curso, nada mejor que conocer su Programa Extendido:
Definición de Yoga. Historia, filosofía y sendas del yoga.

Objetivo del Yoga. Definiciones de Yoga

. ¿Qué no es Yoga?

Orígenes históricos del Yoga

. Hinduismo. Textos clásicos: Vedas y Upanishads.

Sendas del Yoga Originales:

Bhakti (Yoga devocional), Karma (Yoga de la acción desinteresada), Gñana (Yoga de la Sabiduría), Radja (Yoga mental), Hatha/Tantra (Yoga del Fuerza/ energía) , Nada Yoga ( Yoga del Sonido). Otras sendas más contemporáneas: Vinyasa, Iyengar y otras. Falsos Yogas.

Indian Philosophy: Hinduism and its schools of thought (Darshanas): Mimansa, Vaisheshika, Nyaya, Vedanta, Samkhya and Yoga. Other Indian philosophies : Buddhism, Jainism, Sikhism, Tantra, etc. Most important ancient philosophical texts: Vedas and Upanishads

y su relación con el Yoga. Conceptos comunes a las Darshanas: Dharma, Karma, Monismo. Conceptos duales de: Atman-Brahman, Purusha-Prakriti y Shiva-Shakti.

Study of the Bhagavad Gita, the ultimate literary exponent of karma yoga and the most read spiritual book in the East. Philosophy and symbology that encloses history.
Yoga Sutras of Patanjali SII B.C. The fundamental text for the study of Classical Yoga, and the first treatise on Transpersonal Psychology in the world. Introduction and structure of its four chapters.
Asthanga or the eight-step path of classic yoga: Yama, Niyama, Asana, Pranayama, Pratyahara, Dharana, Dhyana and Samadhi.
Yamas and Niyamas. Study of the yogic moral code: Yamas (Universal Principles): Ahimsa, Satya, Asteya, Brahmacarya, Aparigraha (non-violence, honesty, not stealing, sensual moderation and not coveting). Niyamas

( Principios individuales): Saucha, Santosha, Tapas, Svadhyaaya, Isvarapranidhana (limpieza interna y externa, contento interior, disciplina, autoestudio e indagación, renuncia a los frutos de las acciones.

Conceptos clave para el estudio de la mente, la consciencia y las causas del sufrimiento y su superación según los

Yoga Sutras

: Abhyasa y Vairagya (práctica y desapego), Viveka (discernimiento), Kleshas (aflicciones): Avidya (ignorancia), Raga (deseo), Dvesha (aversión), Ashmita (egotismo), Abhinivesha (apego a la vida). Gunas.

Hatha Yoga.

Introducción. Orígen tántrico del Hatha Yoga. Textos Clásicos:

Hatha Yoga Pradipika, Gerandha Samhita.

Objetivos del Hatha Yoga.

Shatkarmas o Técnicas de Purificación

: Trataka, Kapalabhati, Neti, Dhauti, Basti, Nauli.

Teoría de los Asanas o posturas psicofísicas. Práctica de los diferentes grupos de asanas

, sus variaciones y ajustes anatómicos. Se practicarán más de 200 asanas durante el curso.

Fisiología sutil del Hatha Yoga: Prana, Vayus, Nadis, Chakras y Kundalini

.

Técnicas de Pranayama (teoría y práctica):

Vrittis ( ritmos), Fases (Puraka, Rechaka y Kumbhaka), teoría y práctica de pranayamas. Práctica de más de 40 técnicas.

Mudras (gestos psico-físicos) y Bhandas (cierres energéticos

): Jalandhara, Udiyana y Moola bhanda. Mahabhanda el Gran cierre. Incorporación de los bandhas en los pranayamas.

Beneficios y contraindicaciones de todas las técnicas del Hatha Yoga

.

Fisiología del ser humano, envolturas y cuerpos: Pancha kosha y shariras

.

Mente y meditación.

La mente y sus dimensiones.

Conceptos de Manas, Chitta, Budhi, Ahamkara, samskaras y vasanas entre otros. Estados mentales de Ekagrata y Nirodha. El subconsciente .

Radja Yoga y Meditación.

Practicas diarias de diferentes técnicas, incluidas Vippasana y Zen. Requisitos para meditar. Beneficios de la Meditación.

Técnica de Yoga Nidra

. Sueño consciente e hipnosis yóguica. Teoría y práctica.

El yoga mental.

La psicología transpersonal del yoga. Consciencia Testigo en el día a día.

Mantra Yoga.

Meditación con mantras. La vía del sonido en el Yoga.

Pedagogía en Hatha Yoga.

Professor

. Actitud, lenguaje y voz.

El aula

. Ambiente, espacio, accesorios y requisitos necesarios.

Preparación previa de una clase

. Progamación y estado interno del profesor.

Partes de una clase

. Variaciones y duración de las mismas.

Calentamiento y comienzo de una clase

. Saludo al sol y otros.

Fase de Asanas

. Orden de las posturas. Actitud mental a transmitir a los alumnos.

Fase de Pranayama

. Metodología y cronología del aprendizaje en las clases.

Fase de Relajación Guiada

. Pedagogía de la relajación consciente y el Nidra.

Anatomía para Hatha Yoga.

Sistema óseo y sistema muscular.

Prácticas de variaciones de asanas para distintas patologías.

Ayurveda y Yoga.

Postulados principales del Ayurveda

. Gunas. Mahabhutas. Doshas. Prakriti y Vikriti.

Alimentación Yóguica y Alimentación Ayurveda

. Agni (fuego digestivo) y Toxinas.

Yoga para cada constitución psico-física

. Asanas, pranayama, meditación para cada Dosha: (Vata, Pitta y Kapha). Rutina diaria ayurvédica para la salud holística.
Apéndices:
Psicología Occidental y Yoga

Grandes Maestros y otras vías místicas .

Meditación deambulante.

Yoga y patologías.

Simbología de los asanas.
The course

When: febrero a diciembre 2017 (un fin de semana al mes).

Where: Padmasana Center C/ Mar de Omán, 34 28033 Madrid

More info: http://padmasanacenter.com/docs/profesores.pdf o violeta@padmasanacenter.com

It teaches: Violeta Arribas. Maestra de Hatha y Radja Yoga. Formadora de Profesores de Yoga . Directora de Padmasana Center. Terapeuta Ayurveda.