Samantha Cameron, creator of Shakti Yoga Dance
"Cayetana Rodenas interview with Samantha Cameron, creator of Shakti Yoga Dance:"Yoga is life. Shakti Yoga Dances is the visceral expression of this life".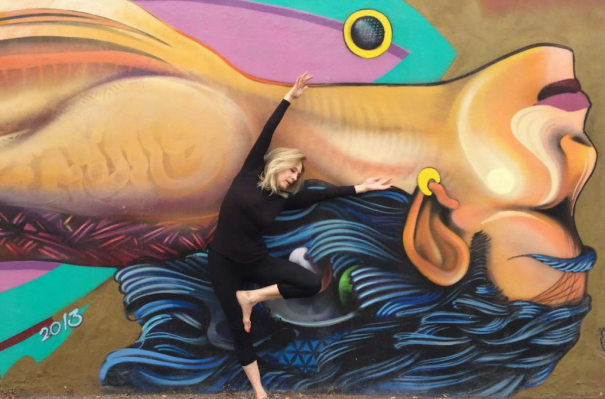 Samantha Cameron is a professor and creator of Shakti Yoga Dances. She teaches workshops in the United States. It is international teacher of Yoga. He has been in Spain the Yoga Congress in Valencia, where he taught his teachings.
She is creator and principal Professor in Daily Breath Yoga School, 200-hour teacher training. Dance Professor at Wellesley College, USA. Winning fellow of fine arts. Choreographer for musical theatre shows. Director of dance at Sun Valley Center for the Arts (Id, USA) choreographer in the collective community of San Francisco Arts Center (CA, USA).
Author of the weekly blog Dailybreathjournal.com, where writes about Yoga and energy.
How were your origins with Yoga?
I started with yoga after training in dance. Doing yoga I missed I move with the music. In 2008 I started to join yoga and dance creating Shatki Yoga Dances, a form of yoga that is danced on the mat. This fusion of yoga and dance has surprised me with their emotional power, and its capacity to create joy.
That is for you Yoga, and is his relationship with dance?
Yoga, as love, opens behind closed doors. Dance, like love, opens the doors of the spirit. The fusion of Yoga and dance are disciplines that fill with joy, health, and peace corps, and connected Yoga to life. This new synthesis increases the strength, the balance, and flexibility. With unique ties, is grown the union of the elements of asana, alignment, pranayama, mudra and mantra. If you want to live intensely, come dancing Shakti Yoga Dances.
How did Shakti Yoga Dance?
These dances of yoga were born of a practice that commits me personally as a teacher. They have a strong physical influence and are integrated into the subtle systems that connect with the emotional body.
My normal personality is often confronted with my extraordinary personality. I love to live this magic union, combining alignment, pranayama, mudra and singing. These dances unite us in the discovery and acceptance, creating deep dialogues both external and internal.
How do you focus your classes?
I teach the class that I would like to receive, since I feel a strong influence that allows me to integrate the intention, healing and nostalgia. The surprises are produced when consciousness, music, community, spirit and laughter support body. I hope that Shakti Yoga Dances become moments of spiritual introspection on the mat. I coreografié them with the hope of creating a "practice" that heals and transforms.
US resumes the main features and benefits of Shakti Yoga Dance?
Stress through the opening and connection of the subtle body layers, is reduced to be carried to a higher consciousness.
Strength, alignment, balance and flexibility are increased, and through repetition, the energy channels are opened and flow.
Through the unique ties between each asana, the body moves with greater balance, and you learn to express something new with confidence.
Stimulates healing, creativity, joy. The spirit is cultivated through the connection between the
different layers of consciousness.
Increases the sensory perceptions and inner harmony through repetition and the
breathing.
Who can participate in this training?
The course that I teach is directed to minimum 200 hours yoga teachers, or advanced level in your practice, as well as dancers or professionals who have a great knowledge of your body in motion.
Shakti teacher training Yoga Dances

When: 3, 4 and 5 February in Madrid (location to be determined)

Price: €300

He gives: Samantha Cameron ~ Yogini E-RYT-500, dancer MA, creator of Shakti Yoga Dances

Contact: Cayetana Rodenas yogayarte@gmail.com T 687562968 / Samantha Cameron samcatcam@gmail.com

More information: www. shaktidances.com
To view a video and others like this: http://shaktidances.com/shakti-dances/#mg_ld_482