Vegetarian recipes / chick peas with vegetables (Gypsy pot)
We share great and sanisimas recipes blog 'Eat to live'. Type and kitchen Gauri, Professor of vegetarian cuisine of the Sivananda Centre of Madrid and the affiliated Centre Sivananda Vedanta of Granada.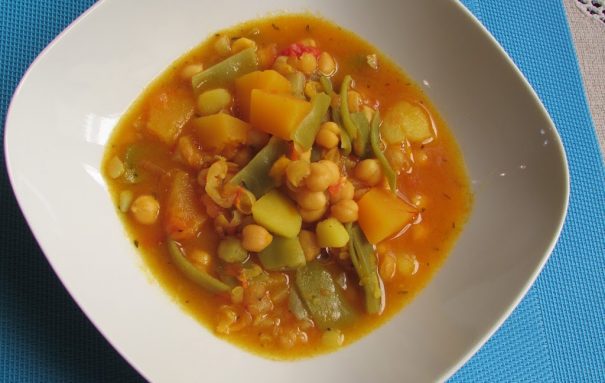 This dish is an original recipe of the region of Murcia. Called Gypsy pot, it is delicious and perfect as many of the traditional vegetarian recipes. The key is the origin and the quality of the ingredients. I went the AtmaJyoti recipe, which, in turn, a student of Sivananda cookery courses had passed it. Time has passed since you gave me, but it is a real blessing, is a full plate for lunch. There are many variants, this is another one, adapted to the cuisine of the yoga.
Ingredients (4/6 people):
200 gr. of dried chickpeas
300 Gr. of sliced green beans
300 g of pumpkin into pieces
½ Kg of potatoes (optional)
1 stick of celery chopped
1 medium tomato, peeled and chopped
2 Tablespoons extra virgin olive oil
1 teaspoon paprika
½ teaspoon turmeric
1 handful of Saffron leaves
1 teaspoon dried thyme
Salt
Preparation:
Put the chickpeas to soak overnight (at least for 12 hours). Wash and boil the chickpeas with ½ teaspoon of turmeric until they are tender.
Prepare the vegetables, wash and cut into medium pieces, potatoes and beans. Take about 20 minutes in the pot with the chickpeas until the chickpeas are tender. To thicken the broth before putting the sauce and the pumpkin remove pieces of potato and a few chickpeas and then crush all together put it back in the pot.
In a frying pan put the oil to heat and sauté the celery and tomato. Once done, remove from the Pan and add the paprika and saffron strands. Pour the sauce in the pot, along with the thyme, squash and a teaspoon of salt. Boil all together with medium high heat for 10 minutes.
Note: If you want to not put potatoes and want a thick broth, you can thicken it by crushing a few tablespoons of chickpeas. And accompany the dish with a little rice to complete the needs of carbohydrates and proteins.