Stories to share / how to open a yoga Studio
"Tenía en mí la total convicción de que era eso lo que tenía que hacer. No fue sencillo al principio. Encontré muchas resistencias en mi entorno: la gente no comprendía cómo en plena crisis dejaba un trabajo donde la crisis no existía para dedicarme al yoga". Escribe María Mineth.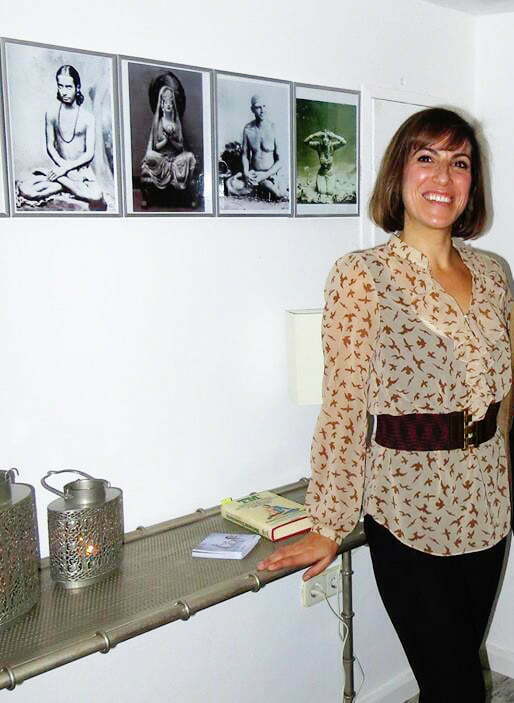 I studied interior design with the intention of creating spaces that have influence in social welfare. But when I started working I saw how different that was the world of construction and its labyrinths. I had all kinds of work; the latter, designs of luxury, where I could check to create is not a question of money, but of human awareness and sensitivity, and it requires calm, but that sector did not have. I decided to leave my job to follow my passion: live.
I remember the first time I went to a yoga class. I felt: but how was this and I unknowingly! I found myself at home. I started to practise by a neck injury, and we all know that here you will deepen to wonderful internal corners. I had my total conviction that that was what I had to do.
Before leaving the job I trained as a teacher. It was not easy at the beginning; I found many of my environment resistance, because they didn't understand how, in the midst of the crisis, leaving a job where the crisis there, after eight years of experience and when I already unrolled, to open me to the uncertainty. But I kept the momentum of what she felt on the inside without much heed to that or many thoughts that the mind I brought.
Thanks to the motivation and enthusiasm for everything yoga brings, I introduced myself to a contest of entrepreneurs convened by the City Council with a project to make Yoga in enterprises, and it was awarded. So I started doing workshops, and they left me classes something away from home. I invested my savings in the first year and estabilicé this a full-time activity.
Then, for causality, I were leaving work increasingly closer to home. An enriching experience is to teach and share with everyone. So was studying and deepening in practice. In the third year, walking down the center of the city in that contemplative State, went through a building that I had always loved and I stopped at the door to watch its knocker in the shape of Golden hand. To the side there was a sign saying: "For rent".
I felt a sensation had already lived in deciding to leave the job. It was something deep that invite me to choose this place to share and expand everything I learned. So, ready to continue the will that guided me, I went to see the local. I needed reform and all that entails an opening, but it was in the Centre and on the street. "Then I remembered the words of a teacher:"Cultivate your talents and strengthens your physical body and your interior. Ten discipline, maybe one day life will bring you a test and will have to work twice".
The answer was a Yes. Only missing mode to make the investment, because barely I had recovered from the earlier change. It was to start again from scratch, but how to do it?
Siento que si la vida nos invita a hacer algo, también nos da la solución. Fui a un lugar especial para mí en la naturaleza, di una caminata y escuché con mi cuerpo todo lo que me rodeaba. Tras dos horas de paseo me senté en una piedra a meditar, y al fin lo vi. Volví a casa y, sintiendo lo que la vida me había susurrado, me puse a hacerlo. Escribí en una red social mi intención de abrir un centro para profundizar en el yoga y propuse colaborar de forma anual con una gratificación para los participantes. En una semana tenía todo el dinero necesario para tomar el local y hacer la reforma, más unos donativos inesperados. ¡No lo podía creer!
Como había estudié diseño de interiores, gestioné y dirigí la obra en verano, y fue todo muy rápido. De hecho. sin el conocimiento de yoga no lo podría haber realizado. Mi práctica deseada y disciplinada a la salida del sol me une a algo más grande que yo. Desaparecer y aparecer en todo. Los impedimentos que se presentan sirven para reconocer tantas cosas… Una de las experiencias que destaco es la ausencia de miedo. Fue sorprendente sentir tal confianza y certeza, así como ver que todo pasa por y para algo, haciéndonos aprender a cada paso.
Este centro me inspiró otra idea que llevé de nuevo al concurso de emprendedores de la ciudad, pues es importante que el yoga se introduzca en los elementos sociales de la cotidianidad. El proyecto 'Belleza Celular' fue premiado por su valor social de integrar la medicina natural preventiva con las artes contemplativas, de forma personal.
Y aquí seguimos, donde las vida nos lleve… Ahora, en este pequeño estudio, trabajando la sensibilidad y la belleza como seres humanos.
Gratitud infinita.
María Mineth. Directora del instituto Nacional de Yoga Somático

info@yogasomatico.es | T 646 958 171