Meditation on the Gnana Yoga, with Danilo Hernández
The happiness that everyone are looking for lives within us, it is not possible to find it out. But we have accumulated so many impurities and conditioning that we cannot recognize or experience our true identity, the Vedanta and Yoga called Satchitananda (being-consciousness-happiness). Danilo Hernandez writes.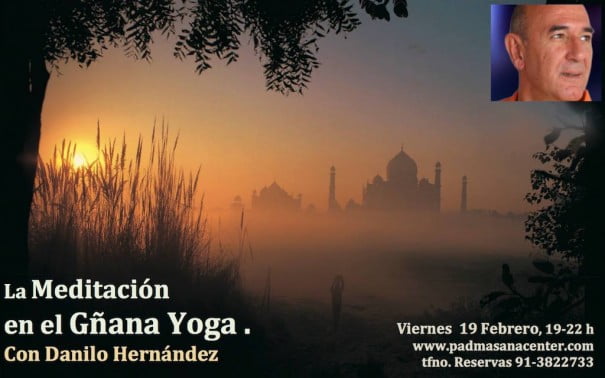 The path to self-realization is a purification process in which disclaim all superfluous, of all constraints, all ignorance. When purification is complete, it was "we learned" what we were looking for always "there". Then realize our true nature, our identity with everything or absolute.
Yoga is essentially a way of purification. The process of personal transformation that operates through its practice, involves purification of three basic levels of the person. Harmonization and the bodily humors purification is carried out by means of the shatkarmas (internal cleaning techniques). Purification and fisico-energetico balance is achieved through the practice of the asanas and pranayama. The emotional and mental purification is carried out through the process of meditation.
All avenues of Yoga are systems of meditation. In this workshop we will explore the path of the Gnana Yoga, the path of knowledge, (viveka) discernment and wisdom, as a means of self-realization and the awakening of all the potential of the human being. There will be a theoretical part where we will review the theoretical Essentials of Gnana Yoga and the practical part with some meditations of Gnana Yoga.
The workshop
For this workshop that taught Danilo Hernandez on February 19 it is essential to reserve a place and bring meditation cushion or a pair of folded blankets

Danilo Hernandez: (Swami Digambaranda Saraswati) began practicing Yoga at the age of 16 years, subsequently conducted numerous studies in different countries, among which highlights his training with André Van Lysebeth in Switzerland. In 1975, he obtained the title of Professor of Yoga at the Sivananda Yoga Vedanta Forest Academy of Quebec, Canada, and since then has spent over 35 years dedicated to the teaching of yoga. Disciple of Paramahansa Satyananda and Swami Niranjanananda of the Bihar School of Yoga of Munger (India), by this latest and prestigious school was recognized as a master of Yoga (Yogacharya). For years, it was linked to the teachings of Krishnamurti which visited several times in Switzerland. Founder of the Yoga School of Chamartín BINDU in 2002 in Madrid.
Where: Padmasana Center, C / sea of Oman, 34 (metro San Lorenzo) Madrid.
Price: €24
Reservations: T 913822733 / info@padmasanacenter.com
More information: www.padmasanacenter.com