Between head and heart: Teen Yoga Foundation
This is a dialogue between the heart and the head of Nick Kearney, an expert on educational innovation, since that discovered yoga, collaborator of Teen Yoga Foundation, specialized institution getting yoga among young people. Your own Nick experience well account.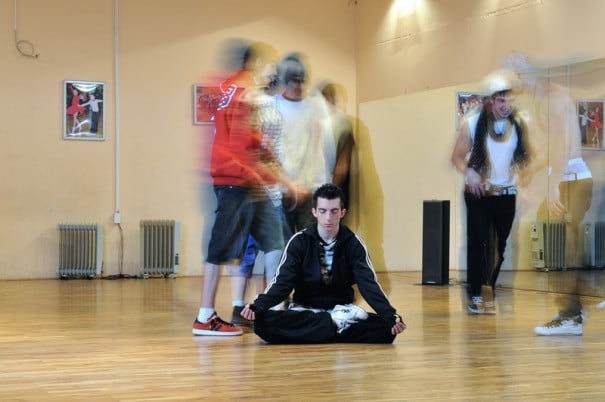 I arrived late to the yoga, with 49 years I began to discover the muscle burning of paschimottanasaNA, the rustling of my bones on trikonasana, and the peculiar hell salabhasanto last this via crucis body came the delicious sensations, the direct enjoyment of sirsasana, the pulmonary aperture of matyasana, the clear focus of anuloma viloma. I became champion of! savasana! And things collapsed under its own weight: anxiety, smoking, the meat... I enjoy clarity and a calm hardly imaginable before... who doesn't want to share that!
Head: However, in many cases, yoga is travel solo. We reluctant to impose it on others, who discover their own way, we say. Best not to evangelize.
Heart: I came to yoga out of respect for my partner, who is a yoga teacher. I had to learn about their world. Works with adolescents and instructs other yoga instructors to secondary practitioners of yoga teachers on how to teach yoga to teens and also how to integrate yoga in the educational activity. Its course is called Teen Yoga (Teach yoga to teens).
For my part I had long been working as a consultant in the field of educational innovation. I had seen many partial successes that often frustrated due to attitudinal issues, the lack of autonomy and frequently stress that students suffer. I thought of the good it would be to be more owners of themselves and their emotions, and more capable of carrying their own processes, but accomplishing that seemed to be a chimera. Until I saw how achieved it with yoga my partner. From that moment I yearned to promote yoga in schools and ensure that the educational world could benefit from it.
Head: The problem was to count only on own resources to a process of awareness of politicians, teachers and parents.
Heart: It was necessary to engage in dialogue with the different actors of the school environment to persuade them of the benefits of yoga, and this evidence, ideas, and resources were needed. Teachers who already performed these activities did in a way as a kind of karma yoga, but each on their own and form little organized and little structured. Hence the idea of the Teen Yoga Foundation.
Head: We saw the possibility of merging the pragmatic view of head with the imperative of the heart, bring the benefits that we live in the body and mind to young people. The primary objective of the Teen Yoga Foundation is promote yoga for the sake of the welfare of young people especially in the educational context.
Heart: To achieve this goal, the Foundation has a number of activities:
First We collect, organize and make affordable existing research and emerging on the effects of yoga on the well-being of young people, making them available to the members of the Foundation on our web page.
Also We organize events and other promotional activities that seek to promote yoga for youth in different areas, and create spaces, both online and as face to face, to discuss aspects of the yoga for youth among yoga teachers, researchers, and education professionals.
Head: The objective is that all these different activities - that were previously scattered among the Group of yoga teachers for teenagers in the United Kingdom - are organized under one umbrella, in order to take advantage of synergies and ensure that all the efforts be coordinated and focused in the same direction.
Our event flag is Congress Instill, in its first edition in 2015 brought together 150 participants and experts from various fields in London, to find the points of meeting between education, research, and yoga. Due to the success, repeated this year, extending a two-day meeting. All will be welcome.
Heart: Finally it is worth mentioning that Foundation Teen Yoga also performs solidarity projects. For some years we have here a training project in yoga with former child soldiers in Sierra Leone. The group with which we work has found a way out of their situation of marginalization and unemployment in yoga and want to improve their skills. Unfortunately the ebola has postponed the implementation of the project, but are expected to resume this year.
Nick Kearney works in the Foundation Teen Yoga.

Between 2 and 9 of April 2016, is taught the course Teen Yoga in Orgiva, Granada.