Yoga in daily life, with Swami Sivadasananda
Yoga does not carry well in the rush, but with patience and the simple life. It arrives to speak to us, on 3 February, Swami Sivadasananda, yoga acharya, director of the Center for Yoga in Madrid and director of the Sivananda centers of Europe.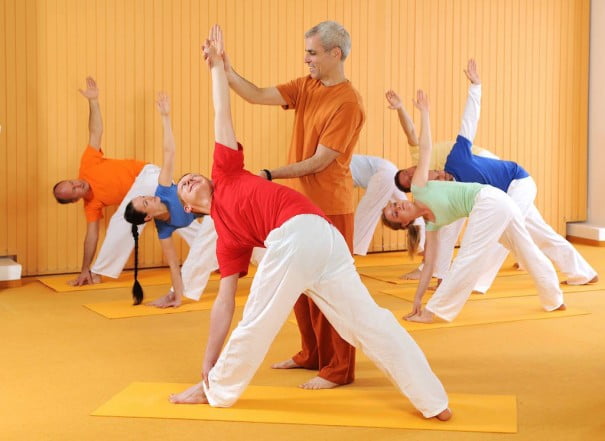 Attend a yoga class with Swami Sivadasananda It is given a space for genuine enjoyment of the practice. It is clear that he loves to teach with good humor, corrected with a joke, sow seeds about the important of yoga.
Thus the teaching of yoga focuses on Swami Sivadasananda:
"Yoga class opens us again and again to a new forklift experience:"
Tensions which are and are unlocked,
emotional reactions that emerge
and it are sublimated in the positivity of the space,
the suggestion that touches every muscle and renews the nervous system,
The proximity of this faithful companion that is the breath,
that takes us by the hand and shows us the innate harmony on our trip through time
the deep sense of touch that vibrates in the muscles and joints
and he rooted us back into gravity,
and from there with the space.
After the class:
the silence in the posture of meditation,
the singing of mantras
and the universal words of peace.
This yoga evening ends with an authentic taste:
the reunion with yourself".
The program of the visit of Swami Sivadasananda to the Centre of Madrid on February 3:
Program: "Yoga in daily life"
19:00 hs class of Yoga
20: 30hs Satsang with meditation, chant Mantras and Conference.
More information: https://www.facebook.com/events/1045550448839242
Swami Sivananda and his 10 ways of understanding Yoga

1.-is a comprehensive education system.

2.-it is a method that checks all of the facets of the human personality.

3.-it is, first and foremost, a way of life.

4.-do not renounce the action, but it allows you to act effectively with the right spirit.

5.-is for everyone.

6.-your practice is not opposed to any religion.

7.-accurate an intense personal discipline.

8.-do not get along with haste, but with patience, the simple life and austerity.

9.-the spiritual aspiration is the first step on the path of yoga.

10.-Te it will infuse renewed forces, peace of mind and confidence.

Swami Sivananda