The wisdom of the heart
Desde muy antaño el corazón se ha entendido en muchas tradiciones místicas como un centro espiritual o la sede del propio ser. No se trata obviamente del corazón como órgano fisiológico sino como un "lugar" muy cercano a uno mismo y en el que es posible recogerse, introvertirse y desarrollar la presencia de ser. Escribe Ramiro Calle.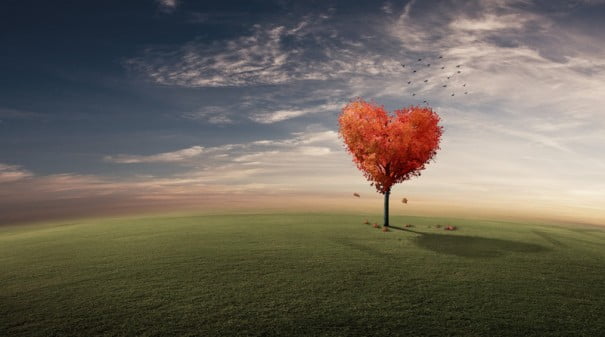 La presencia de ser es la sensación "soy" al desnudo, y cuando vamos intensificándola conectamos con una esencia que es transpersonal y no está limitada por el "soy esto" o "soy aquello".
Desde tiempos inmemoriales se ha considerado el corazón como un centro de sabiduría que está más allá del simple pensamiento o esfera intelectual. El denominado "camino del corazón" ha estado muy presente en distintas tradiciones místicas. Representa la senda de la emoción pura y el amor incondicional.
For Ramana Maharshi, además del corazón cómo órgano fisiológico, a su derecha se halla el corazón espiritual, que él señalaba como la sede del ser y en el que nos invitaba a refugiarnos. Hay respuestas que no se hallan en la mente ordinaria, sino en otra estancia de ser que no consiste en saber, sino en no-saber. En la medida en que uno se vacía, uno se llena. Cuando los pensamientos cesan, se revela la luz del ser.
Los antiguos místicos hacían referencia a la cueva del corazón, ese "lugar" en el que uno puede establecerse y hallar reposo para el espíritu. De acuardo al yoga, se trata del anahata-chakra o centro energético del corazón, que cuando va despertando permite escuchar sonidos muy sutiles que pueden utilizarse para la meditación y la introspección. Estos sonidos se deben a las energías más sutiles o finas que operan en el ser humano. Si surgen, se incorporan a la meditación.
Simbólicamente, el corazón es la sede de la emoción, el sentimiento y la compasión, del mismo modo que el centro del entrecejo es la del entendimiento correcto y la intuición transformativa. El despertar del centro del entrecejo o ajna-chakra, denomindo como el tercer ojo, aporta un tipo especial de visión penetrativa, unificada y liberadora que está más allá del pensamiento binario.
En las clases de meditación que imparto, practicamos de vez en cuando el ejercicio que llamamos "hallar refugio en el propio corazón", que nos permite ir desconectando de todo para sumergirnos en nosotros mismos, cultivar el silencio interior y conectar con la sensación pura de ser. Cuando nos damos un baño de nuestro propio ser, sentimos una energía balsámica de sosiego y armonía. Poco a poco el pensamiento va quedando inhibido y surge esa presencia que nos reconforta, inspira y revela.
Como en una ocasión me dijo uno de los yoguis que entrevisté, "no hay varias sabidurías, sino solo una: la del corazón". Cuando se manifiesta, empezamos a conocer un amor menos posesivo y egocéntrico, un amor mucho más desinteresado e incondicional.Entonces brota ese almor o amor del alma que es incluyente y nunca excluyente, que es la ambrosía más perfumada y capaz de vencer el odio y la malevolencia.
Namaskar quiere decir "te entrego mi corazón". Un hermoso saludo, muy hermoso, si no se queda en una simple fórmula de cortesía. Y en el corazón, me decía otro mentor espiritual, se abre el ojo de buey al infinito. Instalándose en el corazón, uno puede formularse la pregunta ¿quién soy yo? No hay que esperar una respuesta en palabras o conceptos, sino en experiencia y vivencia. Se requiere motivación y paciencia, porque muchos oscurecimientos tienen que ser superados para que podamos percibir los primeros rayos de luz de nuestro sol interior.
Calle Ramiro

More than 50 years has been Calle Ramiro teaching yoga. He began teaching at home and created an Academy of yoga correspondence for all Spain and Latin America. In January of l971 opened its Yoga Center Shadak, that have already passed more than half a million people. His 250 published works include more than fifty devoted to yoga and related disciplines. He has made Yoga the purpose and sense of his life, having traveled a hundred times to India, the homeland of yoga.

Watch the Calle Ramiro Facebook:
https://www.facebook.com/pages/Ramiro-ACalle/118531418198874