Yoga in its splendor, for this weekend
Be amazed by these invitations to go deeper into yoga. All these proposals we speak of the variety, the wealth and the splendor that has the practice of the yoga in our country. It prove, for example, the seminars of two young teachers of meritorious and long training in India as David Rodrigo and Sergio Martinez Pose. And besides, retreats, meditation, yoga in couple and massage thai, mindfulness...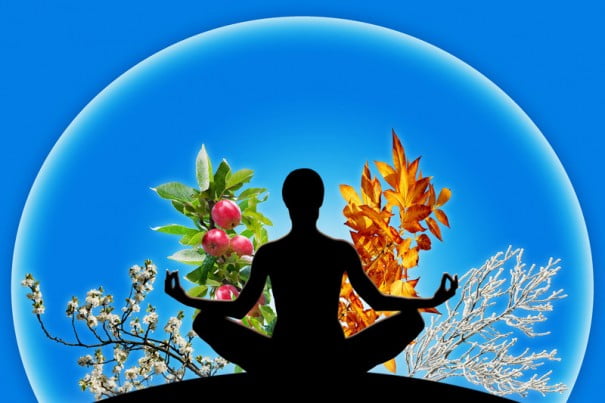 Friday, November 27
Removal of yoga and emotional management
Of the 27 to the 29 of November. A retreat is a great opportunity to be with yourself, to take care to physical, mental and emotional level of learning new tools, experience emotions as never before had done, perceiving the natural surroundings as a gift that gives you life, meet wonderful people who have in common more things than you can imagine. Miriam and Jenifer are two people that have many ganas of share with you something so magical as it opening, it transformation, the return to live the joy and the vitality, between others many things.
Both if already have gone to retreats any time as if these is your first time, you hope with them arms open. We will practice hatha yoga to stretch and strengthen the body; meditation and mindfulness for calming the mind and learn to live here and now, fully and consciously; yoga nidra and regressive hypnosis, so what you need to know, and that is in your unconscious, to surface to your conscious mind; laughter yoga, to experience the laughter in a conscious way biodanza, so your emotions emerge from the music, dance and movement.
Reservations: jenifer@yamenergias.com | miriam@recorretucaminointerior.com | T 644436734 and 659580962
Where: Hospedería de silence. Robledillo de la Vera (Cáceres)
More information: yamenergias.com/Retiro-de-Yoga-y-Gestion-emocional-IV-en-gredos-Noviembre-2015/
Yoga retreat: relaxation, art of freeing the mind
Of the 27 to the 29 of November. According to yogic cosmology, the human being is composed of three bodies with five sheaths or koshas; sheaths physical, vital, mental, intuitive, and happiness. The observation, relaxation and harmonization of them wraps lower allows from them classic technical yogic and other traditions, access to the relaxation in them koshas upper and thus to the silence inside, to the peace deep of the soul.
In this retreat we will make a study and practice of each level of relaxation, emphasizing the levels of emotional, mental relaxation and epiritual, of difficult access for all of us. "That the true knowledge only is revealed before a pregnantly mind". Relaxation positions us in a State of total absence of muscular tension, balance of the nervous system, preponderance of positive emotions, mind focused and open to the present and connection with our inner selves. It is in a position of centering and full consciousness.
We will practice dynamic Yoga and Hatha. In the method Yoga dynamic is gives an importance crucial to them called dynamic of integration, that get that the practice is natural e inclusive for each body in particular. We work with dynamic movements (ulolas and vinyasas) that prepare the body and mind for static postures. Dynamic Yoga breathing is very special because not controlled, is not located in any specific space (abdomen, chest, etc.) or imposes any rate at any time, or by the student by the teacher. However, it has a leading role because guide each year, made guide throughout the session. It is magical. "That your life is an experience of constant joy, continuous creation, endless expansion and total realization at every moment". In an environment of nature, atmosphere silent and food vegetarian and meticulous, prepared by us. In single rooms with bathroom for all participants.
They offer: David & Eva, with more than 20 years of experience... and a deep love for what we teach.
Price: 225€.
Where: C / the cave n ° 3. Becerril of the Sierra (Madrid)
More information: http://www.yogaartstudio.com/
Yoga and meditation among olive trees
Of the 27 to the 29 of November. Removal of yoga and meditation, hiking and food biovegetariana in the countryside. Getaway to find yourself to the rhythm of nature, out of the daily routine taking care of your body inside and out, based on integral yoga hatha, pranayama and healthy food. Classes of yoga and meditation for all the levels (not is necessary experience prior), in an environment purely traditional Andalusian, in a farmhouse producer of olives for oil of olive. Is will include the visit to a paraje natural close to the House, the waterfall of them Chorreras, doing walking meditation.
Traditional style cottage adapted for use as a tourist housing of rural accommodation. With very good access from the A-92 and excellent location to little more than half an hour from Granada, 2 hours from Seville, and less than 1 hour from Malaga.
It teaches: Greet Van Bijlen. It has formed in the school Yoga vedanta Aalst, in Belgium, a branch of The divine life society, in Rishikesh, India, founded in 1936 by Swami Sivananda. To learn more about the meditation has participated in several removals of meditation Vipassana (in Thailand, Nepal, Belgium, and the Netherlands). It has been giving classes and retreats of yoga and meditation in Belgium for two years, and now begins his career in Spain.
Price: €120 per person in full Board, all inclusive.
Registration: casanuevadurmientes@gmail.com / T and WP 657624359
Where: Casa Rural Cortijo House new of them sleepers (next to Ventorros of the lagoon) Loja (Granada)
More information: http://www.casanuevadurmientes.blogspot.com.es/
Mini-Workshop: Partner Yoga and massage Thai
A class of yoga in pairs for to perform stretches passive, giving the opportunity in the body of open is more, of lengthen and release tensions. They say that the thai massage is the yoga for the lazy, combining stretching with pressure and acupressure. With the massage and stretching passive we will bring a new sensation to our practice.
Where: C / Verdi 169, 1-1 (Barcelona)
More information: http://www.yoga-yogabcn.com/estilos-de-yoga/talleres-yoga.html
Saturday 28 of November
Course intensive of Hatha Yoga traditional
28 and 29 of November of 2015 , Hatha yoga traditional course with Sergio Martinez Pose. Sergio lives in India for 10 years where is dedicated to practicing and teaching Yoga according to the lineage of his teacher, Acharya Venkatesha.
Schedule: Saturday from 9.30 to 13.30 and from 16 to 19: 30. Sunday from 9.30 to 13.30 h.
Contact: omindiayoga@gmail.com
Where: Glaum Ioga. Barcelona
More information: omindiayoga.com
Free Conference on care full (Mindfulness)
Free lecture on attention full (Mindfulness). What is the full attention or Mindfulness? Can you serve me to beat stress? I help to live with my discomfort chronically? I need to relax me, how it do? How can I control my mind?... All this and much more in this Conference... all have this capability, you just have to wake her up!
It organizes: eligeturealidad.com | Confirm assistance enT 673 74 04 97 / info@eligeturealidad.com
Where: Association Gali. C / Tirso de Molina 4 and 6, Getafe (Madrid)
More information: http://eligeturealidad.com/
Yoga and meditation workshop
A day full of energy and consciousness, an event where we wish to spread the philosophy of the Yoga-meditacion... Through five excellent presentations and two workshops. Where different aspects of the self through the Integral Yoga and meditation will be displayed.
If the mourners want can have breakfast and lunch at the event, reserving with time...
Contact: T 637 351 883 / maytemaui@yahoo.es
Where: Space round. Calle Ronda Segovia 50 Metro door Toledo. Madrid
Yoga & nature
Enjoy of a weekend in the nature practicing yoga and an excursion to the Monte Pindo.
Where: Portaventosa, Lira (Carnota), hostel A Coruña
More information: http://flordetila.wix.com/flordetila
Traditional Indian Yoga Retreat
Removal to connect with the essence of the yoga and of the being. The program includes Yama, Niyama, Asana, Pranayama, Kirtan, stepped meditative, relaxing Nidra, food vegtariana, etc.
Where: Montsonís, Lleida
More information: http://www.castellsdelleida.com/ca/detail/6974/
Positions of foot - connects with the Earth - Muladhara Chakra
Workshop designed for beginners and for all those people who wish to still practice dyeing review the bases of Yoga. We will see some asanas with detail the approach will be theoretical and experiential. Anatomical basics of postures, its benefits, how to build them and keep them from a conscious and respectful place. Relationship with the chakra root. We will end up practicing a script to integrate what you've learned.
Where: C / Verdi 169, 1-1, Barcelona
More information: http://www.yoga-yogabcn.com/agenda-ioga/142-taller-posturas-de-pie-con-anna.html?date=2015-11-28-17-00
Workshop of Advaita Vedanta practice and philosophy, an introduction
The full recognition of oneself, with David Rodrigo (Āchārya Jijnāsu), master traditional of Advaita Vedanta schedule: 11:00-14:00 hours mokshabarcelona@gmail.com
Where: Moksha Yoga c / Pallars, 84. Barcelona
More information: http://www.barcelonayoga.es/
Sunday 29 of November
Yoga and nature meet
We will begin the day at 9.00 to 18.00 and during the day we will: Integral Yoga, Pranayama, meditation and relaxation with Bowl, devotional chants "Mantras", nature, Sivananda Yoga connection. Stop, relax, find our Centre, nurture and energize us.
In Sierra Cabrera; a place full of light and force where live the magic of the desert and the amazing variety botanical and fertility of the oasis.
They facilitate: Manuel Robles "Kirtan Raja Yoga teacher Integral - Patricia Canas"Vishnupriya", teacher of Hatha Yoga, Reiki, sound."
Contribution: €40. It includes teas and fruit throughout the day. It does not include food. We suggest you bring vegetarian food from home to share and savor delicious diversity.
Information and reserves: T 639 84 27 19 / info@culturadelatierra.net (Patricia) T 652 238 231 / manuchuco@hotmail.es (Manuel)
Where: The birth House. Turre (Almeria)
More information: https://retirosyoganaturaleza.wordpress.com/
Inipi, the natural sauna Yoga
Tired of running? Limited by the hours of work? You feel that the time is you escapes of the hands? Stop and breathe, prepare your body with Hatha Yoga and enters in an Inipi, Sauna natural, with stones heated by the fire. Recharge the batteries with the contact of the most primary elements: water, fire, Earth, air and soul. Condenses, serene and harmonizes with a ceremony that looks towards the four points Cardinal and you connects with the part living of your nature. Leave you embrace by the bear, plays with the deer, regarded as an eagle, and works in group with the leadership of the Wolf. The sounds of the drum, the cries atavistic, them movements ancestral... an experience that you away of a system too technological, cold, ordered and dehumanized.
Schedule: from 9 to 19 h
Price: €70 (lunch included)
Contact: Nicolas Iturrieta 620516286 T / 630517499 Facebook. Nicolas Iturrieta Castillo centreaquiara@hotmail.com
Where: Verdú (Lleida)
More information: https://www.facebook.com/events/548203825336683/
Workshop of Yoga, meditation and chant of mantras
Discover the power of the Kundalini Yoga, meditation and the benefits of mantras. Renew yourself. Learn to breathe. Prepare you physical and energy to the cold winter. You'll need it. Not does lack experience
Precio:15 € (you invite a tea and cakes at the end of the workshop) / info@yogamente.com
Where: Aluche. Madrid