Concert and seminar of Inoue Sou
Do you know the oldest musical tradition in the North of the India? Aushadhi School of Yoga organizes the first visit to Spain of Inoue Sou, disciple of the Gundecha brothers, direct heir of this musical tradition, which has its roots in the mystique of the sound: the Dhrupad. Writes Eva Espeita (Swamini Radhananda Saraswati).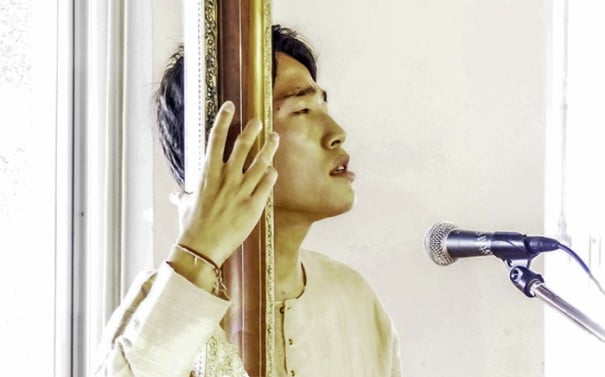 We will enjoy of a concert in Madrid to free price December 11 and a seminar entitled 'The Yoga of the voice - meditation through the Dhrupad' on 12 and 13 December that can meet the needs of each practitioner (also for non-tempered instruments). It will also be offered in Barcelona a seminar organized by Sangitarasika on 9 and 10 January.
We have already spoken earlier of the Dhrupad in Yoga network. Is it possible that for many readers the Indian classical music seem something far away and, even though the mantras as recommended by the tradition of Yoga originate here, often seem more coverage if they have been reshaped by the West through their scales of measured intervals, its temperate instruments and their "rasas" (emotions) known by all. This uniform and limits a tradition that has a much greater wealth which we assume or understand.
I quote the renowned indologo Alain Daniélou in the arduous struggle to expose this issue (in his book on music and communication written by Jacques Brunet) West: "melodic shapes that come from a modal system are harmonized in such a way that they can be touched by modern orchestras (...) apparently in ignorance of that harmony and modes are incompatible. (...) A tendency towards standardization is spreading both East and West, gradually erasing the real character of various musical languages that lost their style and their power of expression without adding anything valid".
This is not to assert in any case that any adaptation of Indian meditative music to the West is a problem, since many artists manage to make pieces of great value (all musicians of Western training maniobramos with this issue of forms more or less skilled); what I would really like is to highlight the issue of the difficult access to the purity of this musical tradition and mystique (cornerstone) of inexpressible richness simply by the lack of it in our culture.
For example on the same Yoga and under my teaching experience, I know that the public approaching something already itself meditative, are students of Yoga or attentive listeners, are interested in always what goes further (exceptions!): the problem is that if not are offered and Therefore, do not know that depth, hard to sue her or interested in her.
This is why from the headquarters of our meditative in all its forms and especially musical projects, Aushadhi School of Yoga, we offer you a treasure of the sound, vibration, the science of the ancient master musicians of India: singing Dhrupad through one of its most gifted performers, Inoue Sou.
It is not possible to understand far can this work with the sound up to experience it personally. We invite you to all and all to share with us these unique events.
Concert with Inoue Sou and Jorge Lozano Cabrero
Day: Dec. 11. Opening to the 19.3o. Free price.
Inoue Sou
Born in Japan, Inoue Sou began studying music when he was 6 years old. Was formed in Japanese sacred music on the flute)Kagura Ongaku) of the hand of the master Makino Saburo, in Tokyo. Since 1984, Sou has been playing regularly this form of music in numerous ceremonies. As a soloist, he has performed in Japan and other countries around the world since 1999. SOU began studying Indian classical music to the Bansuri (Indian flute) in 2003 with Nakagawa Hiroshi, disciple of Pandit Hariprasad Chaurasia.
Wishing to delve into the mysteries of the Ālāp (meditative musical improvisation), traveled to India in 2008 to dedicate himself, in full immersion (seven days a week for five years and a half), to the study of the Dhrupad (the oldest classical music of the North of the India) under the tutelage of Los Padmasri Gundecha Brothers at their renowned school, the Dhrupad Sansthan (Bhopal), as well as the legendary Ustad Zia Fariduddin Dāgar. Since then, having become a successful singer of dhrupad, Inoue Sou has performed throughout India, Japan, Nepal and USA in numerous concerts.
Currently lives in Kathmandu, teaching dhrupad to local and international students, and singing in jugalbandi with Vishal Bhattarai. Sharpness and precision of his voice, combined with the spiritual depth that deals with the musical phenomenon, the concerts and the teachings of Inoue Sou make an extraordinary experience of meditation through sound.
Jorge Lozano Cabrero
Born in Madrid, begins his musical activity with the area of rock, jazz and flamenco guitar, studying with teachers such as Ramón Montoya and Juan Sánchez, while learning the crate and other percussion instruments in a self-taught way. It continues with classical percussion at Neopercusión, where he finds Indian, oriental percussion and afrolatina professors such as Serguei Sapricheff or David Mayoral. So, begins to travel to various countries such as Morocco, Egypt or India, to investigate and learn these musics in their origins and traditions.
Learn the rhythmic karnatica in the Ganesh Tala Vadya Vidialaya of Chennai (South of the India) with the family Vinayakram, who works as a guitarist and percussionist in various shows and recordings. In Varanasi (North of the India) learn the rhythmic indoustani table Issuar Lal Mishra master and the master of Pakhavaj Pandit Sri Kant Mishra.
See the Oud Arabic and knows of the oriental music under the tutelage of the Sudanese master Wafir Sheikh, with whom he works regularly. He collaborates, accompanies or composes in different projects such as Rasa Andrés Olaegui Quartet, Khairkan, Manglis beat Machine, Shankara, Algures trio, Vikku Vinayakram, Pandit Baluji Shrinivas, Pandit Ashok Pathak, Atta Chakki, Selva Ganesh, Mukti, Vishnu, Cingaro Drom Logging, heel, Javier Paxariño... It has organized courses and workshops as musician and social educator, with children from nursery, primary, secondary, teenagers and adults during the last years in collaboration with schools and municipalities in Spain and organized by the Zanzibar World Music Jam, first Jam session music of the world in Madrid.
El Dhrupad y el seminario con Inoue Sou
Con su fascinante e hipnótico sistema musical basado en unas características escalas modales (rāgas) y ciclos rítmicos (tālas), el Dhrupad, the oldest form of Hindustani singing (del norte de la India), ha despertado recientemente el interés de muchas personas, precisamente en un momento en que se encontraba en riesgo de extinción.
Indeed, in recent decades, have found great inspiration in the study of the Dhrupad people as varied as practitioners in pursuit of self-knowledge (from Yoga or other traditions), singers and musicians instrumentalists (based on the music of) modal tradition, improvisation, jazz, etc.), actors, percussionists, ethnomusicologists, music lovers in general and, in short, anyone interested in moving into the depths of the mystique of the sound. For everyone, this workshop will be of great help and interest; Since we will work both in Group and individually (direct disciple relationship), the workshop will be suitable for anyone, regardless of their experience and their technical level (from people without any kind of musical experience up to) professional musicians).
Program
The program of the workshop will cover:
Enseñanzas teóricas acerca de los

Rāgas

, las

Tālas

y la Voz en el Dhrupad.

Meeting of the natural voice: vocal culture in the Dhrupad and practice techniques.
I work with the specific needs of each student individually.

Meditación a través del viaje de sonido.

Micro-afinación en el canto de

Rāgas

(o en la interpretación instrumental con instrumentos no temperados).

Desarrollo de

Ālāp

in the rāga

escogido por cada asistente.

Desarrollo rítmico: Práctica de

Tāla

and

Laya

, presentación del

Pakhawaj

, el característico tambor de doble parche que cumple la función rítmica en el canto Dhrupad.

Bandish

: composición tradicional fijada en un

rāga

y una

tāla

concretos.
The workshop will be taught in English with interpretation directly to the Castilian.
Duration: 14 horas.
Contribution: 140€ (alumnos de Aushadhi) / 160€ (alumnos externos) Triodos Bank 1491 0001 2621 4019 5617 Eva Espeita Izquierdo
Where: Aushadhi School of Yoga. Paseo de las Delicias 47-51 (pedestrian passage) Madrid
Registration: contacto@aushadhiyoga.com
More information: http://www.aushadhiyoga.com/index.php
En Barcelona, Taller de Canto Dhrupad con Inoue Sou
Dates: 9 y 10 de enero de 2016
Where: Saṅgītarasikā.Sala harmony Terol, 8. Barcelona
All the information here: http://sangitarasika.org/noticies/