Interview with François Raoult: "Bothers Me the order around the yoga"
François Raoult is a tutor of international yoga that travels the world giving workshops. Their opinions are as interesting as this: "is a pity that yoga will become somewhat aggressive physically. Because it is in simple positions like that of meditation when one intimate with your breath and learn to feel." It is a Yoga network interview.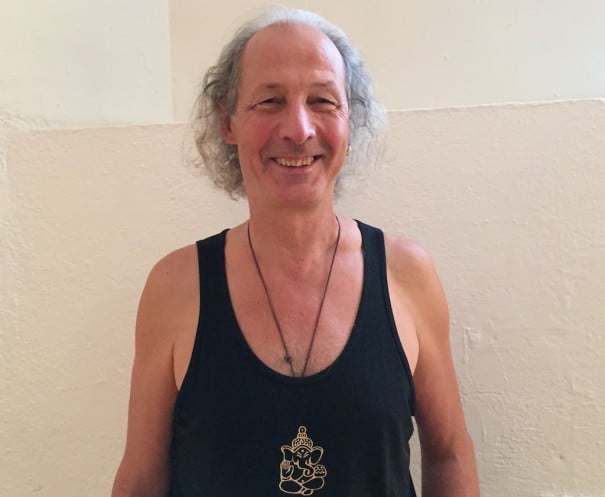 Founder and director of OpenSkyYoga Center en Rochester, Nueva York, Francois Raoult It has been teaching yoga since 1975. It runs seminars, international removals, and training of teachers around the world. Graduated from the Ecole Nationale de Yoga in Paris, is among the first French instructors of yoga that you studied in Pune, India with B.K.S Iyengar. He has also studied meditation with master Thich Nhat Hanh, Ayurveda with the Dr. Robert Svoboda and anatomy with Thomas Myers.He holds a degree in ethnomusicology.
A few days ago was in Madrid offering a three day seminar in City Yoga, and there we interviewed him.
After so many years of yoga and experiences as a student and then as a teacher, do you like to convey in their classes?
First, the curiosity. What has moved me to yoga has been curiosity towards life in general. Yoga is a kind of medium, and all the experiences that gives us life, biology, art, culture, emotions, travel, education, political music, everything nourishes yoga, which in turn allows you to also delve into another kind of experiences. Yoga should be a meeting point, as it allows a more direct communication between people of different cultures and mentalities.
Lo segundo, aprender a sentir, because in traditional education not there are somatic; There are gymnastics, dance, sports very demanding with the body at the expense of the feelings and even health. I know well that there is now a part of the yoga that conceives it as a sport; es a pity that yoga is becoming aggressive physically. Because it is in simple positions, such as that of meditation when one intimate with their respiration and learn to feel, to have feelings.
In my experience, many students do not know to be aware of their feelings, even those that practiced dance or gymnastics developed as a suit of armor because they are forced to develop outstanding efforts, may be very beautiful or effective as spectacle, but they pay a price very strong (as frequent anorexia in these disciplines).
In these times where abundant a wide variety of styles and methods of yoga, how to find our sadhana, our own way?
El karma nos da las oportunidades. Yo nunca me he preguntado qué clase de yoga iba a hacer… creo que la cuestión llega por sí misma, por una especie de camino natural. Si uno está centrado, encuentra el lugar que le corresponde. Dicho esto, como estamos tan estresados y el yoga está de moda, There are "yogas" everywhere, people choose as if it were a shopping mall "in a huge market.On the other hand, there are many yoga classes that suggest a view say "romantic" of classic yoga, spirituality such a little surface time with exotic flashes of ashram, but the reality of the India and yoga is less comfortable. Extreme experiences life-changing but aren't pink.
There are those who do yoga a little as if surfing, especially in the United States. Begin guided by the closest option, the least expensive or the one of fashion, including tattoos and piercing. But for many, that is only the beginning; those who are really interested in yoga and practice it, just finding teachers with experience of life and ability to discern that they teach them to work themselves.
You, who has had so many good teachers, would recommend to those who are initiated into yoga, search a single teacher, a guru, a single school, or multiple and varied experiences?
It is a difficult question because it depends on the karma of each. I, for example, had very different experiences in the four or five years, when I started in an eclectic yoga school, where I met different teachers and different styles. Then I met maestro Iyengar at a Conference in Paris. Told that your yoga I was fascinated by what had to be done to continue and replied: "Come to Pune". I gave during the years following the Iyengar yoga. In the 2000-2003 wanted to know that he had past and went to see to a master Tich Nat Hanh to deepen in meditation. Then I went through a very eclectic period to form my opinion and then I've been working on other experiences that were emerging.
Therefore, it all depends on what one creates need in a moment, more dependency, or more autonomy. With the gurus happens a bit like psychotherapy: there are people who need your therapist for years and says another after few sessions so far. We all know that There are gurus who claim the autonomy of its students and others that encourage dependence; We will not make the list, but we know of some that have abused their power to access money or sex. Therefore, must pay attention because there are many guru and it is difficult to know in advance who is real and who does not. False guru plays with the credibility of the people, especially if the person is in a situation of emotional vulnerability, and becomes a kind of authoritarian father, who approves or disapproves, and that times can be transformed into a dictatorial or fascist, master and slave relationship.
I would say that There is to inform yourself well before 'hooking' lightly either with a guru, guide, mentor or master: better try, ask other students opinion, stay a while to build a personal practice and then evaluate the pros and cons and, if all goes well, later.
What would be its main recommendations to a yoga teacher to feed his teachings?
I think that it makes failure a time of rest and a time to practice. When rest and practice are not lacking, the inspiration comes. If you're a musician, practice your music, and if you're a Yogi, yoga practice. Picasso and Miró painted every day. It is, therefore the practice that nurtures your teachings.
Register for many courses, as do now new generations, does not replace the personal practice, although minimum. This is where you feed, which recharge your battery's power. Teachers, like artists or doctors, give energy to others, and therefore need to recharge your batteries. One of the reasons why I stayed so long in the Iyengar school was because that yoga's restorative, maintained for a long time, meditation, postures to regenerate cells and replenish energy and where the experience is very deep and focused, regardless of the positions that will teach.
Therefore, aconsejo a los enseñantes que tengan la humildad del alumno y práctica personal regular para seguir experimentando, así como tiempo de descanso, holidays, to do meditation, pranayama, or take care of your health. Even practicing other hobbies: music, painting, reading, travel, because when the spirit is fed at deeper levels, the students benefit. I play the piano and the flute without any professional purpose, but it is the source that I recharge and inspire me creatively.
What do you like more than the way in which teaches you yoga today and what you like least?
The first thing I want to say is that even the yoga that new teachers teach well. Yoga has power in itself, even if a school or a teacher you don't like us. But the effect of a session of yoga one hour or hour and a half in general do well always.
Somehow judged too... Of course we have a right to have a say and to prefer. As a type of music or another, there are schools of yoga that we sound better or that are closer to our world than others. But what I know is that students who have left my classes to practice a different yoga, have also benefited. Therefore not interested much debate about whether something is true yoga or not, or if it should be called as well or not.
Perhaps What bothers me most is the over-commercialization that has arisen around the yoga. In many yoga centers, the store and the sales have more space than the courses. It is the American model, where people buy things you don't need, as "fashion" clothes for yoga, as if it needed a special clothing. It is a kind of large market of things that you want to associate with yoga, as a sort of pop music with lyrics in Sanskrit whose benefit is questionable.
That saddens me a bit because anything is sold and purchased, and yoga has lost its simplicity, its primordial nature content It was shamanism, where nothing was or needed... ESTA Americanization of yoga is now everywhere; in Paris there are more American than French yoga centres. Even in places of India like Goa, the formation of the yoga schools is controlled by foreigners, which continues to be a little weird...
Para aprender cualquier cosa a un nivel transformativo profundo, no valen los cursos de diez horas: hace falta tener una relación de larga duración con un maestro, that becomes a sort of guide that you can trust and talk about what comes up. Puede ser una gran pérdida que el yoga se quede como una experiencia de superficilalidad, in a sort of fitness a little more sophisticated than the aerobics of the 1980s, where the students find action and transpiration but no answers to the questions that can be ten years later.
Its workshops, as the City Yoga, integrate theory with practice, but do not give much space to the asanas...
People think of yoga and thinks in positions. Forget the pranayama, singing, deep relaxation. The action and the asanas are important, but I teach them that are essential from the functional point of view. When age of need we really have? Be standing, walking, breathing, digesting, eliminate... What asanas that hold better functionality? Those are that interest me. The asanas diciles, acrobatic, can be fascinating, but do not provide much when one ages.
It is important to cultivate the positions of base each preferred, which are accessible, and modify them what is needed. We must thank the Iyengar school, which invented the means to make poses accessible to everyone adapting them with supports. That is brilliant, compassionate, and I am very interested.
Today there is a kind of addiction to the intensity, in sport and yoga; There are people who if they do not make the position more complicated s, are not happy, and I think that it is a form of dependence. I am not interested, I'm interested in the basic positions, the most important, modified or not, can be practiced throughout the life. That's what I want to teach.